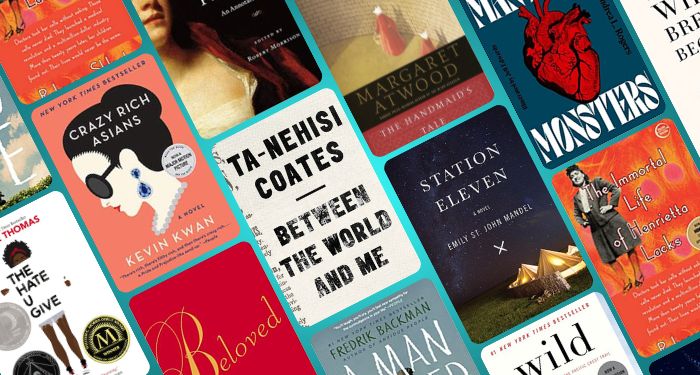 Running a book club — or participating in one with a democratic book selection process — means keeping up with the best book club books. Many clubs read new releases, but other clubs are increasingly on the hunt for excellent classic titles to revisit, or classics members may have missed to visit for the first time. These excellent options offer something for every type of reader, the perfect book club books of all time.
The Best Book Club Books: Modern Classics
These are the best book club books from this century, books that we'll be talking about for many years to come. We've done book club guides for some of the more recent titles, so those are linked!
When Rachel Chu agrees to spend the summer in Singapore with her boyfriend Nick Young, she has no idea that his family is wealthy or that they family wedding they're attending is THE wedding of the season. Check out our Crazy Rich Asians book club guide!
Identical twin sisters leave their Black community as teenagers, and as they become adults one of them begins passing for white while the other returns to their hometown. See our book club guide to The Vanishing Half.
In this bestselling National Book Award and Pulitzer Prize finalist, MacArthur grant recipient Coates addresses the history of race and politics in the United States, in the form of a letter to his adolescent son. Our Between the World and Me book club guide is here.
In this poetic novel, Ocean Vuong writes as Little Dog, a Vietnamese American man in his twenties writing a letter to his illiterate mother. We have a book club guide to On Earth We're Briefly Gorgeous.
In this gorgeously written nonfiction, botanist and enrolled member of the Citizen Potawatomi Nation Robin Wall Kimmerer approaches plants from both perspectives. Check out our Braiding Sweetgrass book club guide.
This award-winning novel reimagines the underground railroad that helped enslaved people escape the south as an actual railroad on which Cora and Caesar escape and head north, pursued by slave catcher Ridgeway.
In this saga following Mariam, who is married to a much older man at 15, and Laila, who joins her household decades later when she is 15, as well as following the rise of the Taliban in Afghanistan.
This novel examines the upheaval of a seemingly perfect community in a planned suburb, after a local child burned their house down and a new family — a single mother and teenage daughter — move into the neighborhood.
In this devastating memoir, published posthumously, neurosurgeon Kalanithi was diagnosed with stage four lung cancer at age 36 and wrote this book about the experience of dying from the point of view of someone who has saved so many lives, but also as a new father.
Recently adapted as a miniseries for HBO Max, this novel takes place during the collapse of society due to a global pandemic (relevant) and follows a traveling troop of actors, going back and forth in time between Before and During times.
Henrietta Lacks was a poor tobacco farmer descended from enslaved people, and her cells were taken and used without her permission in several of the 20th century's greatest scientific breakthroughs. Skloot investigates how this came to be, and how the multi-billion dollar sales of her genetic material have benefited nearly everyone but her descendants.
A grumpy old man is the bane of his neighborhood, until a new family moves in and befriends him.
Wild by Cheryl Strayed
In her twenties, her mother dead and her marriage over, Cheryl Strayed made the questionable decision to hike the Pacific Crest Trail from the Mojave in Southern California north to Washington, alone and with no real experience. It was life-changing.
Starr Carter lives in a poor Black neighborhood and goes to school in a mostly white upper class neighborhood. She is able to balance this disparate parts of her life until she witnesses her friend Khalil's death when he is shot by a police officer.
The Best Book Club Books: Classics
These classics are ideal for your classics book club, or for a modern book club looking for a slightly different read. All of these have been adapted to film and/or television as well!
In the Republic of Gilead, Offred is a sex slave to the Commander and not even allowed to read, but she remembers a time before the societal changes, a time when she was married and had a child, a job, and was allowed to be a full person. This book has been adapted as a series for Hulu starring Elisabeth Moss.
This is the memoir, as told to David Wilson, of a free Black man from New York who was kidnapped and enslaved for 12 years in Louisiana until he was able to free himself. This book was adapted as a feature film by director Steve McQueen starring Chiwetel Ejiofor.
One of Austen's less-read novels, this book tells the story of Anne Elliot, who turned down a marriage proposal from Captain Wentworth years earlier because of her family's influence, the regret and longing she lives with, and her renewed feelings when Wentworth returns to Bath. There are several adaptations including a recent Netflix version starring Dakota Johnson.
Beloved by Toni Morrison
Sethe, who was born enslaved and escaped to Ohio, is haunted by the unnamed baby she birthed years earlier, whose grave is marked "Beloved." This book was adapted in 1998 by director Jonathan Demme and starring Oprah Winfrey.
Helen Graham leaves a bad marriage and moves to Wildfell Hall with her young son, where she befriends Gilbert Markham, who hopes his trust in her is not misplaced as their neighbors believe it to be. This book was most recently adapted in 1996 starring Toby Stephens and Tara Fitzgerald.
This bildungsroman follows Francie Nolan as she grows up in Williamsburg at the turn of the (last) century. This book has been adapted a few times, and the 1945 version directed by Elia Kazan and starring Dorothy McGuire is considered a classic.
Kindred by Octavia E. Butler
On her 26th birthday in 1976, Black Californian Dana is wrenched back in time to antebellum Maryland, where she rescues a white boy from drowning. As she travels back and forth in time, she learns about her familial connection to him. This was the first work of published science fiction by a Black woman. This book is in development for the first time, as a series, to star Mallori Johnson.
Alcott's class story of sisters Meg, Jo, Beth, and Amy follows their adventures and hardships during the Civil War.
This book came into the public domain this year and we're already seeing some brilliant reimaginings and retellings. Read it as a companion to The Chosen and the Beautiful by Nghi Vo or Self-Made Boys by Anna-Marie McLemore! Looking for more? We've got five of the best book club apps and the rundown on how to run a book club. If you're looking for even more great book club recommendations, try TBR: Tailored Book Recommendations! TBR is a personalized book recommendation service that sends you books you'll love to read. Here's how it works: Simply fill out the reader survey and let us know what you want more of and what you're not keen on. Then, an expert Bibliologist will read your responses and recommend three books just for you. There are two subscription options: receive your recommendation letter via email in about two weeks — perfect for library users! — or opt to receive your recommendations as brand new hardcovers in the mail in about three to four weeks. Learn more and sign up now!