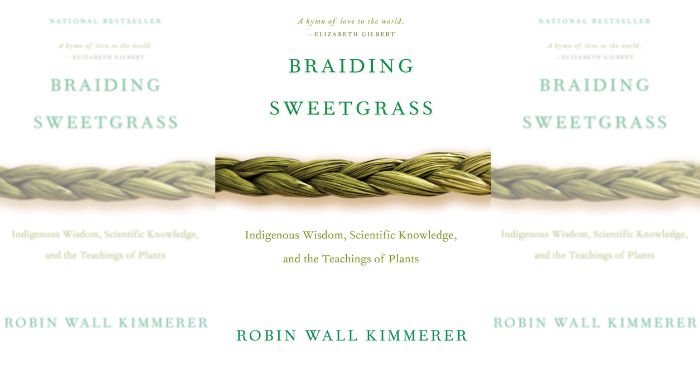 Robin Wall Kimmerer is a botanist and a member of the Citizen Potawatomi Nation, giving her a unique perspective on plants and science. In Braiding Sweetgrass, she delves into the wisdom that plants can offer us, and shares how by reconnecting with the nature around us, we can become more conscientious about the fragile ecology of the world and learn to move through the world more mindfully. This is a wonderful, wise book to dive into if your reading group or book club wants to think more holistically about our planet. Read on for ideas for Braiding Sweetgrass book club questions for your next meeting.
About Robin Wall Kimmerer:
Dr. Robin Wall Kimmerer hold a Master's degree in botany and a Ph.D in plant ecology. She is a tribally enrolled citizen of the Potawatomi Nation, and is known for her research on traditional plant ecology, moss, and Indigenous understandings of plant life. She is the recipient of the John Burroughs Medal for Gathering Moss. Her second book, Braiding Sweetgrass, won the 2014 Sigurd F. Olson Nature Writing Award and has gone on to become a bestseller.
Setting Up Your Meeting
Once your book club has decided to read Braiding Sweetgrass, it might be helpful to ask participants how familiar they are with the book, the author, and her work. It will help you gauge how much you might need to introduce to the group before your discussion takes place.
Before the meeting, it might be useful to pull some supplemental information for your talk, and prepare some questions. There are multiple approaches for discussing this wonderful book, and it all depends on your group and your goals. Do you want to focus on the science, the ecosystem, the interdependence of plant life and human life, or the author's unique perspective and background? We've highlighted some themes of the book and provided some discussion questions to get you started, but feel free to think about the goals of the discussion and tweak the questions to meet your own needs. You can also find some good ideas with these general nonfiction book club questions.
It can be awkward to sometimes get people talking, so it might be useful to think of a fun icebreaker question that is low-stakes and maybe a little silly, just to get people comfortable with sharing their thoughts. You might ask your group, What plant do you identify with the most?
If you need more helpful hints for running a book club meeting, check out how to run a book club.
Braiding Sweetgrass themes:
Gratitude; reciprocity; respect for the natural world; respect for Indigenous beliefs, customs, and sovereignty; reparations
Braiding Sweetgrass Discussion Questions
Kimmerer writes, "Plants tell their stories not by what they say, but by what they do." What plant story stuck out to you the most? What was the most surprising thing you learned?
Some plants hold special meaning to us, as Kimmerer describes. Is there a plant that is special to you?
One essential Indigenous teaching is that humans ought to be thinking of the future generations in how they treat the Earth. Do you consider this when moving throughout your life? How might we all be more mindful of creating a better world for our descendants?
Discuss the concept of tree communities. Does this help you view forests differently now?
Discuss the gift economy. Did this concept shake loose new ideas for you regarding what we owe the planet, and each other? Did it inspire you to think about how to incorporate the gift economy in your own life? What lessons did you pick up on about our own economy of overconsumption?
How do you think you might be able to give back to the earth in concrete ways? How can we inspire our communities to give back?
What can you do to support Indigenous efforts to take care of the land?
How might reciprocity and sustainability differ? Why does this difference matter?
Dr. Kimmerer's unique perspective and background sometimes meant that her two worlds seemed at odds. Have you ever had that experience? How did you reconcile moving between two worlds or two different ideologies?
What did you learn while reading this book that surprised you? Did this book inspire you to take action or change a specific action you already engage in?
Need more great nonfiction recommendations? Check out the best nonfiction book subscription services!
And if you're looking for more great quality nonfiction literature for your book club, sign up for TBR: Tailored Book Recommendations! TBR is a personalized book recommendation service that sends you books you'll love to read. Here's how it works: Simply fill out the reader survey and let us know what you want more of—such as nonfiction nature books—and what you're not keen on. Then, an expert Bibliologist will read your responses and recommend three books just for you. Receive your recommendation letter via email in about two weeks, or opt to receive your recommendations as brand new hardcovers in the mail in about three to four weeks. Learn more and sign up now!