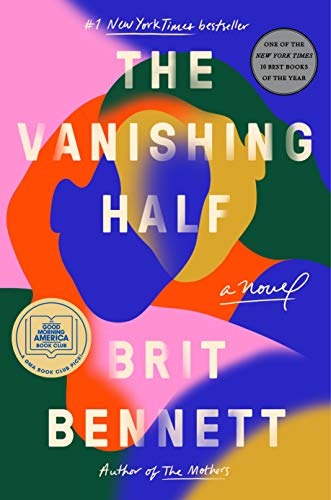 The Vanishing Half by Brit Bennett was one of the most popular books of 2020, read and beloved by countless readers, including Barack Obama! It was also a 2021 Women's Prize finalist and the perfect pick for book clubs everywhere. If your book club has chosen it for their next pick, we've got your The Vanishing Half summary, reading guide, and book club discussion questions to ensure your next meeting goes smoothly!
The Vanishing Half Summary
Stella and Desiree Vignes are inseparable twins who grow up in 1960's Louisiana in a small town reserved for light-skinned Black residents. They dream of life beyond their town and the painful past of their father's lynching, and it seems like they might actually get it when they run away to New Orleans together. But there, Stella begins to pass as white, and then moves to California where she has a husband and daughter and refrains from telling them the truth about her past. Meanwhile, Desiree has a daughter of her own who can't even dream of passing, and she eventually relocates with her back to the hometown th twins were so eager to leave behind. This novel moves through the decades in the second half of the twentieth century to tell a stirring story of identity, race, and family throughout generations and across the U.S.
Themes: Identity, race, family, belonging, truth, reconciliation
How to Set Up Your Meeting Discussion
It's best to have someone come prepared with questions to help get the conversation going, and to help keep the conversation on track if it lags. Start out the conversation with an icebreaker question, or with an easy question to help get the conversation rolling, and be sure to be inclusive of every member's input!
The Vanishing Half Discussion Questions
Icebreaker question: Have you read the 1929 classic Passing by Nella Larsen? If so, in what ways do you see that this novel is similar to Passing?
Stella and Desiree are so close as children–did you see their separation as inevitable, or something that could've been prevented? When did you first notice the rift between them? What do you think caused it?
Why does Mallard represent so much pain for the twins? Discuss how injustice and secrecy affect the sisters as young girls, and how that carries over to their adult lives.
How much do you think we are influenced by our nurturing and our nature? How about our environment? What outside forces shaped Stella and Desiree?
Why do you think that Desiree returns to Mallard? How does her impression of her hometown evolve now that she's an adult and a mother?
Compare and contrast Kennedy and Jude, the twins' daughters. How do their differences highlight the role privilege plays in a person's life? How are their lives similar? How do their relationships with their respective mothers differ?
Discuss the idea of performance. How is identity a performance for the characters? Which characters perform, and which characters refuse to perform? How are their lives different as a result?
How does Stella's relationship with her neighbor Loretta reveal her character, both to the reader and to herself? Do you think that Stella is afraid of becoming too close to Loretta, and what it could reveal about herself? Do you think Loretta suspects anything about Stella?
When Desiree becomes a fingerprint analyst, we see how identity and identification are often conflated and contrasted. What do you think the differences are between these two concepts?
What did you think of Jude and Kennedy's relationship?
What did you think of the twins' eventual reunion? How have the years apart changed them?
Let's talk about honesty and truthfulness in relationships. Which romantic couples were the most honest with each other? How does the idea of honesty and truth telling affect each relationship?
Each sister made different choices hoping to improve their lives or make things easier in some way. But ultimately, who do you believe had an "easier" life? Or does it all shake out pretty evenly when all is said and done?
Discuss the significance of the title. Who or what really is the vanishing half?
Want more book club book recommendations for your next meeting? Check out our best book club books of 2021!
And if you want more recommendations, sign up for TBR: Tailored Book Recommendations! TBR is a personalized book recommendation service that sends you books you'll love to read. Here's how it works: Simply fill out the reader survey and let us know what you want more of–such as books like The Vanishing Half–and what you're not keen on. Then, an expert Biblioligist will read your responses and recommend three books just for you. Receive your recommendation letter via email in about two weeks, or opt to receive your recommendations as brand new hardcovers from our partner, Print: A Bookstore in Portland, ME in about three to four weeks. Learn more and sign up now!