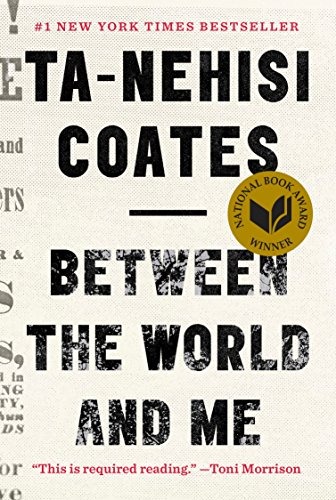 Between the World and Me by Ta-Nehisi Coates is a National Book Award winner, bestseller, and finalist for the Pulitzer Prize. It's a tremendous work of nonfiction that addresses the realities and history of being Black in the United States, and the legacy of white supremacy. If your book group has picked up this book for their next meeting, we have some tips and Between the World and Me book club questions for making your discussion run smoothly.
About the Book
Between the World and Me is written in the epistolary style, as a letter to the author's teenage son. In his extended letter, Coates discusses the history of slavery and racism that have become permanently tangled in American history and values, and he also shares stories of his own youth in Baltimore and the experiences of power and powerlessness that have affected Black Americans. Coates has stated that he was inspired by the work of James Baldwin and a meeting with President Obama during which Coates criticized Obama's policies regarding racial disparities between Black people and white people in the healthcare system.
How to Plan Your Meeting
Some book groups might find Between the World and Me to be a challenging text, because it draws upon history, literature, and many current events. Before reading, you might want to acquaint yourself with Coates's work. Read one of his many articles published on The Atlantic, such as The Case for Considering Reparations, or his series of interviews with President Obama.
When you meet, it might help to appoint a discussion facilitator whose task is to keep the discussion moving and gently redirect if the conversation gets off track. They can have a set number of questions for starting the discussion, but they should encourage other members to ask questions of the group and propose discussion topics, so the conversation flows organically. The facilitator might also consider writing down other recommended texts that come up in the discussion and sharing with the group afterward.
Book Club Bonus: Consider hosting a viewing of the HBO special of Between the World and Me, a performance of the book and its themes with supplementary footage.
Between the World and Me Book Club Questions
What did you think this book would be about, going into it? If you said race, what do you think of Coates's argument that race comes from racism, not the other way around? Did reading this book influence your perception of race at all? If so, how?
Has anyone in your book group read the work of James Baldwin? If so, do you see parallels between Coates's writing and Baldwin's? Why do you think that Coates chose to structure this book as a letter to his son? What does it accomplish?
Discuss the significance of the title. Are you familiar with the poem that it comes from? If not, share or take a moment to read the poem "Between the World and Me" by Richard Wright, and discuss its influence on Coates.
Why do you think Coates means by "the Dream" and the "Dreamers"? In what way are Black citizens cut off from that Dream?
Discuss the concept of fear, and how it relates to Coates's message. What does he fear? At what moments in his life does he fear for his own life? How has that fear impacted him, and what common elements tie his moments of fear together?
Consider when this book was written–in 2015, not long after the beginning of the Black Lives Matter movement. How does this book connect to Black Lives Matter? Do you see Coates and this book as being an important element to the BLM movement?
Although this book can oftentimes feel heavy, and it's full of warnings to his son about the cruelty of the world, discuss the elements of joy and hope in this book. How is that joy and hope found and how is it experienced?
Discuss the role of books and learning in Coates's life. How does his perspective differ when it comes to each?
Discuss the message hat Coaates has about Black bodies being sacred and worthy of praise and admiration. Why do you think he focuses so much attention and value on physical bodies?
Do you think Coates leaves his son and the reader with hope for Black Americans and for the state of race relations in the U.S.?
Looking for more great books by Ta-Nehisi Coates? Check out our book club guide to his novel, The Water Dancer.
Are you looking for more great book club picks for your group? We have plenty of recommendations for great book club picks for 2021, plus you can sign up for TBR: Tailored Book Recommendations! TBR is a personalized book recommendation service that sends you books you'll love to read.
Here's how it works: Simply fill out the reader survey and let us know what you want more of–such as nonfiction book club picks–and what you're not keen on. Then, an expert Bibliologist will read your responses and recommend three books just for you. Receive your recommendation letter via email in about two weeks, or opt to receive your recommendations as brand new hardcovers from our partner, Print: A Bookstore in Portland, ME in about three to four weeks. Learn more and sign up now!