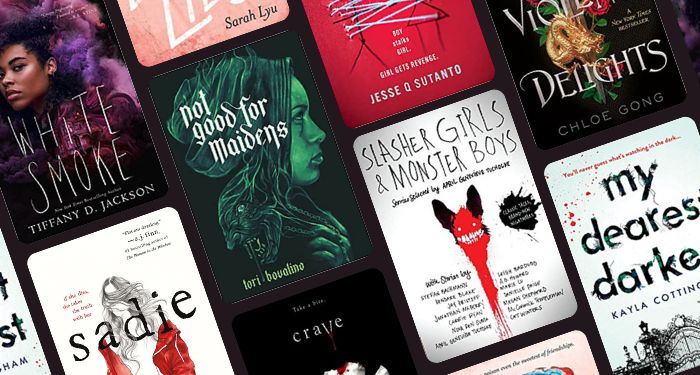 Just because a book is written for teens doesn't mean that it doesn't explore some of the darker sides of human nature. In fact, books for teens are a great vehicle for examining darker impulses, horrific situations, and complicated plots because they allow teens to explore dark themes in a safe, controlled environment. Whether it's a dark fantasy, a paranormal romance, or a horror novel, there are tons of great dark YA books out there to satisfy your darker desires!
Mystery/Thriller
Mindy McGinnis is the queen of dark YA fiction, and she has a deep backlist to explore. We recommend starting with this dark retelling of some of Edgar Allan Poe's most famous works, set in a rural Ohio town. The book explores family secrets, poverty and class, animal cruelty, and the lengths a person will go to get answers after a mysterious disappearance. Plus, there's a little bit of an epidemic thrown in for good measure!
Sadie by Courtney Summers
Summers tackles the concept of true crime, the disappearances and murders of teen girls, and how our society likes to treat these tragedies as entertainment. It's told from the point of view of Sadie, who is hunting her sister's killer and goes missing herself, and the podcast production about Sadie's disappearance.
This dual POV book takes a hard look at the terrors of romantic obsession. Logan is in love with Delilah—she just doesn't know it yet. But when his stalking results in him witnessing a terrible crime that Delilah commits in the name of self-preservation, they engage in a tense cat-and-mouse chase for the upper hand.
Complicit by Stephanie Kuehn
Jamie was relieved when his older sister Cate was locked up for committing arson two years ago, and he doesn't miss her. But now she's been released, and she's coming for him. And she has the power to reveal what really happened two years ago.
Friendships can be just as toxic as romantic love in this novel about Remy, who is shocked when her loving boyfriend Jack is shot and her best friend Elise is arrested for the crime. As she's questioned about the night everything changed, she re-lives the previous eighteen months, looking for signs and clues as to how it all went wrong.
Allegedly by Tiffany D. Jackson
Mary is in juvenile detention for killing a baby when she was a child—allegedly. She's maintained her innocence, but it was never going to look good for her and her mother, both Black, to have been the only ones present when the white baby her mother was watching died. Now Mary is almost 18, and she's just discovered she'd going to have a baby of her own. She needs to get out of juvie, but in order to do that, she's going to have to confront the truth about her past.
Violet is a ballerina on the cusp of achieving her dreams. Amber is a girl locked up in a juvenile detention center for years. Tying their stories together is Orianna, who knows their deepest secrets and is the only one who knows what really happened between the two of them in this story of betrayal and the things that haunt us.
Fantasy and Sci-Fi
A family of witches guards the entrance into the dangerous goblin market, but when one of the women is lured by a goblin girl and another is kidnapped, it'll be up to their niece to unravel the mysteries and dangers of the goblin market.
Liv's dad disappeared two years ago, but not before he claimed that he was kidnapped by aliens and experimented on. Before he vanished for good, he set all sorts of homemade traps in the woods behind their house, and made Liv promise to check them every week. She still does, but now she's about to give up and face facts: Her dad was mentally unstable. Except, just as she's about to throw in the towel, she discovers something in the woods. Something terrifying. Something that suggests that maybe her dad wasn't crazy.
Katrell can talk to the dead, and since her life is pretty hard and her family is desititue, she decides to monetize this particular skill. But just as business is offering a glimpse of true stability, the dead offer a single waring: Stop contacting them, or else. But what do they know about going hungry? Katrell isn't about to stop…and she'll have to pay the consequences.
Emil and Brighton are brothers who live in a world plagued by specters, and protected by Spell Walkers, who fight against them. After a protest gone awry, one brother will manifest powers that the other has always wanted, putting them on two very different courses.
House of Salt and Sorrow by Erin A. Craig
In this retelling of the fairy tale The Twelve Dancing Princesses, a girl becomes disturbed at the secrets her manor house holds when four of her sisters die in a series of tragic "accidents"—leaving her wondering if they're really cursed.
Horror
Mari and her family have just moved to the Midwest, where her mom's new job provides a free house that's been freshly renovated. This should be exciting, but something about the house is immediately off. Strange smells, weird sounds, and things moving about have Mari, who is recovering from addiction, on edge. Is the house haunted, or is someone messing with her? This is a chilling social horror novel with lots of depths and twists and turns.
Finch feels as though there is something haunting her after a terrible accident, and when she starts school at Ulalume Academy, she meets Selena, who can sense that something is off about Finch, too. When they accidentally summon a dark spirit to the school, it promises to give the girls of the school what they want…in exchange for human body parts.
Violet is just looking for a place to belong when she heads to Portero, TX, an unusual town with some pretty dark secrets—but they'll have to be pretty dark in order to scare off Violet, who has some skeletons of her own.
Looking for a nice collection of chilling short stories that showcase a wide range of talents and perspectives? This anthology doesn't disappoint, with entries from Nova Ren Suma, Marie Lu, Kendare Blake, Laugh Bardugo, and more!
In this atmospheric ghost story, Okiku is a restless spirit who avenges murder victims by killing their killers, but her work doesn't bring her any satisfaction….until she encounters a teenage boy with a demon clinging to him and decides to help.
Romance
In this retelling of Romeo and Juliet, set in 1927 Shanghai, two heirs to dueling mobs must come together to fight against a mysterious darkness lurking the streets, threatening both of their families.
Crave by Tracy Wolff
In this series starter, Grace is mourning the loss of her parents when she's swept away to an elite boarding school in Alaska. It doesn't take her very long to realize that she's been brought there for a reason, and she finds herself colliding with Jaxon, a dangerous vampire.
It's rumored that the Dalloway School is haunted by witchcraft, and for Felicity Morrow it's a painful reminder of the tragic loss of her first girlfriend. She's returned to finish her schooling, and she meets a new student, Ellis, who asks for her help researching the school's dark secrets. This leads them closer to danger…and to each other.

Looking for more great reads? Check out:
And if you're still on the hunt for more, sign up for TBR: Tailored Book Recommendations! TBR is a personalized book recommendation service that sends you books you'll love to read. Here's how it works: Simply fill out the reader survey and let us know what you want more of—such as dark YA novels—and what you're not keen on. Then, an expert Bibliologist will read your responses and recommend three books just for you. Receive your recommendation letter via email in about two weeks, or opt to receive your recommendations as brand new hardcovers in the mail in about three to four weeks. Learn more and sign up now!