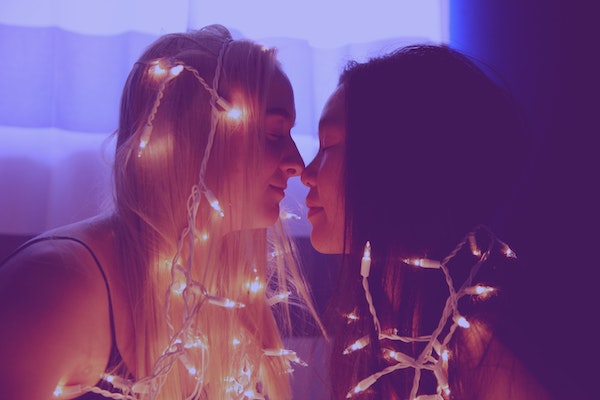 We are living in a golden age of new LGBT YA books, friends! These days, we are fortunate enough to have tons of choices when it comes to queer YA books, LGBT YA fantasy, and more! Featuring a wide range of topics, genres, and a whole spectrum of identities, YA is more diverse than ever…and hopefully we'll continue to see more great novels beyond gay and lesbian YA in the future! Here's a list of 35 YA LGBT books that have come out in 2020!
Cody and her queer friends are ready to branch out this year and start dating, but things don't go as planned when Cody finds a new friend group and new crush.
Matt's dad is a criminal and he's expected to be loyal to his family, no matter what–but then Matt meets Jason, and everything changes. But what if Jason isn't the person he thought?
In present day, Rosella steps into a pair of red shoes that force to to dance, and her friend Emil is reminded of an old family story about when he dancing curse swept through Strasbourg, France.
Two girls, competitors at a fine arts high school, find themselves unknowingly collaborating on an online webcomic under screen names–and falling for one another.
In this queer retelling of "Snow White and Rose Red," Rosie and Ivory have grown up in the circus, but when Rosie experiences a tragic accident during her tightrope act, it's up to Ivory to put things right.
A pirate and a lady meet aboard a pirate ship, and sparks fly between them as they decide to escape and make their own futures–and tangle with magical beings along the way.
When two teen girls find themselves burned by the same guy, they decide to join forces and assemble an all-girls mock trial team to take down the guys.
Liz can't wait to head to college, but when her funding falls through, she turns to the annual prom king and queen competition, which comes with a scholarship. Only it turns out that she's running for prom queen against her new crush!
Look by Zan Romanoff
Lulu is an Instagram influencer with followers, a blooming career, and an amazing boyfriend–but she nearly loses all of it when a video of her and another girl goes viral. Now she has to figure out who she is, offline.
Nirrim lives in a ward where the rules are harsh and punishments extreme, and she habors dark secrets. But when a stranger tries to convince her to seek a better life for herself, she has to decide if the risk of trusting someone is worth the possibly payoff.
When Felix, a trans teen, is bullied by having his old pictures and dead name shared, he decides to engage in a cat fishing scheme to figure out who his bully is, with unexpected results.
When Yadriel's family doesn't truly accept him for who he is, he decides to prove himself a brujo and summons a ghost..but not the one he intended to. Instead, Yadriel must help the ghost of Julian tie off some loose ends before letting him go.
In a world where girls must attend a ball and be chosen as wives, or disappear altogether, Sophia decides to run away from the ball, and finds herself in Cinderella's mausoleum, making a plan to fight back against the patriarchy.
Two young women come together to wander the desert and uncover dark secrets–one is a storyteller who bears witness to the pain her people experience, and one is the daughter of an oppressor.
When Connor comes out to his mom and she responds by sending him to conversion therapy camp, he decides to escape, along with his fellow campers. But in order to do that, he has to uncover the terrifying secrets behind the camp, and he might not make it out alive.
In this sequel to Darius the Great is Not Okay, Darius finds himself back home in the States, juggling family,school, soccer, friendships, and his feelings for two different boys.
August lives in a town that's at a confluence of supernatural energy, ergo there's a ton of supernatural activity. But he tries to stay away from all that, until the day a hot vampire arrives and give him a cryptic warning, and suddenly August is drawn into a dangerous conspiracy.
Pony switches schools his senior year so he can attend a school where people don't know his as the transgender kid, and he quickly encounters Georgia, a cheerleader, and sparks fly.
When Nishat comes out to her family, she doesn't expect joy, but she's shocked at how her parents refuse to acknowledge it. Then she becomes locked into a competition against another girl at school for the best henna design business, stirring uo mixed feelings.
In the novel in verse, Michael is a biracial teen living in London who discovers confidence in himself and his indentity when he discovers the Drag Society.
When Saoirse and Ruby meet, they agree: they'll merely have a summer fling full of fun dates, but no strings attached and definitely no expectations to try long distance once the summer is over…but things don't always go according to plan.
Will and Ollie have a fantastic summer together, but come fall Will stops testing Ollie back. Then his family has to move unexpectedly across the country, and lo and behold, Will is at Ollie's new school…but very closeted.
Skye is a confident and outgoing singer and dancer–and she's also fat and bisexual, and the former makes her stand out when she enters a K-pop competition, determined to win.
Cal and Leon come together when their parents are both chosen to go on a space mission. As they prepare for launch and face intense media scrutiny, they begin to fall for one another…until a secret could wreck everything.
Camp by L.C. Rosen
At Camp Outland, Randy can be himself and finds his passion for musical theater. This year, though, he's determined to reinvent himself to attract the attention of Hudson, his long-time crush, with mixed results.
In this essay-style memoir, Johnson recounts some of the most formative moments in his childhood and young adult years, offering beautiful and powerful insights into gender, masculinity, family, and what it means to be yourself.
Set in 1977, this story is about two girls who find themselves pushing back against anti-gay sentiments in their homes and communities and connect as pen pals.
Soraya is a princess poisonous to the touch, but when she becomes determined to break her curse, it could mean betraying her entire family.
This is a fun collection of contemporary stories starring queer teens and written by some of the best YA writers working right now!
Lina lives in a society where each year a boy must be given as a sacrifice to the Witch Queen in order to hold back flood waters–and when the Witch Queen takes someone that Lina cares about, she offers herself in his stead, not expecting that she will fall in love with the queen.
Corrine is secretly dating Maggie, not yet ready to tell the world that she's bisexual. But when Maggie dies unexpectedly, Corrine is left in a weird limbo, mourning a girl no one knew she loved.
When Emanuela ignores the call of the watercress, magical beings who turn blood into water for their city, the consequences become dire, and to make up for her mistake she finds herself on a race to discover the magical secret before her home runs out of water.
Miss Meteor by Tehlor Kay Mejia and Anna-Marie McLemore
Lita and Chicky are two ex-best friends who team up together to help Lita win the Miss Meteor pageant in their hometown and prove to themselves and others that girls like them are capable of achieving anything.
James and Kat were inseparable all throughout school, but something happened senior year that sent them spiraling in opposite directions, and now they have to face an uncertain future without each other.
Nandan has big plans for his junior year, but hooking up with his best friend Dave was not on the agenda. Now he's questioning his identity and sexuality while trying to figure out an awkward social life. All the while he wonders–is taking a risk for love worth it?
Two sisters from different countries learn of each other when their father dies in a plane crash, and must figure out their relationship and identity while grieving.
Want more great LGBT YA books? Check out this list of 100 must-read LGBTQIA+ YA novels, and our round up of some of the cutest LGBTQ+ books!
And if you want to stay up to date on all things LGBTQ YA, sign up for TBR: Tailored Book Recommendations! TBR is a personalized book recommendation service that send you books you'll love to read. Here's how it works: Simply fill out the reader survey and let us know what you want more of–such as new LGBT books–and what you're not keen on. Then, an expert Biblioligist will read your responses and recommend three books just for you. Receive your recommendation letter via email in about two weeks, or opt to receive your recommendations as brand new hardcovers from our partner, Print: A Bookstore in Portland, ME in about three to four weeks. Learn more and sign up now!