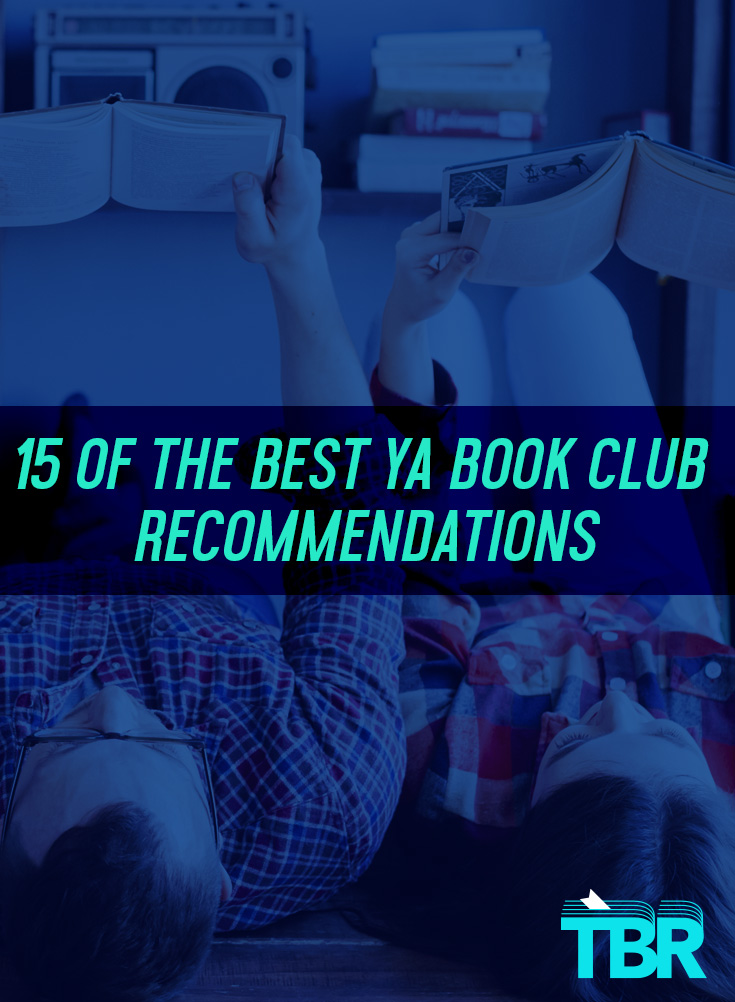 Whether you're looking for your next great read for a teen book group, or your book club is full of adults who are young at heart, YA books make awesome book club picks! Short YA books and books with fast plots are great for busy readers, and they're just as entertaining and rich for discussion as that literary tome you pretended to finish. We've compiled a list of 15 of the best YA book club recommendations of 2019 so you can spice up your next book club meeting!
Darius has always felt like he's not enough–not Persian enough, not American enough, not good enough for his dad. When his family makes a trip to Iran to visit his mom's extended family, Darius gains a new perspective on his family and identity, and especially on his relationship with his white father. This is a wonderful pick about friendship, family, and living with mental illness.
Sadie by Courtney Summers
For the true crime pordcast-obssesed members of your book club, pick up this novel about Sadie, a young woman who goes missing after her younger sister is murdered. The book is told in alternating chapters: from the POV of a podcast producer who is writing a podcast about Sadie's disappearance and attempts to track her down, and from the POV of Sadie as she remains one step ahead of the podcaster. This book will spark discussions around story, true crime as entertainment, and how young women are preyed upon.
Scythe by Neal Shusterman
In a futuristic world where death has been eradicated and people can "reset" themselves down to a younger age, Scythes randomly "glean" people to control the population. Two teens become apprentices to a legendary Scythe, and find themselves drawn into a power struggle among Scythedom. Will they turn against each other, or will they remake the world? This high-concept book has thrilling world-building details and big moral questions that make it ripe for discussion!
Jay is looking forward to a chill summer before starting college, but when he learns that his cousin in the Philippines has been murdered, his world is rocked. What's worse, his family refuses to talk about the murder, and so he heads to the Philippines to discover the truth…and learns a shocking amount about government policy and his own complicity from the other side of the world. Great for a discussion that takes readers outside of the U.S.!
Set in the near future where Muslim Americans are forced into internment camps, this book follows Layla Amin and her parents. As they adjust to their new reality, Layla makes friends inside the camp and struggles to maintain contact with her boyfriend on the outside. Together, they spark a rebellion against the camp director that will have far-flung consequences. With eerie echoes of American history, this book is timely and a great source of discussion.
Beth, an Aboriginal teen girl, is a ghost. Her detective father has been wracked with grief ever since the car accident that claimed her life, and she can't move on until she knows he'll be all right. She decides that he needs a case to connect him to the world once more, and so she encourages him to look into a small town fire and the unidentifiable body it left behind. But their investigation turns up dark secrets about this small town that will have a direct impact on Beth's ability to move on. Otherwordly, but with a unique perspective, this is a slim but powerful book.
When Annabelle experiences a traumatic event, she decides to go on the run. Literally. She decides to run from Seattle to D.C., followed by her Grandpa Ed in his RV. As the miles drop past and Annabelle gains a unique support team, she finds the courage and the strength to confront her past. This is a timely book to add to your #MeToo discussion line-up.
Printz Award and National Book Award winner Elizabeth Acevedo returns with a second powerful novel about Emoni, a teen mom weighed down with responsibility for her daughter, her abuela, and her school and work. Her escape and her passion is cooking, but she must be realistic–and how can she make a career from her passion? This is a book by Acevedo, so you know it'll be a beautifully written coming of age story with strong emotion and family ties.
Dig by A.S. King
A.S. King's novels are surrealist explorations of life, society, and important issues affecting teens. Her latest novel is no exception–it's about five teens who are struggling in their own ways, and whose lives could be enriched by money. Their grandparents have money, but since they consider themselves "self-made" they decline to pass it on. This is a powerful book about privilege, race, money, and what it really means to make your own way in the world.
Shout by Laurie Halse Anderson
If your book club is familiar with the work of YA superstar Laurie Halse Anderson, her new memoir is a great read! Part personal history of her teen years, and part memoir of finding her voice years after her assault, this is a powerful and poetic book about not just speaking out, but shouting your truth.
Skye likes to party hard and can't wait to get out of high school. She's got her eye on art school in the fall, but her plans fall apart when her mom's ex-boyfriend walks back into their lives. She never told anyone about what he did to her when she was younger, and now she's torn between getting as far away as possible or staying to protect her little sister. But with some support and courage, she might be able to find a third option–speaking out.
If your book club likes pyschological thrillers, then this twisty book about a girl, her boyfriend, her best friend, and a murder is perfect. Remy thought that she had the perfect boyfriend and best friend in Jack and Elise…until Jack is murdered and Elise is arrested. Now, she must revisit everything she thought she knew about their friendship to determine the truth about Jack's death.
For a feminist and unflinching book, pick up the latest historical novel by Stacey Lee. Set in 1890's Atlanta, it follows Chinese American Jo Kuan who starts an anonymous advice column to cope with a difficult job as a lady's maid to a young white woman. As her column gains in popularity, it becomes even more difficult for Jo to keep her identity secret, especially as she tackles difficult issues of racism, class, and society.
Brynn hits rock bottom after a break up and family tragedy, and finds herself enrolled in remedial classes. She copes by writing emails to Rachel Maddow, and watching her show daily. When an injustice in her school gets Brynn riled up, she decides to take a page from Rachel's book and take a stand–with surprising consequences. The unique structure of this book, and what it reveals about the characters, will be a fun discussion.
For a really fun book club romp, pick up this audacious story about socialite Margo Manning who, along with her gang of drag queen friends, pulls off daring heists in order to bankroll more noble pursuits. If your book club needs some laughs along with some surprisingly insightful discussion points about diversity and privilege, this book is for you!
Are you in need of even more great YA book recommendations? Check out TBR: Tailored Book Recommendations for personalized book picks based on your tastes and reading history! You can fill out the reader survey, designate what you're looking for, and expert Bibliologists will pick out three books based on your responses. You can even choose to receive your picks as recommendations-only emailed in a letter, or hardcover books sent directly to you from our partner indie bookstore, Print: A Bookstore in Portland, ME! Get started now!