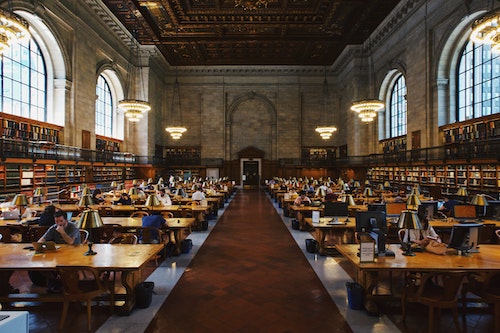 If you love books set in schools and stories with twisty plots and dark themes, then chances are the subgenre of dark academia is for you! This genre can be defined broadly, but generally speaking the books have an academic setting and feature characters exploring darker urges, navigating crimes or dark secrets, or exploring dark speculative elements. Here's more about dark academia, and the appeal of these kinds of books. If that sounds like your jam, we've got 15 excellent dark academia books for you to marathon read!
Ines is offered a place at Catherine House, an exclusive private university where tuition, room, and board are all paid for, but in exchange students must sever all contact with the outside world. Ines is running from her past, and thinks Catherine House is the perfect escape, but when tragedy strikes, she is challenged to confront what it truly means to belong at Catherine House.
Ivy Gamble is a PI who has just been hired to look into a mysterious death at a school for magic. She's thrilled to receive her first high-profile job, but it's complicated by the fact that her twin sister Tabitha is a teacher at this school. The sister have been estranged thanks to Ivy's resentment that Tabitha is gifted with magic, while Ivy was not. Ivy hopes this case may be a chance for them to reconnect–but the deeper she gets into the case, the less likely that seems.
Alex Stern is the sole survivor of a bizarre crime that defies explanation. When she wakes up in the hospital, the dean of Yale University offers her a full ride in exchange for monitoring the campus's occult activity. Alex agrees, but when her mentor disappears and a murder rocks the campus, she begins to think that she's in over her head.
Set against the backdrop of an Ivy League law school, this novel is about Talcott Garland, a law professor whose father is found dead. As a disgraced judge and Supreme Court nominee, there are plenty of people who might want his father dead. Talcott begins investigating, following a series of puzzling clues his father left behind.
Mavi is fleeing from political persecution in Buenos Aires, so she secures a job as a teacher at Vaccaro School, on the tip of South America in Patagonia. Legend has it that the land the school was built on is cursed, and strange occurrences begin plaguing Mavi as soon as she arrives. And when one of her students goes missing, Mavi must confront the dark forces at Vaccaro School.
Yuko Moriguchi is a middle school teacher and a single mother to a four-year-old daughter. One day, her daughter is killed and Yuko is devastated…but she bides her time and at the end of the school year she tenders her resignation and delivers one last lecture to her students, revealing a revenge plot that will shock the school.
Hetty was living at Raxter School for Girls with a strange pandemic hits the world. Cut off from the rest of the world, Hetty and her classmates live for eighteen months in their school, watching as their teachers die one by one before the students fall sick. The girls must survive as best they can within the walls of their school, but when Hetty's friend goes missing, she ventures out to find her–and discover the truth.
Vita Nostra by Sergey and Marina Dyachenko
Sasha has just been chosen to attend the Institue of Special Technologies, a punching and demanding school in a tiny village where the students are expected to meet impossible expectations, and if they fall short, their families on the outside suffer. As cruel as this education might be, Sasha finds herself undergoing a transformation that pushes the boundaries of what she believes possible.
Special Topics in Calamity Physics by Marisha Pessl
Blue van Meer is a clever student who finds herself at St. Gallway School, alone and friendless. Before long, she falls in with a crowd called the Bluebloods–who are curated by Hannah, a teacher at their school. But when Hannah's death rocks the school, and the Bluebloods, Blue spins a complicated web of a mystery the reader must wade through to understand what really happened.
Winner of the National Book Award, this novel is about David and Sarah, two teens who fall in love in their 1980's suburban high school. Both are in solved in drama, and their relationship is meddled in by their fellow students, and their charismatic drama teacher in this novel where nothing is as it seems.
One of the most well-known books in the dark academia genre, this book is about a group of misfits at a New England college who fall under the spell of their classics professor, who challenges their concepts of morality. But when someone is killed, they all must answer for the crime one way or another.
Hannah, Leslie, and Jimmy are three of the most popular graduate students in their MFA program, and everyone wants to become close to them. But when a young visiting professor and bestselling author sabotages one of them, they hatch a thrilling revenge plot that will launch them into notoriety.
Bunny by Mona Awad
Samantha is an outsider in her MFA program, so far removed from the trendy, popular girls who call each other Bunny. But when she receives an invitation to one of their infamous salons, she attends…and finds herself drawn into their strange, ritualistic "workshops" that take place off-campus and could prove deadly.
This new novel follow Flo and Clara at The Brookhants School for Girls in 1902, where their obsession with a writer and her infamous biography leads to their own tragic deaths. More than a century later, a new book about the Brookshants School launches their story back into public notice, but when three modern heroines arrive to the site of the former school, the past and present collide.
The Orchard by David HopenAri is accustomed to a strict and sheltered upbringing in his Brooklyn ultra-Orthodox Jewish community, but when his family moves to Miami and he's enrolled in a Jewish academy there, Ari discovers a new world. He falls in with a group of eccentric and sometimes reckless students, and under the direction of a charismatic rabbi they begin to reinterpret the rules of their religion and their own morality, with life-changing consequences.
We also recommend checking out some of our best literary book club suggestions.
If you want more recommendations for the best dark academia books, or new subgenres, check out TBR: Tailored Book Recommendations! TBR is a personalized book recommendation service that send you books you'll love to read. Here's how it works: Simply fill out the reader survey and let us know what you want more of–such as dark academia books–and what you're not keen on. Then, an expert Biblioligist will read your responses and recommend three books just for you. Receive your recommendation letter via email in about two weeks, or opt to receive your recommendations as brand new hardcovers from our partner, Print: A Bookstore in Portland, ME in about three to four weeks. Learn more and sign up now!