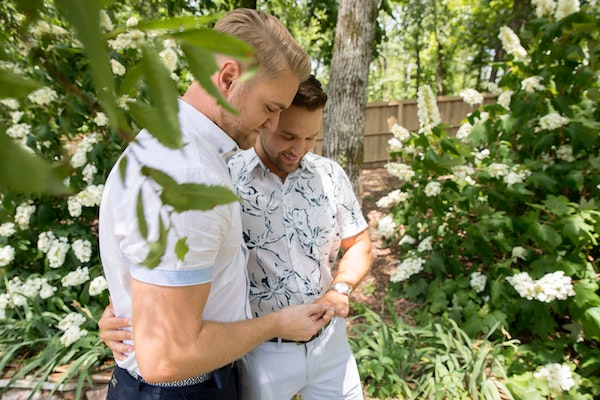 Too often throughout literary history, queer characters have been denied happy endings. For years, that was because publishers wouldn't release a book without queer characters receiving some kind of tragic punishment for what was seen as social deviation. Later, as times changed, queer characters were denied happy endings because society literally couldn't imagine them. These days, we're so lucky to live in a world where queer stories and queer joy is given space to thrive, and queer romance is a growing genre full of guaranteed happily every afters! But if you want to explore more happy queer books beyond romance, then we've rounded up fifteen recent queer books with happy endings that you'll enjoy!
Cantoras by Carolina de Robertis
Although this book touches upon some heavy topics, it has a really beautiful, triumphant ending. It follows five queer Uruguayan women who becomes friends under their country's dictatorship, and pool their resources to buy a shack on the beach in a remote coastal town. Their vacation spot becomes a much needed refuge as they move through the years, finding and losing love but always holding on to one another.
In this sci-fi horror novel, Gyre Price has lied her way into a job that she's sure is going to be pretty plum–and well-paid to boot. But she gets the shock of her life when she's paired with Em, who is all too happy to manipulate Gyre into getting the job done her way. As the two are forced to work together, Gyre must figure out if she's losing her mind, or if she's being cleverly manipulated.
In this lovely, big-hearted fantasy, Linus is a case worker at the Department in Charge of Magical Youth, and he's tasked with taking on a very special, very secret case. Sent to an orphanage by the ocean, Linus must observe six children and their caretaker, Arthur, for a month in order two determine if Arthur is a fit caregiver. What Linus discovers there is a found family that will challenge his worldview.
Patsy by Nicole Dennis-Benn
When Patsy leaves Jamaica–and her daughter Tru–behind for life in America with her oldest friend, Cicely, she's not only looking for a better life, but the freedom to love whomever she wants. But the realities of surviving undocumented are more difficult than Patsy could imagine, and back in Jamaica her daughter grapples with why she was left behind in this novel about identity, selfhood, and the American dream.
This novel follows a Syrian American trans boy who is haunted by the death of his mother and has become the sole caretaker of his grandmother. To escape, he paints murals in his NYC neighborhood, and when he discovers a lost journal from a famed ornithologist, he realizes that he is connected with the queer and trans members from within his own community, allowing him the courage to finally find and claim his new name. This is a magical tale of discovery and belonging.
Kambirinachi and her twin daughters, Kehinde and Taiye, are at the center of this novel, which follows the three women through the tumultuous years of estrangement. Kambirinachi believes she's a nonhuman spirit who will one day be punished for staying with her children. When Kehinde faces a trauma and runs away, it'll be ten years before all three are reunited.
George by Alex Gino
George has a secret: She knows that she's really a girl. She also knows that not everyone is ready to know this secret, but when she confides in her best friend Kelly, the two concoct a plan to show the world who George really is by having George play the part of Charlotte in their class production of Charlotte's Web. But what if the other people in George's life aren't ready to listen?
Felix is an out trans teen attending a new school where being trans shouldn't be a problem. But when he's bullied by someone anonymously releasing his dead name and old photos, Felix decides to take matters into his own hands and engages in a cat fishing scheme to unmask the harasser…but things don't go as planned.
Lily is a seventeen-year-old Chinese American girl in 1953, growing up in the sheltered Chinatown community in San Francisco. When a chance encounter with a white classmate named Kath leads both girls to sneak out and attend a male impersonator show at the local Telegraph Club, what they find there will change their lives forever.
Grace Porter is in Las Vegas to celebrate successfully completing her PhD when she drunkenly marries a woman she just met. They part ways, but back home in Portland, Grace is overwhelmed by the prospect of finding a job and figuring out her life, so she runs away to Brooklyn to get to know the woman she married…except running away from certain problems never solves anything.
In a world devastated by climate change, where the best quality of life is found within walled cities, Cara works as a traverser of the multiverse. She plays by the rules, only occasionally flirting with her handler Dell for kicks, but mostly she wants to make sure that nothing jeopardizes her application for citizenship. But when she traverses to a world where her doppelgänger has been murdered, Cara realizes she's at the center of a vast conspiracy.
Soraya is a princess cursed to be poisonous to the touch, and her entire life has been spent in secrecy and seclusion so that she won't hurt anyone. But on the eve of her brother's wedding, she breaks free of her boundaries and decides to consult a monster in the dungeon on how to lift her curse. What she finds is that she may have to betray her family in order to earn her freedom.
Rather than face an awful arranged marriage, Esther runs away from home after her best friend was executed for anti-State prpoaganda. She pleads her case to the Librarians, an organization of women who travel the land on horseback distributing State approved materials. But she gets the shock of her life when she discovers that the Librarians are the resistance, and if she's going to join them, she has to earn her place.
When Ben came out as nonbinary to their parents, they didn't react well. Ben is thrown of the house and forced to seek refuge with their estranged older sister and her husband. Now Ben is ready to start a new school, but they don't want to come out to anyone else. Except, then they make friends with Nathan, and Nathan takes Ben under his wing. As their friendship deepens into something more, Ben must decide if they're willing to risk coming out to Nathan.
Red and Blue are both agents on warring sides of an epic time war. When a chance encounter brings them together, they begin leaving each other correspondence across the vastness of space and time. As they begin to fall for one another, they're keenly aware of someone creeping ever closer to their super secret relationship. If they're caught, they won't just be separated…they could be annihilated.
Looking for more happy queer books? We can help! Check out our recommendations for more cute LGBTQ+ books and some of the best LGBTQ+ book subscription services. We also are all about these queer books with happy endings. And sign up for TBR: Tailored Book Recommendations! TBR is a personalized book recommendation service that sends you books you'll love to read. Here's how it works: Simply fill out the reader survey and let us know what you want more of–such as queer books with happy endings–and what you're not keen on. Then, an expert Biblioligist will read your responses and recommend three books just for you. Receive your recommendation letter via email in about two weeks, or opt to receive your recommendations as brand new hardcovers from our partner, Print: A Bookstore in Portland, ME in about three to four weeks. Learn more and sign up now!