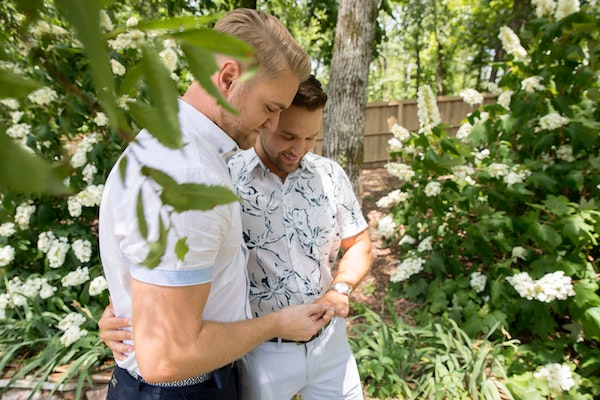 We love romance novels and believe that love is for all, which is why we're excited to highlight ten new gay romance books you can look forward to at the end of 2020 and in 2021! These m/m romance books range from YA to adult romance, historical to fantastic, and they're sure to make you laugh, pine, and swoon! Here we go!
Note: This subgenre is still extremely limited in terms of diversity and representation, particularly when it comes to authors of color. We hope that publishers will work harder to put out more stories by authors of color going forward!
Marty arrives in London eager to kickstart his new life as an out guy looking for love and to land the job of his dreams. And even though he manages to find his first ever boyfriend, travel, and make new friends, he's secretly hiding the fact that his savings are evaporating and his parents still haven't spoken to him since he came out. He's going to have to practice painful honesty if he's to achieve the life he's dreaming of.
Rian works as an art teacher at Albin Academy, where he cares deeply about his students. When the new football coach walks into his life, it seems like they're completely at odds…until they have to team up together to protect one of the students they both care about, who really needs their help.
Beat Laid Plans by Roan Parrish
Charlie Matheson is the kind of guy who takes care of things, so it makes sense that he now owns his father's hardware store and is well-known in his small town for being the go-to guy to fix things. Rye has always broken hearts and promises so on paper he's the absolute opposite of Charlie…and yet, when Rye inherits a falling down house, Charlie might just be exactly who he needs in more ways than one.
Milo Lionetti made a sily bet that cost him his brother's prized cards, and now he's desperate to win them back before his brother notices they're gone. He turns to gamer Jasper Quigley, who is looking for more in his gaming career, for help getting them back. Jasper isn't too keen on the idea, but when Milo makes an offer too good to turn down, he agrees…and the two men find themselves spending an awful lot of time together.
Wallace Price doesn't want to admit that he's dead, but then a reaper whisks him away from his funeral to a small village tucked between mountains, where Wallace is expected to cross over to the afterlife. Instead, he finds himself in a tea shop run by a man named Hugo. As the two become friends, Wallace is given a deadline to cross over, and so he sets about packing in as much living as he can before then.
Prescott J. Henderson is a fine art dealer who is excited for a new start in a small Pennsylvania town running the Beautiful Things Shoppe. The only fly in the ointment? He has to share the space with Danny Roman, a collector of vintage toys and knick-knacks that Prescott doesn't consider art. The two clash epically, but when their town is threatened, they must come together to save their shoppe and town.
Cat Sebastian makes her trade paperback debut in this delightful novel about a reformed highwayman and a disgraced aristocrat who team up together to perform the ultimate con–and fall in love in the process!
One moment Noa is on Earth, and the next he's waking up on a space ship called the Qriosity, lost in space along with two other teens named DJ and Jenny. As the three try to navigate their way home, Noa and DJ also fall in love, which is a journey as full of peril as trying to figure out how to get back to Earth!
Jay's always felt out of place in his small town as the only out kid, and he has a bucket list of things he wants to do and experience that he jokingly refers to as his gay agenda. But then his family abruptly moves to Seattle and suddenly Jay's surrounded on all sides by an open and vibrant queer community. It's easy to start checking things off his list, but when love enters into the mix, Jay finds it difficult to balance new opportunities with his old friends.
Subtle Blood by K.J. Charles
This third book in K.J. Charles' The Will Darling Adventures series doesn't have a release date yet, but fingers crossed for sometime in 2021! It is about a murder that puts Will and Kim's secret relationship in jeopardy, and puts them right in the path of some very powerful people.
Want more great new gay romance books? Here's a list of past gay romance novels we recommend! And never miss a recommendation when you sign up for TBR: Tailored Book Recommendations! TBR is a personalized book recommendation service that send you books you'll love to read. Here's how it works: Simply fill out the reader survey and let us know what you want more of–such as m/m romance novels–and what you're not keen on. Then, an expert Biblioligist will read your responses and recommend three books just for you. Receive your recommendation letter via email in about two weeks, or opt to receive your recommendations as brand new hardcovers from our partner, Print: A Bookstore in Portland, ME in about three to four weeks. Learn more and sign up now!