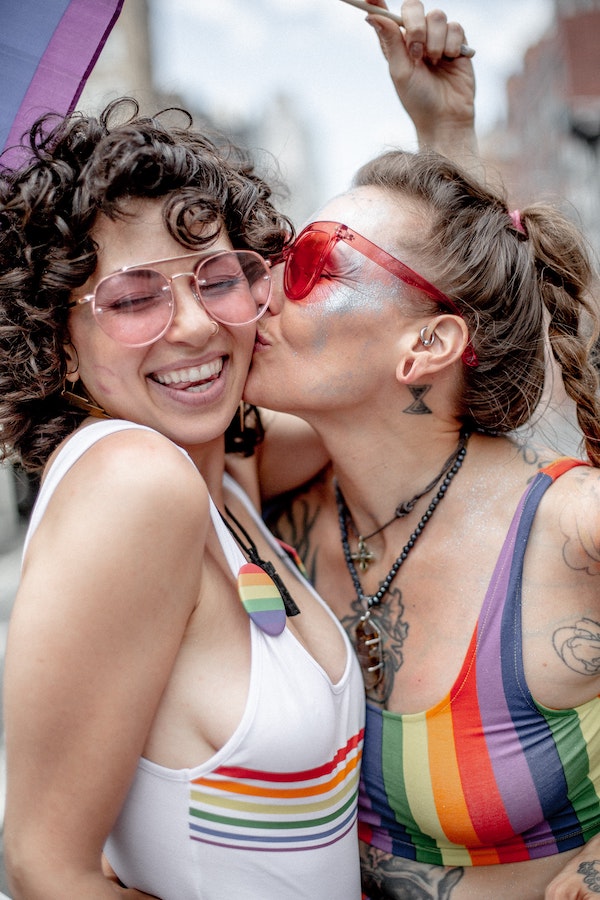 For so long, whenever books starring queer characters were published, they were often focused on queer suffering or complicated coming out narratives. Those stories are very important, but the emotional weight can take a toll, too. Luckily for us, there are so many cute LGBT books on shelves now that readers have more options. LGBT YA books in particular have been delivering cute, heartwarming, and funny queer stories for a few years, and we're happy to showcase a variety of recent and upcoming cute LGBT books that will make you happy!
Codi Teller is looking forward to a summer with her best friends Maritza and JaKory. All three of them are queer, and are itching for romance and adventures, but Codi isn't quite brave enough to go with Maritza and JaKory to a stranger's party…but then she ends up showing up late to bail out her drunk friends, and meets Ricky. Ricky is also gay, and they strike up a friendship that surprises and delights Codi, especially when he introduces her to his own friend group and she finds acceptance and a new crush. But Codi doesn't tell Maritza and JaKory about any of it. This is a feel-good summer book about friendship, relationships, and community.
Linus is a rule-following, by-the-book auditor at the Department in Charge of Magical Youth, so he is sent to a mysterious island with the highest level security clearance to determine if the orphanage and the children who live there are safe. Upon arrival, Linus finds that these magical children are not like the others that he's encountered, and neither is their caretaker, Arthur. With only a month to observe, Linus must determine whether or not they have the power to bring about the end of the world–and finds a loving, if unconventional family.
The Summer of Jordi Perez (and the best burger in Los Angeles) by Amy Spalding
What's cuter than a rom-com? This is a delightful romantic book about Abby, who is so excited to have landed her dream internship at a size-inclusive clothing boutique in LA. She's less enthused about having to share her internship with Jordi Perez, who isn't so fashion forward, but is a whiz behind the camera. Plus, she has to compete with Jordi for a job at the end of the summer…which becomes difficult when Abby begins falling for her!
Pony wants to enjoy senior year without having to deal with all the attention he got for being trans at his last school. Georgia is a cheerleader who is starting to explore what kind of person she wants to be when high school is over but has sworn off dating in the meantime. When the two of them meet, sparks fly and they find themselves drawn to each other despite their own vows to be single.
Jo is a successful Hollywood show runner who stirs up some gossip when she makes her assistant Emma laugh while the two are on the red carpet. Suddenly the paparazzi are all over them, claiming that they're a secret couple. As Jo and Emma try to deflect attention, they find that they're supportive of each other like no one else…and maybe those insinuations aren't so far from the truth.
Nathan doesn't believe in epic love, especially not after his dad died and his mom hasn't been able to pull herself together. But his best friend is determined to find Nathan the perfect guy. And then Ollie, Nathan's childhood friend moves back and Nathan is very interested…but he has to clear up a years-old mix-up if he can ever hope to be with Ollie.
Rachel and Sana have been enemies since freshman year, and now with one month left in high school, a miscommunication puts them together for a final project that could make or break Rachel's future. Despite past animosity, the two of them must find a way to work together, and as they do so, they find that maybe they don't hate one another after all. This is an excellent and fun f/f romance with Gilmore Girls vibes.
Alex became a media sensation when his mom was elected president of the United States, and the people love him. But when the public learns that Alex isn't so friendly with Henry, a British prince, relations between the two countries fizzle. They're thrown together for a staged reconciliation that the media eats up–but Alex finds that he likes Henry more than he expected to, and as they begin to fall for another,
Liz has never felt like she truly fits in in her small town, but she's looking forward to college when she can escape. Then her funding falls through, and she has to find a new plan. That's when she realizes that she has to become prom queen–and snag the scholarship that comes with the title. But when Liz becomes friends with Mack, who is also running for queen, her plan is complicated by falling for the competition.
George by Alex Gino
Although it's difficult to find novels about transgender characters that don't deal with sad or tragic events, this book is pretty cute and winds up being overall uplifting. It's about George, who knows in her heart she's a girl, but doesn't know how to tell the world. When she confides in her best friend, Kelly, they come up with a plan to get George to star as Charlotte in the class production of Charlotte's Web–because once everyone has seen the George can play Charlotte, they'll recognize her true self.
Will and Ollie have the perfect summer fling before Ollie returns home…only for a family emergency to send him moving across the country and into a new school at the last minute. And who should attend this school but Will. Except, he's not the same Will Ollie knew this summer. He's closeted. And kind of a jerk. Ollie decides to wash his hands of Will, but Will seems to be everywhere he turns, and Ollie is left deciding whether or not he's willing to take another chance with a guy who has his own complicated issues.
Mooncakes by Suzanne Walker and Wendy Xu
Nova is a witch, happily apprenticed to her grandmother. She spends her time working in her grandmother's bookshop and monitoring magical activity in her community. On her patrols, she runs into a werewolf who turns out to be Tam, Nova's childhood best friend . Delighted, Nova takes Tam home, and learns that they're destined to face the horse demon….but they don't know how to defeat it. Nova insists on helping Tam, and as they research how to fight the demon, they begin to fall in love with one another. But Tam's past is about to come knocking. This is a delightful graphic novel, beautifully illustrated with the perfect amount of magic.
When Bryson Keller takes a dare to date someone new each week–the first person to ask him out each Monday–everyone thinks it's just a big joke. Then, Kai asks Bryson out, and he agrees. And the more Kai gets to know Bryson, the more he falls for him…but Bryson is straight, and Kai doesn't want to get hurt. But perhaps Bryson isn't as straight as he once thought.
Although this book isn't without its heartbreak, it's a triumphant and romantic story about Ben, who is kicked out of the house when they come out as nonbinary and must move in with their estranged sister. As they start a new school and attempt to fly under the radar, not coming out to anyone there, Ben meets Nathan, who befriends them and looks out for them. But as the school year progresses, Ben's feelings deepen and they have to find out if they want to take a chance on coming out to Nathan.
This delightful middle grade novel is about one big unconventional family living in a Victorian house in Toronto. When a gay couple and a lesbian couple win the lottery, they decide to share their earnings and coparent their children. Nine-year-old Sumac is a thoughtful, sensitive middle child who is forced to give up her room when one of her dad's fathers comes to stay with them–and he isn't entirely comfortable with their lifestyle. Although this book deals with big issues, it's a delightful update on the family story genre.
Find more cute LGBT books!
Want more great cute LGBT books? We've got you covered! And if you're looking for customized book recommendations, check out TBR: Tailored Book Recommendations. TBR is a personalized book recommendation service that takes into account your personal reading tastes, then offers you handpicked recommendations.
Here's how it works: Fill out our reader survey, then sit back while an expert Bibliologist picks out thee books just for you. You'll receive a recommendation letter in your inbox within two weeks, or choose to receive your recommendations as hardcover books delivered straight to your door in three to four weeks! Want to learn more? Here's the nitty gritty on how it works and how you can get signed up!