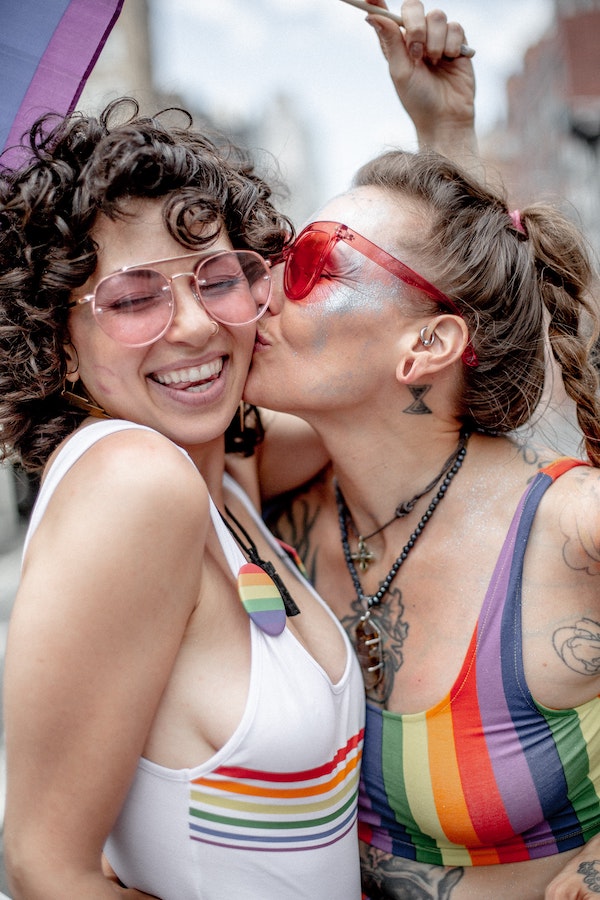 Finding quality LGBTQ+ books can sometimes be a bit tricky. Luckily, recent advocacy in publishing has meant that more and more LGBTQ+ voices are being published than ever, although the number of books released is still minuscule compared to just how many other books publish each year. Finding LGBTQ+ book subscription boxes is also difficult because unfortunately, there just aren't a whole lot of them out there. We've rounded up the best queer book subscriptions we could find, so hopefully you can spend less time searching for quality books and more time reading!
Gertie Queer Book Club – https://www.gertrudepress.org/store/p1/The_Gertie_Queer_Book_Club
Arguably one of the most popular services out there, the Gertie Queer Book Club is a quarterly queer subscription box from Gertrude Press. They offer three different box selections–the Boy Box (m/m lit), the Girl Box (f/f lit), and the Queer Box (anything goes queer lit). Each box contains a book of fiction plus one other book that the curators think is great and deserves to be showcased. Occasionally, they'll even throw in fun swag and some books may be signed. This is a quarterly subscription that is $42 per quarter with free shipping in the U.S. There is even a private Facebook group for subscribers to discuss their books! You know their selections are pretty good when in the past they've sent out Her Body and Other Partiesby Carmen Maria Machado.
Our Shelves – https://www.ourshelves.com
If you want to diversify your kids' bookshelves, then Our Shelves is the subscription service for you! Our Shelves states that "books feature LGBTQ+, racially and ethnically diverse, and feminist characters and families, among other traditionally under-represented identities in children's books." So not only will you be adding more queer books to your kids' libraries, you'll be diversifying them across the spectrum! The next awesome thing about this service is its flexibility and customizability. You can choose between three different age levels–0-3, 2-5, 5-8 years of age. Then, you can choose how many books you'd like to receive each quarter. The service starts at just $13.99 per quarter, plus you'll get 10% off your first box and 10% off multiple boxes. All boxes ship with a special activity idea inspired by the book!
Queer Book Box – https://www.queerbookbox.com
This UK-based queer book subscription offers monthly deliveries of one brand-new book that deals with the LGBTQ+ experience. They promise that all books will be written by an LGBTQ+ author, about LGBTQ+ main characters, and dealing with LGBTQ+ themes–and they'll lean towards contemporary literature and books that go beyond coming out. Choose between a basic box–just the book–or the original box, which includes a book, a letter about the book, and a fun bookmark. Past titles include Tin Man by Sarah Winman and titles by Shaun David Hutchinson. One really nice thing about this service is that they offer discreet packaging and billing. If you're not out yet, or you're not in a place where it's safe to be out, or if you just don't love lots of rainbows, you can pick plain packaging and low-key billing info. Subscriptions start at just $13 per month, plus shipping.
Malaprops LGBTQ+ Book Club – https://www.malaprops.com/lgbtq-book-club
While this isn't strictly a subscription service, Malaprops Bookstore in Asheville, NC has a monthly LGBTQ+ book club and all of their picks are available online. Since it's so difficult to find subscription services, this is a nice way to find some great picks, read up about them in advance, and buy them as you can afford or as you read. All of the 2020 picks are live on the site with convenient buy links and an easy check out system. The picks range in genre and representation, but all are paperbacks between $15-20. Support an independent bookstore, and great LGBTQ+ authors! Plus, if you're local to Malaprops, you'll be able to attend their monthly meetings! This year's selections include Cassandra at the Wedding by Dorothy Baker, On Earth We're Briefly Gorgeous by Ocean Vuong, and Mean by Myriam Gurba.
TBR: Tailored Book Recommendations
Although TBR is not strictly an LGBTQ book subscription box, but it is a totally customizable subscription service! Here's how it works: Fill out our reader survey, which asks you what books you love, what books you hate, favorite genres, titles, and authors, and most importantly, what you want to read more of! You can put down anything that's feasible, such as f/f romance, or gay fiction, or books about transgender or nonbinary experiences. You can even specify if you want fiction, nonfiction, or a mix of both! Then, you'll be matched with an expert Bibliologist who will look at your responses and recommend three books, just for you. You can receive your recommendations via email, as a recommendation letter, or you can receive brand-new hardcover books with your recommendation letter explaining why the books were chosen for you. If you want recommendations only, your letter will arrive in about two weels. If you want physical books, your books and letter will arrive in about 3-4 weeks from our partner, Print: A Bookstore in Portland, ME. Learn more about TBR and get started.
Want to find the best book subscription for you? We've got you covered.