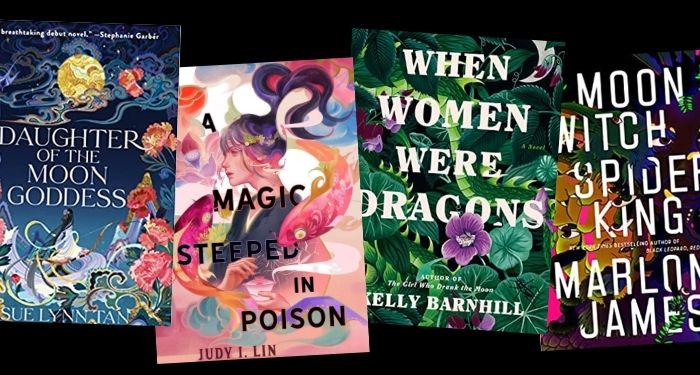 If fantasy is your jam, then there's no shortage of wonderful, otherworldly novels hitting shelves in 2022 for both YA and adult audiences! Titles range from innovative fantasy worlds to real-world settings infused with magic, drawing upon mythologies and inspiration from all over the world. Whether you're eagerly awaiting a sequel or a new release from your favorite author, or just looking for your next new fantasy obsession, then check out this list of 20 new fantasy books to read in 2022!
This book is a gender-swapped Sleeping Beauty retelling about two very different girls who have to team up to save a sleeping prince, and find love, adventure, and a few surprises along the way!
In this long awaited sequel to Tess of the Road, Tess finds herself on a trip of a lifetime, seeking out a serpent of the sea that will change her and her companions forever.
Inspired by the legend of the moon goddesss, this novel follows Xingyin, who has grown up in hiding on the moon. But when her magic gives her away, she is forced to flee and embarks upon a journey to save her mother.
Sunny and her friends return in a third installment in the Nsibidi Scripts, and this time they're headed out on a mission to locate a precious artifact in a fantastic realm, a journey so dangerous they might not come back.
Alizeh is a long-lost princess disguised as a servant, destined to take the throne. Kamran is the crown prince, and he's intrigued by this servant who, as it turns out, will play a much larger role in his future than he could ever imagine.
Hannah and her brother and mother have spent her entire life on the run, from something or someone that her mother won't reveal. But when she wakes up on her seventeenth birthday to find herself transformed in unexplainable ways, her mother disappears to find a cure…but doesn't come back. Now it's up to Hannah and her brother to find the truth.
In the sequel to House of Earth and Blood, Hunt and Bryce are hoping for quiet after saving Crescent City…but rebels have other plans, which draw in the couple and threaten their safety and happiness.
When Ning inadvertently brews a poison tea that kills her mother and threatens her sister's life, she must travel to the capitol and enter a royal competition which, if she wins, will grant her a single favor that could save her sister.
The second book in the Dark Star Trilogy follows the Moon Witch, Sogolon, telling her side of the story and how she came to be the adversary Tracker faced off against in Black Leopard, Red Wolf.
Gallant by Victoria Schwab
Olivia has grown up in a school for girls, and all she has of her mother is a journal that makes little sense. When she's invited to Gallant, the family estate, she eagerly heads out, wanting to unravel the truth about her past.
Nell loves maps more than anything, and so does her father, a famous cartographer. They had a spectacular falling out years earlier over a cheap gas station map, and now her father is dead. Nell discovers that the same map that drove him apart was on his body when he died, and now she realizes its true value…and danger.
Charm is a necromancer confined to her Bone Orchard, but she has the ear of the emperor. And when he's on his deathbed, he calls to her and tasks her with deciding his heir. In exchange, she'll get her freedom. But if she does this one thing, she'll be betraying what she values most.
When Annie arrives on Crow Island, she dismisses all rumors of magic, which has been forbidden since the end of World War I. But then she witnesses an exchange she can't forget, and is drawn into a dangerous and dazzling magical world.
With the sun held captive and the city of Tova impaired, Xiala finds herself aligning with surprising allies as the land tilts toward war.
Sofi longs to assume the mantle of Musik, a revered title for musicians that her father holds. But she's usurped during auditions by a mysterious girl named Lara who oddly has never played before. Determined to prove that Lara used magic to cheat, Sofi sets out to prove her a fraud…and instead learns that music and magic were not what she thought.
Marra was never meant to be a hero or a princess, but her sister wasn't so lucky. Married to an abusive prince, she's trapped unless someone can rescue her. Marra intends to do just that, and along the way must team up with some unconventional allies and complete a series of seemingly impossible tasks.
Alex lives under the shadow of an impossible event: In 1955, countless women abruptly transformed into dragons without any explication or notice, and took to the skies. Alex's aunt was among them, but her mother was not, and now she's living under the weight of impossible questions: What happened to them? Why did it happen? And could it happen again?
Set in pre-Code Hollywood, this novel follows ambitious Luli Wei who would do anything to break into film…but finds that the studios are using dark magic in order to maintain their power, powered by sacrificing starlets. And if she's not careful, Luli could be next.
Loulie al-Nazari makes her living tracking down and selling illegal magic, but when she inadvertently saves the life of someone important, she finds herself blackmailed into finding a magical relic more powerful than any she's ever beheld.
In Holly Black's adult fantasy debut, Charlie Hall is a former magician's thief who is trying to walk the straight and narrow path, bit it's hard. And it's made even more difficult when. shadowy figure from her past shows up, forcing Charlie back into the life and pitting her against some of the most powerful people in the world.Need more fantasy recommendations? Check out:
And if you're looking to stay on top of the greatest new fantasy books to read, sign up for TBR: Tailored Book Recommendations! TBR is a personalized book recommendation service that sends you books you'll love to read. Here's how it works: Simply fill out the reader survey and let us know what you want more of—such as great new fantasy books—and what you're not keen on. Then, an expert Bibliologist will read your responses and recommend three books just for you. Receive your recommendation letter via email in about two weeks, or opt to receive your recommendations as brand new hardcovers in the mail in about three to four weeks. Learn more and sign up now!