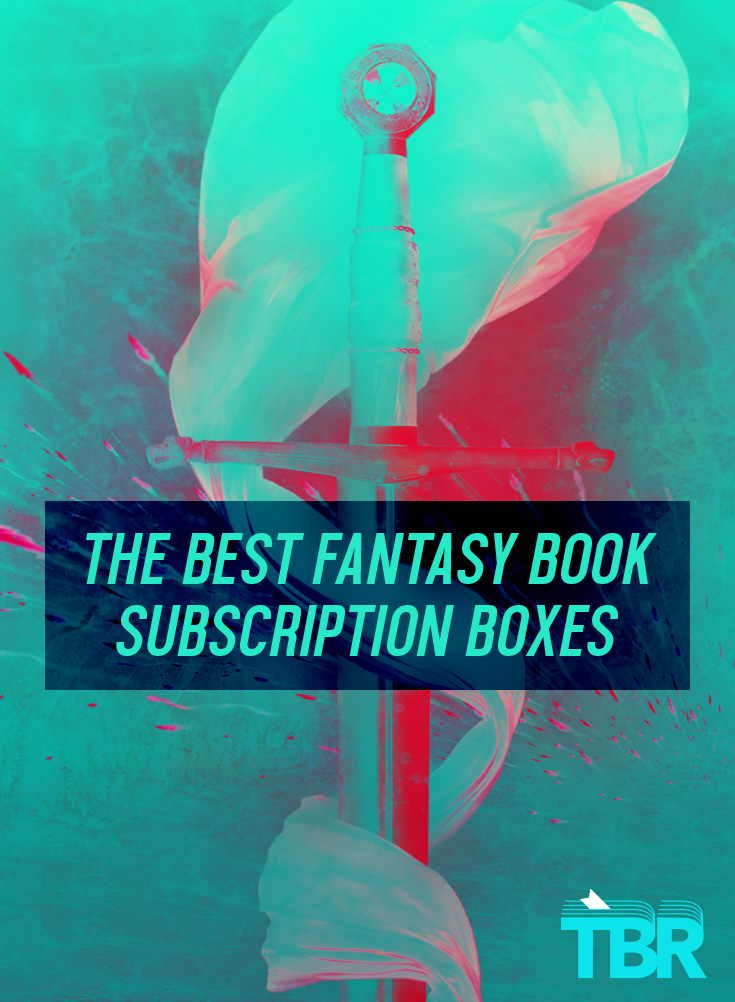 Are you a fan of all things magical and fantastical? If you like your books dripping with sorcery and set in other realms, then you might want to be whisked away to another world with a fantasy book subscription box! It's hard to pick just one fantasy and sci-fi book subscription box, so we've fallen down the rabbit hole for you and highlighted a list of the best! We'll leave the difficult task of choosing the perfect one to you!
If you're all about the books and finding the perfect novel for your tastes, then TBR: Tailored Book Subscriptions is the service for you. TBR offers readers personalized book recommendations, ensuring that they get exactly what they want each time. That's no small feat, considering the range of fantasy books to choose from. If you're looking for low or high fantasy, romantic or political thrillers, diverse characters, or anything in between, just tell the expert Bibliologists what exactly you're into when you fill out the reader survey. Then, they'll pick out three personalized book recommendations just for you, and you can choose from two subscription tiers for delivery: the recommendations-only tier delivers your recommendations letter straight to your inbox, and the hardcover level sends three brand-new hardcovers straight to your door! Pricing starts at $15 per quarter.
Fantasy Monthly is a service that provides subscribers with one new YA hardcover each month and lots of great artwork, including bookmarks, an art print, and a book club card. You also gain access to an exclusive community of readers for book club discussions. They also offer a deluxe version of the club, which comes with everything in their standard boxes, plus a candle, tea, bath bomb, and other goodies! Pricing starts at $16.99 per month!
The Strand Bookstore in New York City has an amazing collection of subscription services called The Book Hook Up, and they have a science fiction and fantasy box! Each box includes a brand new, first edition, signed hardcover, plus a paperback book and assorted goodies from their store or partner stores. Boxes start at $55 per month!
If you're looking to keep it simple, grab Magic Chest, which is a monthly subscription service for one brand new fantasy hardcover, plus 3-6 goodies. This is a German-based box, and although it does ship to the U.S., delivery might be a little slower than if you live in Europe. You can also choose to just receive the book and skip the goodies! Starts at $20 per month.
Fairy Loot is a UK-based company with operations in the U.S., and they are all about YA fantasy! Each box has a brand new YA fantasy hardcover (often an exclusive edition in partnership with a publisher), plus 5-6 exclusive goodies. They have an artist on staff, so you know that their content is gorgeously illustrated. Boxes start at $32 per month.
Caffeine and Legends gives readers just that–eight ounces of a delicious coffee or tea, an amazing new fantasy book, plus one bookish item. This subscription is great for adult fantasy readers who like the swag of subscription boxes, but don't want too much of it cluttering their house. Plans start at $32 per month.
Shelflove is a YA fantasy and science fiction box with one brand new hardcover book and at least four (but sometimes more) bookish items. Past items have included tea, socks, notebooks, bath bombs, candles, bookmarks, tote bags, and more! Get just the book subscription starting at $17.99 per month!
This is a Canadian-based box (that ships worldwide) and includes a new novel in the fantasy, science fiction, or dystopian genres, plus 3-4 goodies each month. Bonus, the goodies are made by Canadian artists and vendors! We also love the pun in the box name! If you want just the book, you may choose a mini box version which includes the book and a bookmark! Plans start at $22 per month.
Calling all unicorn fans! This subscription box includes a brand new YA fantasy release, 5-6 bookish items, plus one unicorn item in each box! Each box is themed, and past themes have included Heart of a Dragon, Enchanted Objects, and Hidden Realms. You can buy past boxes in single purchases, or subscribe for just $36.95 per month!
Is reading fantasy a form of self care for you? Then subscribe to this box, which includes a fantasy novel, a themed bath product such as a bath bomb, and 2-3 other treats (edible or relaxing) to help you escape in an immersive fantasy novel! Escape to another realm starting at just $29.99 per month.
Illumicrate
Illumicrate has a monthly subscription that guarantees you a brand new fantasy release, plus 3-5 goodies. They frequently work with publishers to create exclusive editions of their picks, and they also release fandom boxes full of fun items related to various books and series. They even have an exclusive enamel pin subscription! With flexible subscription options, plans start at $32 per month.