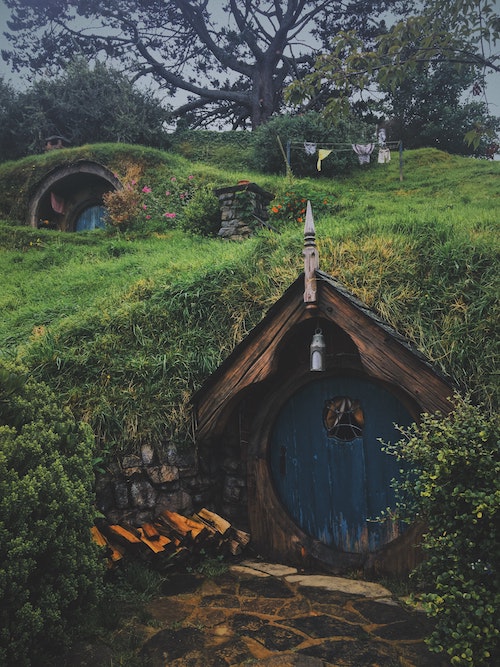 Do you like a hearty dose of laughter along with your magical creatures? While some people may not head to fantasy novels for the laughs, there are a whole bunch of fantastical and funny fantasy books out there that provide some escapism and comic relief. We rounded up fifteen of the funniest fantasy books that go beyond masters like Terry Pratchett and Jasper Fforde–so get ready to fall down a rabbit hole of laughter and magic!
Linus Baker works in the Department in Charge of Magical Youth, and his latest assignment is rather odd: He must travel to Arthur Parnassus's orphanage and evaluate six children to determine what the chances are that they'll bring about the end of the world. But when Linus arrives, it's clear that Arthur is safeguarding some pretty big secrets about these children, and will do whatever it takes to keep them safe.
This book is a bananpants mix of sci-fi and fantasy with a dash of horror thrown in for good measure, and it's hilarious. Set on an abandoned space station, Gideon is a sword-fighting cavalier sworn to protect her worst enemy as she uses necromancy to figure out how to win the emperor's competition. The winners get immortal life, but it's not an easy prize to obtain, especially when the murders begin. This book has a strong voice, and is the start of a trilogy!
Elisabeth is a Librarian's apprentice at one of her kingdom's Great Libraries, and she loves her job protecting innocent people from evil grimoires. But when a grimoire escapes one night, wreaking havoc, Elisabeth is blamed and must align herself with a notorious sorcerer and his demon servant in order to clear her name. This is a lively and humorous fantasy standalone with high stakes.
The Order of the Pale Moon Reflected on Water by Zen Cho
In this delightful novella, a nun joins a gang of bandits, horrifying them all by the impropriety of it. But she's got nowhere else to turn to–religious persecution in their land has rendered her homeless. But when she discovers that the bandits have in their possession very important religious relics, she highjacks their mission, with unexpected results.
Soulless by Gail Carriger
All of Gail Carriger's Victorian steampunk novels populated with vampires and werewolves are hysterically funny, but you might as well start out with her debut novel and the first in the Parasol Protectorate series. Lady Alexia Tarrabotti is a spinster, and she's soulless–her touch renders immortal mortal. For that reason she's feared, but when someone tries to kill her, she must work with a brooding werewolf earl in order to get to the bottom of the mystery. It's one of the best funny fantasy books with a touch of romance.
My Lady Jane by Cynthia Hand, Brodi Ashton, and Jodi Meadows
In this hilarious romp, England's history is rewritten and given a light fantasy makeover. Lady Jane Grey is about to be married to a stranger named Gifford, who is secretly Eðian–that is, he turns into a horse during the day, and reverts to human form at night. Throw in a young King Edward who is sick and dying but determined to have his first kiss before he goes, and you have the makings for an outrageous adventure. This is also the first in a series!
In this fantasy graphic novel (originally serialized online), Masha attends a boarding school for witches and mutants, where normal teenage hijinks play out alongside some magical misadventures. Meanwhile, Masha has a hugely unrequited crush on Wendy, a cute girl with cat ears. Tamaki gives us a glimpse at a wide cast of eclectic characters in this funny and heartfelt book.
Newlyweds Thomas and Marya Senlin have chosen to honeymoon at the Tower of Babel, a marvelous wonder that contains many, many stories and ringdoms that are sometimes friendly, sometimes hostile, almost all exciting. But when the couple gets separated shortly after arriving, Thomas must ascend through the chaos to find his new wife.
Keeley is a blacksmith who doesn't pay much mind to the old king's passing and a prophecy declaring that the new sovereign will be a queen to usurp the kingdom's princes. War is good for her business. But she has to start caring when she discovers that the prophesied queen is her younger sister, and a band of mountain warriors are determined to see her on the throne!
Temper by Nicky Drayden
In an alternate South Africa, two twin brothers live very different lives. Auben has six vices branded on his arm for the world to see, and that means fewer opportunities for a good life. He's only a bit resentful of his twin Kasim, who has only one vice and goes to a better school. Auben always keeps everyone entertained, at least. But when he begins hearing voices encouraging him to give into his vices, it's clear that demons are tempting him, and if he cracks, his entire world could come tumbling down.
In this first book in a superhero trilogy, Evie is the assistant to her childhood friend and the city's biggest superheroine–who also turns out to be a bit of a diva. Evie's good at handling her and staying in the background, but when she has to pose as her boss one night, her big secret is revealed: She has powers, too. And this revelation is about to put her and her little sister in danger.
Kill the Farm Boy by Delilah S. Dawson and Kevin Hearne
If you're a fan of The Princess Bride, then you need to pick up this zany tale of a farm boy who is a chosen one…but he finds that his tale is anything but conventional as he goes off to rescue a princess in a tower and gets more than he bargained for. This is a hilarious parody of funny fantasy books and chosen one stories, with an eclectic cast of characters.
In Zen Cho's witty debut novel, Zacharias Wythe is the Sorcerer Royal of the Unnatural Philosophers, tasked with overseeing that all magic in England is kept in balance. But when magic drains away, he goes to the edges of fairyland to discover the cause–and meets a young woman with formidable powers that he won't soon forget.
Carry On by Rainbow Rowell
Simon Snow and his roommate Baz are mortal enemies. Simon is the Chosen One, and Baz is evil, but they have their routines and when Baz doesn't show up for school, Simon is concerned. Especially since there's a monster running around who looks exactly like Simon, his girlfriend's just broken up with him, and the end of the world is nigh…but Baz is probably fine, right?
Ben is just an ordinary guy who decides to stretch his legs and go on a hike in between meetings on his business trip. But when he takes a certain path, it becomes apparent that he's no longer in his own reality, but a bizarre fantasy land–and there's no turning back. The only way out is through, and Ben must track down the Producer, who created this world, in order to find a way to get home to his family.
Looking for more excellent funny fantasy books? Check out TBR: Tailored Book Recommendations. TBR is a great service that offers quarterly personalized book recommendations based on what you want to read more of. All you have to do to get started is fill out our reader survey and indicate what you want to read more of–such as funny fantasy and sci-fi books–and then you'll be matched with an expert Bibliologist who will hand-pick three books just for you, and write you a recommendation letter. Receive your recommendation letter via email in about two weeks, or you can opt to receive your letter and your recommended books from our partner, Print: A Bookstore in Portland, ME in three to four weeks! Learn more and get started today!