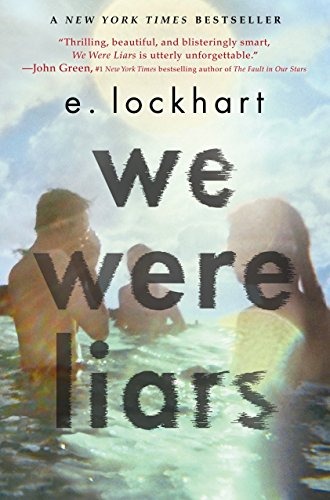 Ever since its publication in 2014, We Were Liars by E. Lockhart has generated a massive amount of buzz among readers for its unreliable protagonist, swanky private island setting, and complex backstory involving a wealthy privileged family and their secrets. Not to mention that big twist! If you loved We Were Liars, we recommend that you check out Lockhart's other mind-bending and unconventional mystery, Genuine Fraud. If you still want more, here are ten books like We Were Liars that we recommend that are great readalikes!
Belzhar by Meg Wolitzer
Like We Were Liars, this book is about a girl with a past, secrets, and profound regrets…with a twist. Jam Gallahue is mourning the death of her boyfriend when she's sent to a boarding school in Vermont. There, she's placed in a special topics in English class with a handful of fellow students who are also all haunted by their pasts. They're assigned to read The Bell Jar by Sylvia Plath…and then given special notebooks that will force them to confront their pasts in surprising ways.
For a haunting story with dual timelines and an unreliable protagonist, pick up this compelling novel about Violet, a dancer who finds everything she's ever wanted within reach when a shocking act threatens it all. Then there's Amber, who is locked in a juvenile detention center for it seems like forever. And finally, there's Orianna, who is the only one who knows the truth about Violet. Their paths intersect in surprising and powerful ways.
For a compelling mystery about cousins and their wealthy grandparents, this is a great mystery readalike! Milly, Aubrey, and Jonah haven't seen each other since they were little. They're cousins whose parents were disowned by their exceedingly wealthy grandmother not long after their grandfather's death. Now, their grandmother has invited them to the resort she owns and given them summer jobs. Their parents insist that they go, hoping to get back in their mother's good graces, but once they arrive they find that the family secrets are darker than they expected.
Complicit by Stephanie Keuhn
Complicit is a great novel if you're in for compelling novel about a family reeling from an act of violence featuring an unreliable narrator. Two years ago, Jamie's older sister Cate did something unspeakable that got her put away. Everyone breathed a sigh of relief, especially Jamie, because Cate was not a good person. But now she's been released. And she's coming for Jamie. And she wants to tell him the truth about what happened two years ago.
Allegedly by Tiffany D. Jackson
For the ultimate unreliable narrator, pick up this book! When Mary was nine, she killed a baby. Allegedly. While no one was able to prove it definitively, they didn't need to. Mary was already declared guilty by the public. Now she lives in a group home and is just trying to survive…until she discovers she's going to have a baby of her own. And that gets her thinking about what kind of future she can have. Which means she needs to confront the truth about what happened…and her own mother.
For a book about the complicated bonds of family, grab this novel about sisters Dara and Nick. They used to be as close as could be, until an accident left Dara scarred and withdrawn. The girls have been estranged ever since, but when Dara disappears the same day a nine-year-old girl goes missing, Nick becomes convinced the cases are linked and sets out to prove it.
Featuring a similar nonlinear timeline and complex, sometimes toxic relationships, this is about Remy, who has a best friend named Elise and a wonderful boyfriend named Jack. Remy loves Elise, but knows she gets jealous of Jack sometimes. However, she's completely shocked when jack is shot, and Elise is arrested. She doesn't believe Elise could be responsible, but she has a limited amount of time to get to the truth…and she'll have to face hard truths in order to get justice for Jack.
Like Cade in We Were Liars, Emily is haunted by the past and something that she could not control, but feels responsible for anyway. She's sent to boarding school in Amherst for a fresh start, and finds friendship…and perhaps understanding in the spirit of Emily Dickinson.
For a speculative book about deep friendship and impossible choices, here's a compelling book five friends who find themselves at a reunion one year after graduating…but their night ends in a terrifying brush with death. Then, they're told by a mysterious man that only one of them can live, and they must decide. And their decision must be unanimous.
For another book that explores the complex bonds of family and has dual timelines, the latest book by Courtney Summers is about two sisters who find themselves separated by tragedy. When their parents die in a car accident, Bea leaves her younger sister Lo behind to join The Project, rumored to be a cult. Now, after years of missing her sister, Lo is ready to confront the Project and find out the truth about what happened to her.
Want more popular read alike suggestions? Check out:
And if you want even more great YA picks and books like We Were Liars, sign up for TBR: Tailored Book Recommendations! TBR is a personalized book recommendation service that sends you books you'll love to read. Here's how it works: Simply fill out the reader survey and let us know what you want more of–such as great YA novels–and what you're not keen on. Then, an expert Bibliologist will read your responses and recommend three books just for you. Receive your recommendation letter via email in about two weeks, or opt to receive your recommendations as brand new hardcovers in the mail in about three to four weeks. Learn more and sign up now!