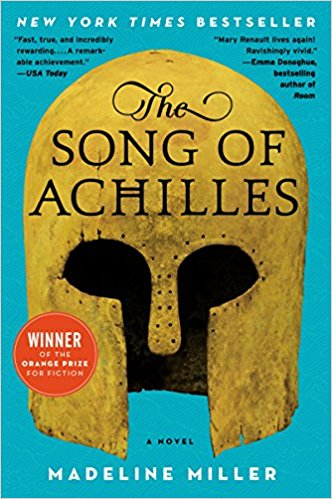 If you've spent any time on BookTok lately, you might have seen Song of Achilles a lot. This backlist title by Madeline Miller has been making the rounds, and making readers feel all the feels while also giving them a new and interesting perspective on The Iliad. It is told from the perspective of Patroclus, who must follow Achilles to war and finds everything from his friendship to his courage tested in the events that follow. It's a queer, atmospheric, and dramatic retelling that has certainly captured the hearts of readers around the world, and now you might be wondering–what should I read next? We've got 15 great recommendations of books like Song of Achilles for you!
Note: The subgenre of myth retellings tends to be very white, and we could only find a few authors of color to include on this list of books like Song of Achilles. We hope in the future that publishing will prioritize the voices of people of color in retelling these tales.
Circe by Madeline Miller
This may seem like an obvious choice, but if you haven't read Circe, pick up Miller's novel about Circe, which retells the story of the goddess turned witch who was banished by Zeus, and comes to love mortals. As she crosses paths with Medusa, Odysseus, and many others, she must decide where she stands once and for all.
For a moving retelling of epic mythology, but this time of the Norse variety, pick up this novel about Angrboda, a witch left powerless after Odin curses her. She flees into the woods where she meets and marries a mysterious man who provides her with a home, happiness, and children…until she learns her husband is Loki, and she begins to foresee terrible events ahead.
If you're looking for another different epic tale retold, then pick up this contemporary retelling of Beowulf, which recasts Herot as a gated community and Grendel's mother as a war veteran living off the grid in the woods outside of that community, and follows the events surrounding their clash.
Lavinia by Ursula K. Le Guin
Written by a sci-fi and fantasy master, this novel tells the story of a woman who is voiceless in the original myths and legends. Lavninia grew up happy and ignorant of the politics that would one day take over her life, until a fleet of Trojan ships arrives on the horizon. This is her story, all of the details that are glossed over in Aeneas's pursuit of her hand in marriage.
Ariadne by Jennifer Saint
Ariadne is a princess whose life seems happy, but she and her people are haunted by the threat of the Minotaur, her brother, who lives in the labyrinth beneath their feet. And then Theseus arrives on Crete, Ariadne sees him as a chance for escape, even if it means betrayal of her family and her people.
Bull by David Elliott
For a different take on Theseus and the Minotaur, here is a playful verse retelling of the story. With anachronistic language and an edgy, funny voice, this book feels like what would happen if Lin-Manuel Miranda decided to retell myth.
Ransom by David Malouf
If you'd like to read another tale of Achilles, this time after Patroclus is lost, then pick up this novel about a grieving Achilles and Priam, who is full of regret after his son Hector killed Patroclus. It's a story of grief and redemption, and learning how to move forward after tremendous loss.
This is a playful retelling of Odysseus's journey, with new tales, insight, and fragments that make readers think more deeply about the original tale, and offer creative revisions to the original.
An Iliad by Alessandro Baricco
Relive the siege of Troy not through the eyes of the main players that we have come to recognize, but through twenty-one different minor and side characters. This is a moving retelling that mines deeper meaning to this classic tale.
If you've read and loved Madeline Miller, you must read Mary Renault, who rose to prominence after this 1958 release retelling the life of Theseus with fascinating historical detail, and who is widely regarded as one of the best scholars and writers of classic mythology.
This novella might take some tracking down as many editions are out of print, but for readers who enjoy when women of ancient times are given voices, pick up this story of Penelope, wife of Odysseus, who reclaims her own story after her husband finally returns home and inexplicably kills her maids and companions.
Helen of Troy has been regarded throughout history as an exquisite beauty whose "face launched a thousand ships" and started one of the most memorable wars in living memory. In this novel, George retells her story and includes all of the characters that are prominent in her story.
For something a bit different, here is a novel if you enjoyed the beautiful writing and queer love in Song of Achilles. Two men, both enslaved in the American South, fall in love but find their love and lives threatened by a power-hungry man.
This is the story of Briseis and many other women who are prisoners of Achilles in the Trojan War. Briseis is originally only given a few lines, but here she tells her story, and the stories of her fellow female prisoners.
For a fascinating and fully-realized epic tale, but set in India, pick up this novel about a college professor who agrees to transcribe a story from a jumble of notebooks and manuscripts, and finds himself encountering a strange and magical story set in Mughal India, about a woman who finds herself torn in two very different directions in a magical, epic struggle.
If you're looking for more books like Song of Achilles, we've got them! Check out our list of the best cute LGBTQ+ books, and some great romance novels perfect for your book club!
If you're looking for something more specific, sign up for TBR: Tailored Book Recommendations! TBR is a personalized book recommendation service that sends you books you'll love to read. Here's how it works: Simply fill out the reader survey and let us know what you want more of–such as books like Song of Achilles–and what you're not keen on. Then, an expert Bibliologist will read your responses and recommend three books just for you. Receive your recommendation letter via email in about two weeks, or opt to receive your recommendations as brand new hardcovers in the mail in about three to four weeks. Learn more and sign up now!