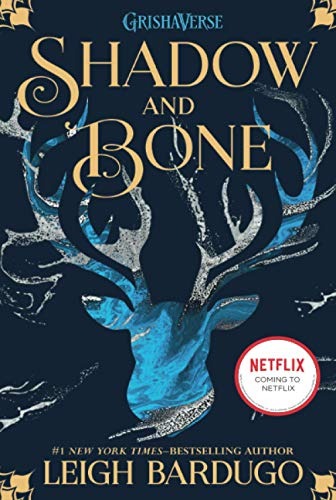 You might have ben living under a rock if you haven't heard of Shadow and Bone–either the trilogy of books by Leigh Bardugo, or their TV series adaptation on Netflix! Shadow and Bone was originally released as a trilogy of YA fantasy novels, and then author Bardugo expanded her fantasy world with two more duologies set in the same world–Six of Crows and King of Scars. The Netflix TV series cleverly combines the plots and characters of the first Shadow and Bone book with the characters and backstory of Six of Crows to make for a fantastic TV show, with a second season on the way! If you came to these stories by the TV show, we highly recommend that you pick up Leigh Bardugo's books! If you've already read the books and are dying for season two of the show, then we recommend these books like Shadow and Bone to tide you over!
Similarly epic with a fully realized fantasy world, this series follows Laia, a girl whose people have been enslaved, and Elias, a soldier in the militaristic regime that has colonized and enslaved Laia's people. When Laia enters the land's elite military school as a spy, her path crosses with Elias, who has secretly been harboring doubts about his purpose and future, and their meeting sets their worlds on fire. Start with An Ember in the Ashes.
Nestled in a vast fantasy continent is the tiny land of Lumatere, which is enclosed by a stone wall. When the royal family is overthrown in a violent coup, a witch curses the land, shutting the gates of Lumatere to the outside world. Those who remain within are cut off, and the Lumaterans outside are exiled. Finnikin, son of the king's guard, grow up in foreign courts trying to advocate for his people, until a mysterious young woman appears and tells him she can lift the curse, but first he must unite their people. Start with Finnikin of the Rock.
This is a high-spirited standalone fantasy novel with a clever world building system and a romantic hero who gives off strong (but less evil) Darkling vibes. Elisabeth is a Librarian's Apprentice working in magical libraries to protect people from dangerous grimoires. She's been brought up to distrust all sorcery, but when a grimoire escapes and she's implicated in the crime, Elisabeth must align herself with a notorious sorcerer and his sly demon servant to clear her name.
In this West-African inspired fantasy, Zélie remembers a time when her land hummed with magic and her mother was a powerful maji. But when the new king ordered them all to be put to death, magic was stamped down…but not completely. Now, Zélie will fight agains the crown prince in order to restore magic, even as she falls for him. Start with Children of Blood and Bone.
If you're looking for a series of books that has a wide cast of characters over many books, and a fully developed fantasy world with many different political powers, you can't go wrong with this collection of epic, magical books. Set in a world where people possess special magical gift called Graces, this series is about a group of characters struggling against those who would use their Graces for great evil. Start with Graceling.
Like Alina Starkov, Lazlo Strange is a war orphan. Lazlo has been haunted since childhood by a dream of an epic city halfway across the world. When the opportunity presents itself for Lazlo to go in search of his dream, he seizes the chance to go. But discovering the mysteries of this epic city will test him to his limits.
If you enjoyed the found family and heist aspect of Six of Crows, then pick up this book about Nix, who has grown up on a time traveling ship that can sail anywhere in the world through any time period, as long as the captain has a map from that era. When her father, the captain, finds a map that will take him back to the time and place of Nix's birth, she fears that he could undo her very existence.
If you enjoyed the influences of history, religion, and culture on the Shadow and Bone books, then pick up this novel inspired by medieval France! Ismae has just escaped an arranged marriage and seeks refuge at St. Mortain's convent…where she realizes that the nuns are all tasked with becoming assassins. She's given a choice to train for death, or risk losing everything. Start with Grave Mercy.
Tilla is a bastard daughter of a lord who cast her aside as she grew older, and who spends her days at court with other bastards. They form a ragtag gang who mostly exist off to the side, until a visiting princess shocks the court by choosing to spend time with them. Soon, Tilla and her crew find themselves on various misadventures after dark…until they stumble upon the scene of a crime they were never meant to witness, and must figure out how to avoid civil war. Start with Royal Bastards.
If "make me your villain" is a line that resonated with you in Shadow and Bone, then you definitely need to read this fantasy trilogy about a young woman's origin story in villainy. As a child, Adelina survived an epidemic that gave her special powers, but those powers have isolated her from her family. When finally given the chance at belonging, Adeline faces a choice that will change her and her world forever. Start with The Young Elites.
Set in magical historical Paris, this is the perfect read for fans of Six of Crows! Séverin Montagnet-Alarie's birthright was stolen from him, so now he decides to assemble of crew of five other lost, orphaned, or otherwise outcast people in order to steal it back.
If you enjoyed reading about the lower and middle classes of a crowded fantasy city, then you definitely need to pick up the Beka Cooper trilogy. It follows Beka, who joins the Provost's Guard and is assigned to the toughest part of the city. While on her patrols, she uses her secret magical abilities to discern that there's a killer on the loose…and hunt him down. Start with Terrier.
Aina Solís is all on her own after the murder of her parents, but she quickly becomes an assassin in a dangerous city where her boss has a lot of power, and her small found family are the only ones she can depend on. But when she uncovers a dangerous conspiracy, it will take all she has to survive. Start with Diamond City.
Jude was a child when her parents were murdered and she was whisked away to the land of the Fae. Now living in the court, she wants nothing more than to belong there for good, even if everyone there, including the prince of the Fae, despise her. Start with The Cruel Prince.
Lia was supposed to be born with the gift of Sight…but when it never materializes, her marriage is arranged to a stranger. Rather than go through with it, she runs away with her maid and best friend and creates a new anonymous life for herself, until two young men turn up in her new town. One is the prince she abandoned at the alter, and one is an assassin sent to kill her. Start with The Kiss of Deception.
Want more book recommendations? Check out our list of the best new LGBTQ+ YA books, and the best fantasy subscription services we recommend. If you still want more, sign up for TBR: Tailored Book Recommendations! TBR is a personalized book recommendation service that sends you books you'll love to read. Here's how it works: Simply fill out the reader survey and let us know what you want more of–such as Grashaverse readalikes–and what you're not keen on. Then, an expert Bibliologist will read your responses and recommend three books just for you. Receive your recommendation letter via email in about two weeks, or opt to receive your recommendations as brand new hardcovers in the mail in about three to four weeks. Learn more and sign up now!