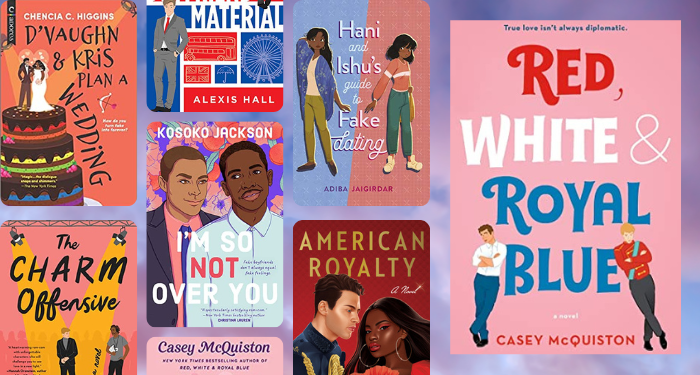 Casey McQuiston started writing their debut novel, the 2019 bestseller Red, White & Royal Blue, in early 2016 as a "Veep-esque affectionate send-up of American liberal politics," according to this interview with the Los Angeles Public Library. The tone of the book changed, they explain, after the election, becoming more hopeful. Since its release, readers have been scrambling to find books that hit the same notes, because once you've read RWRB, you just need more. While some of us (ahem) read it a dozen times before moving on, other readers are looking for books like Red, White & Royal Blue after their first — and I've got some great reads for all of us!
Released on May 14, 2019, RWRB hit The New York Times Best Seller list on June 2. Later that year, the book won the Goodreads Readers Choice Awards for Best Romance and Best Debut. In 2020, it was an Alex Award winner, an award given to adult novels that appeal to teen readers.
First, let's talk about what makes this book so special. If you haven't read it, the basic plot goes like this: Alex, first son of (the first female president of) the United States, hates Henry, the younger grandson of the queen of England. Forced to attend Henry's older brother's wedding, he picks a fight and they end up falling into the extremely expensive wedding cake…in front of a lot of photographers, landing them on the front pages of all the tabloids. Their PR people order them to become fake friends and pretend they were play-fighting. They make a few appearances together, and reluctantly become friends. Then Henry kisses Alex, and things escalate quickly. From enemies to fake friends to secretly banging, all while dodging the press and their families' politics.
To be honest, there are no books like Red, White & Royal Blue…but there are some great reads that hit some of the same notes. I've separated these by trope, and tried to include adult, new adult, and young adult titles in every category. The majority of these books are queer, and they're all great reads! Read on for 19 books like Red, White & Royal Blue!
Fake Dating Books
Okay, so Henry and Alex fake a friendship, rather than a romantic relationship, but since that is one of the most unique aspects of the book, let's look at some great fake dating books that might scratch the itch.
Royalty Books
Henry is the younger grandson of the queen of England, and Alex is American royalty — in this case, the first son. Readers have of course noticed the parallels to Meghan Markle (TV royalty) and Prince Harry, but McQuiston had no insider knowledge while writing the book, and in fact told The Advocate: "I had no idea those things were going to happen, like Harry and Meghan deciding to be like, 'Peace out, I'm going to Canada'. When I wrote the entire first draft, they literally had not even acknowledged that they were together. What kind of third eye did I have open when I was writing this?"
Enemies to Lovers Books
For some of us, the turn from hate to love is where it gets really good. Who can forget how angry Alex was while he was kissing Henry under the portrait of Alexander Hamilton?
Charming LGBTQ+ Books
Henry is gay and Alex is bisexual, and most of the supporting cast is queer, too. Here are some more delightful queer books like Red, White & Royal Blue to enjoy!
---
The Amazon Prime movie of Red, White and Royal Blue is streaming now! Hungry for more romance books? We've got gathered some of the best steamy romance novels, a list of the best cinnamon roll heroes in romance, and the best romance movies based on books.
If you're looking for even more great book recommendations, try TBR: Tailored Book Recommendations! TBR is a personalized book recommendation service that sends you books you'll love to read. Here's how it works: Simply fill out the reader survey and let us know what you want more of and what you're not keen on. Then, an expert Bibliologist will read your responses and recommend three books just for you. There are two subscription options: receive your recommendation letter via email in about two weeks — perfect for library users! — or opt to receive your recommendations as brand new hardcovers in the mail in about three to four weeks. Learn more and sign up now!