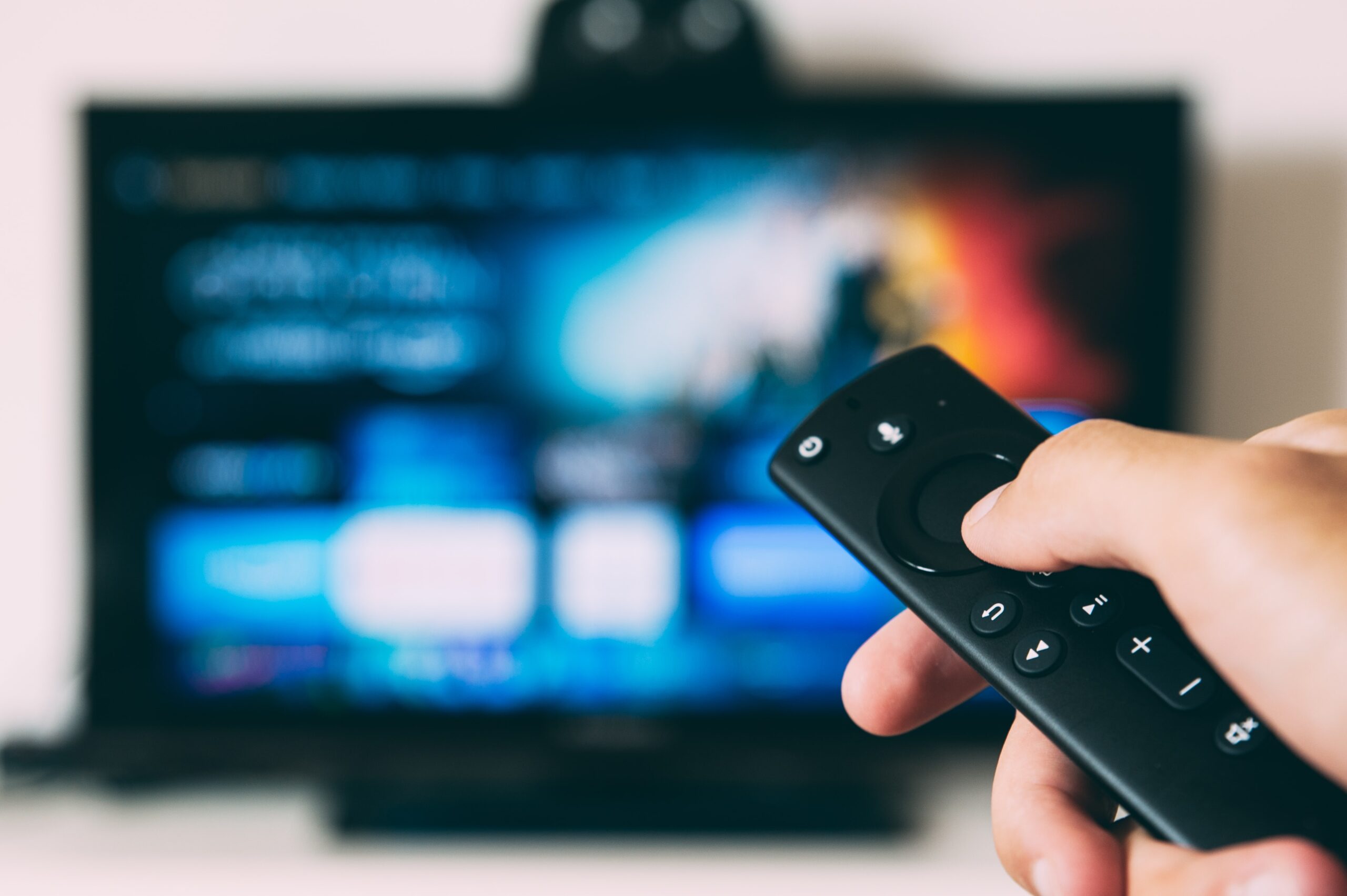 While it's true that the book is almost always better, there's something really exciting about seeing your favorite stories reimagined for the small screen. With the rise of streaming services, TV shows are more popular than ever, and for some book to screen adaptations, the longer episodic format just makes sense. While many, many books get optioned each year, few make it all the way to TV shows on your favorite streaming service. Here are some of the best new TV shows based on books both new and old that you can stream now!
Emily St. John Mandel's 2014 novel of the same title has been released as a miniseries, and it's both haunting and heartfelt. It tells the dual timeline story of what happens when most of the earth's population falls sick and dies from a deadly plague in present day, and then it leaps ahead 20 years into the future to show what the world is like after the collapse of society. At the center of the story is Kirsten, who was a child actor on stage the night the virus hit, and as an adult is a member of the Traveling Symphony, who travel around Michigan performing at various outposts and settlements, and whose way of life is threatened by the rise of a man who calls himself the Prophet.
Leigh Bardugo is known for her high-stakes fantasy and detailed world building, and we get to finally see that on the screen! This TV show combines the plot and characters of her Shadow and Bone trilogy with the characters and backstory of her Six of Crows duology, and the blend is seamless. Season one is available now, and season two is currently filming.
Karen McManus's runaway bestseller is billed as The Breakfast Club, but make it a murder mystery. It stars five teens who are sent to detention, but one of them doesn't make it out alive. Now the survivors have to figure out who among them might be a killer. Although the book's mystery is solved, it has a companion novel, so it makes sense that the show has been renewed for a second season.
Based on Karin Slaughter's novel of the same title, this miniseries starring Toni Collete starts off with some shocking action. Laura takes her aimless thirty-year-old daughter Andy out for lunch on her birthday, only to end up making headlines when she steps between a gunman and her daughter. The next day, someone comes for Laura and Andy's actions thwart the would-be killer…but also put her on the run searching for the truth of her mother's past.
Stay Close is just the latest of Harlan Coben's mystery novels to be turned into a TV series. It follows Megan, a soccer mom with a past; Ray, a talented photographer now working as a paparazzo; and Jack, a detective who is haunted by a cold case. All three are connected when old crimes come to light. Harlan Coben's work has been adapted by Netflix a lot in recent years, thanks to a unique international deal with Netflix that promises to adapt 14 of his novels for adults. So far only six have hit Netflix, so there are likely more in the works!
Heartstopper is based on a popular webcomic turned book series by Alice Oseman, and follows Charlie, a shy gay teen boy who is surprised when he's forced to sit next to Nick one day by just how much he likes him. But Charlie is certain that Nick would never go for him, so he's surprised when it seems like Nick might actually be interested. This is a heartwarming series about love and friendship with great mental health representation.
Based on Julia Quinn's popular Bridgerton romance series, this Regency London set TV show follows the lives and loves of the Birdgerton family—with all eight siblings finding love. The show is tackling one book/romance per season and after kicking things off with Daphne's story in the The Duke and I, season two will follow Antony's story from The Viscount Who Loved Me.
Pachinko by Min Jin Lee was one of the biggest books of 2017, and now it's a miniseries on AppleTV. The story follows one Korean family in three generations from the start of the 20th century to its close, chronicling their movements from Korea to Japan, survival during WWII, and how they remake themselves in the second half of the century—but at what cost?
The Time Traveler's Wife by Audrey Niffeneggar has already been adapted as a major motion film, but now it's getting a new telling as a TV series starring Theo James. It follows a man who is a time traveler and is unable to control his movements, and his relationship with the wife who loves him and stands by him.
Lois Duncan's 1973 suspense novel gets a very modern update in this series, which follows twins Lennon and Alison. Last summer, one twin was accidentally killed by the other, and now she and her friends have to keep that secret. But it gets difficult when they return home from their first year at college and sinister warnings start appearing everywhere they go. This adaptation bears little resemblance to the book, and is more of an homage to the 1997 film.
Sally Rooney's works have been highly acclaimed, with her book Normal People already receiving a successful adaptation. Now her debut novel Conversations with Friends will hit Hulu in May, and it follows a group of friends whose friendship turns surprisingly intimate as lines between platonic and romantic relationships are crossed.
Lord of the Rings: The Rings of Power – Amazon Prime
Set thousands of years before the events of The Hobbit and The Lord of the Rings trilogy, this TV show will showcase the events of the second age of Middle Earth, giving viewers a backstory to the rings of power that will wreak so much havoc in the future. Look for it in Fall 2022.
Retelling one of the longest fantasy series is no small undertaking, but Amazon Prime has adapted Robert Jordan's Wheel of Time series into a TV show, with season one loosely following the events of the first book, The Eye of the World. Good news for fans—a season two has been ordered!
Based on the book by Sarah Vaughan, this TV show looks at the life of a prominent political figure accused of a terrible thing. His wife is certain he's innocent and will do anything to prove it. The woman prosecuting the case is certain he's guilty, and wants to find the truth. But what really happened?
Jenny Han's To All the Boys I've Loved Before series was a successful film trilogy adaptation at Netflix, and now her debut YA trilogy is getting the TV treatment at Amazon! The story follows Belly, who spends every summer at her mom's best friend's beach house, but this is the summer everything changes.
Taylor Jenkins Reid's books about fame and Hollywood are perfect for the screen! This show will follow the legendary life and career of Daisy Jones, a 1970's rockstar whose life collides with that of Billy Dunne, the lead singer of the fictional band The Six. The novel is told as documentary, so the TV show is bound to be the perfect format for this story.
Anthony Horowitz has created a clever mystery series about Susan Reyland, an editor of crime novels by a man who writes in the style of Christie and Sayers. Although his is difficult to work with, Susan knows his work sells well and puts up with him. But his latest manuscript seems to be hiding something beneath the surface, and she's about to uncover the real-life inspiration.
Need more viewing (and reading) recommendations? Check out some of the best romance movies based on books, or if romance isn't your thing, check out these horror movies based on books recommendations. And if you need more recommendation help, here's our round up of the best book recommendation sites!
Want to stay on top of new releases before they hit the screen? Sign up for TBR: Tailored Book Recommendations! TBR is a personalized book recommendation service that sends you books you'll love to read. Here's how it works: Simply fill out the reader survey and let us know what you want more of—such as books that are being turned into TV shows—and what you're not keen on. Then, an expert Bibliologist will read your responses and recommend three books just for you. Receive your recommendation letter via email in about two weeks, or opt to receive your recommendations as brand new hardcovers in the mail in about three to four weeks. Learn more and sign up now!