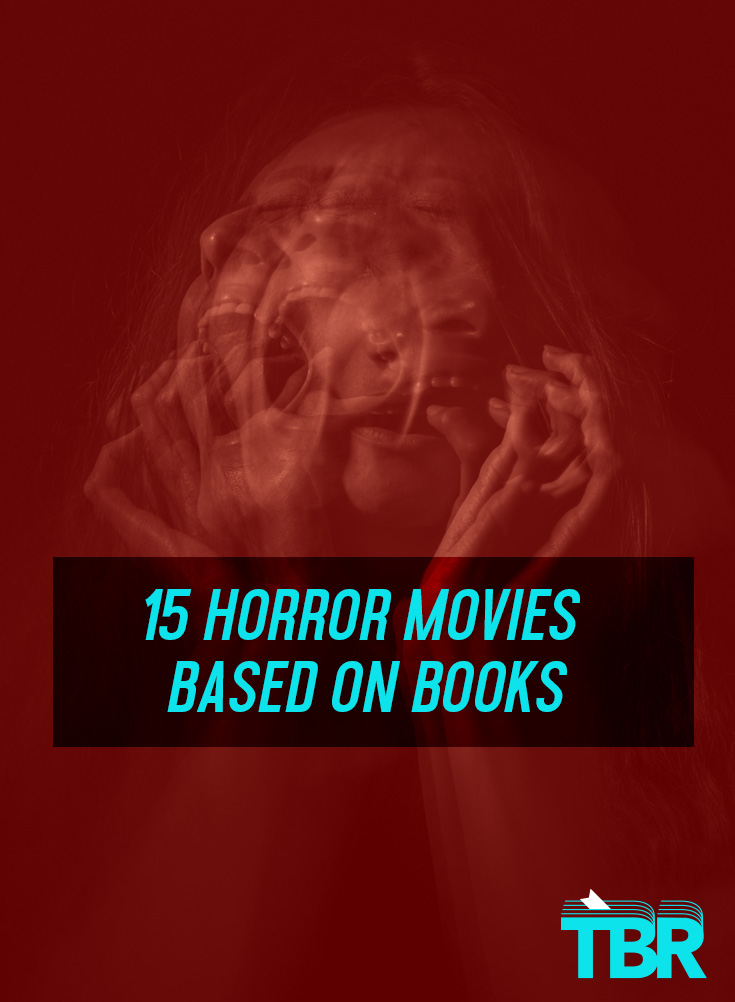 What do you find scarier–horror movie or horror books? No matter what your preferred medium for frights and jump scares, quality story trumps everything, and some of the best horror movies out there are based on books! We rounded up a list of great horror movies based on books–some classics, some new horror books–that should be on all horror fans' radars. We left out Stephen King books and adaptations because let's be real–it's news when he writes a book that isn'tadapted. Note: When it comes to horror movies based on books, the genre tends to skew white and male. We hope that publishing and Hollywood can strive to be more inclusive going forward.
Get ready to get scared!
The Bird Box, based on The Bird Box by Josh Malerman
In this Netflix movie, Mallory is a mother of two who has somehow managed to survive an apocalyptic event caused by a strange force that causes people to go insane and become suicidal. Just setting sight on it is enough for a person to succumb, so she must navigate her two kids to safety completely blindfolded. This story is based on Malerman's debut novel.
Audition, based on Audition by Ryu Murakami
Aoyama is a widower who decides it's time to begin dating again and to find the perfect woman, he holds a casting call for fake film so he can review resumés. That's how he discovers Yamasaki, but the more he gets to know her, the more he realizes that she is dangerous and not to be trusted. The movie was filmed in Japanese and is available with English subtitles, and the novel is available in English as well.
The Birds, based on the short story "The Birds" by Daphne du Maurier, collected in Don't Look Now
Alfred Hitchcock's iconic movie is quite the departure from its source material, but both share a common theme: the unsettling notion of birds murderous birds. The film starts innocuously enough–a young woman goes to the country with a songbird, only to find that all of the birds in the sky begin turning on humans. It brings a whole new meaning to the phrase "a murder of crows."
Fear Street, based on the Fear Street novels by R.L. Stine
Who was an R.L. Stine fan as a kid? The chilling Fear Street novels are headed to the big screen in 2020, with the movie Fear Street. It's set to be the first in a trilogy, and while we don't know much about the movie beyond that it's based on the books and follows a group of teens who find themselves caught up in a murder mystery that may come back to bite them, we've also heard the protagonists are two gay teens!
Psycho, based on Psycho by Robert Bloch
Another Hitchcock classic based off of a book, Psycho is the chilling story of Norman Bates, the seemingly kind motel owner who watches after his mother. When a young woman checks into the motel, she's found murdered in the shower, and viewers are left to wonder who really killed her. Bloch's novel was based on a true story!
The Silence of the Lambs, based off of The Silence of the Lambs by Thomas Harris
The hit movie starring Jodie Foster is based on the book by the same name by Thomas Harris, which is actually the second book in his Hannibal Lecter series. In this story, an investigation by an FBI agent leads her to visit Hannibal Lecter, an imprisoned former psychiatrist with rather dark tastes.
The Invisible Man, based on The Invisible Man by H.G. Wells
The Invisible Man film, set to release in 2020 and starring Elisabeth Moss, is an update on the classic novel by H.G. Wells. In the novel, the invisible man is a scientist who cracks invisibility but is unable to reverse it. He begins to falter and go insane, committing criminal acts in his descent. In the movie, Moss plays a woman relieved when her abusive ex-boyfriend dies by suicide, but she slowly begins to suspect he never really left–he's just invisible.
Merricat and her family live in a fine house but are ostracized by the local villagers, ever since her older sister was acquitted of the deaths of their parents and attempted murder of their uncle. Now they spend their days isolated, until a cousin comes to visit with nefarious intentions, pushing Merricat to her limits.
The Woman in Black, based on The Woman in Black by Susan Hill
The 2012 adaptation of Hill's novel stars Daniel Radcliffe, and is about a young solicitor who travels to a small English town to settle the affairs of a recently deceased client, and finds a ghost, the Woman in Black, is haunting the villagers–and she soon sets her sights on him.
This classic collection of short stories, with creepy artwork, has been scaring young readers for years, and now it's a movie! Stella and her friends play a prank on a bully one Halloween night, and when they go and explore a haunted house, they find a book of scary stories that begins to play out some of the creepiest tales from the original book.
The Ring, based on Ring by Koji Suzuki
The Ring is the story of four teens who die after watching a scary videotape, and the skeptical journalist who investigates the crime. In the movie, the journalist is played by Naomi Watts, but the film is based on a Japanese novel with a similar premise but some differences–the book is set in rural Japan, and the protagonist is a male journalist who is also the uncle of one of the teens who dies.
This 2020 film is a modern update on the classic ghost story The Turn of the Screw. In the novel, a governess arrives at a manor to look after two children and quickly encounters a ghost. She suspects the children know of the ghost, but they adamantly deny it. In the movie, a new nanny arrives to take care of two orphans in Maine, and quickly realizes that something darker is at work.
Let the Right One In, based on Let the Right One In by John Ajvide Lindqvist
Let the Right One In is a novel by Swedish author John Ajvide Lindqvist, who also wrote the screenplay of the film adaptation. It's about Oskar, a boy living in a Swedish suburb who is being bullied. He makes a friend in his new next-door-neighbor, a mysterious girl, and is unaware that she is connected to mysterious deaths in their community.
The Ghost Bride, based on The Ghost Bride by Yangsze Choo
In this story, Li is a respectable young woman in colonial Malaysia whose future is uncertain after the family fortune is lost. So she agrees to become the ghost bride to the son of the Lim family, who died under mysterious circumstances. As soon as she does, Li begins experiences supernatural phenomena and must discover a dark secret in order to save herself. The Filipino adaptation is available on Amazon Prime, and it should be hitting Netflix in 2020.
The Grudge, based off of the Ju-On franchise created by Takashi Shimizu
The Grudge is an American horror movie about a curse that is passed from person to person, causing people to murder or die by suicide. They are based off of the Ju-On franchise in Japan, which began as a series of short films that spawned novels and manga about the grudge curse.
The Haunting of Hill House by Shirley Jackson inspired a new Netflix show of the same name. Netflix updated the setting and tweaked the characters so that they are a family of four siblings haunted by the time they lived in Hill House as children before their mother's untimely death. When their youngest sister dies, they are drawn back into Hill House's thrall. Changeling by Victor LaValle is a horror novel about a man who is excited to start a family, until something strange begins happening to his wife and child. It's currently in development as a TV show, so pick it up before it hits the screen!

Do you want more horror? Check out our list of the best horror book subscriptions. Plus, if you want to keep up to date on the latest horror books before they become movies, sign up for TBR: Tailored Book Recommendations. TBR is a personalized book subscription service that lets you decide what kinds of books you want to read, and offers you personalized book recommendations every quarter. Simply fill out the reader survey and let us know what you love and what you want to read more of–like horror novels!–and a real power reader called a Bibliologist will pick out three books, just for you! Sound awesome? Learn more about how TBR works.