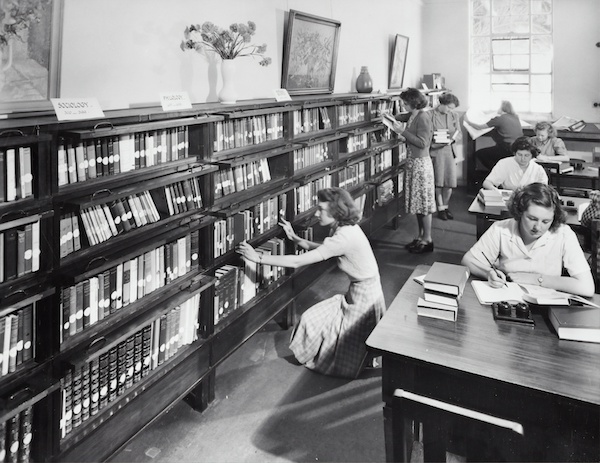 Historical fiction novels sweep us away to different time periods and offer a deeper look into the lives of people who lived before us. It goes beyond dates and events to offer a deeper human context to historical movements, and it can be pretty entertaining as well. If you love historical fiction that offers an intriguing viewpoint, especially those not normally covered in history books, then you'll appreciate this list of fifteen amazing historical fiction novels from the past few years!
Ruth and Iris are twin sisters, but they couldn't be more different. After a bitter disagreement in Rome in 1940, they head their separate ways. Ruth goes back to New York City and gets a job in modeling, and Iris settles down as the wife of a diplomat. In 1948, Iris and her family disappear, and rumors swirl that her husband was a traitor when defected to the USSR. In 1952, Ruth receives a postcard from Iris, and thus begins an arduous journey working with the CIA to extract Iris and her children from Society Russia.
Libertie by Kaitlyn Greenidge
Libertie is a young woman coming of age in Reconstruction-era Brooklyn, the daughter of one of the first Black female physicians. Her mother has her life planned out for her, but Libertie prefers music to medicine, and wants to live on her own terms. But when her plans to break free from her mother just end up shackling her to another, she must decide how far she's willing to go for her own freedom.
The Vignes twins are inseparable growing up, but as adult they find themselves going down very different paths. One returns to their hometown with her Black daughter, and the other moves far away and marries a white man, passing as white. They exchange secret letters over the years, but it isn't until their daughters meet that they must face their shared history and the choices they made.
Osla, Mab, and Beth are three very different women who find themselves at Bletchley Park during WWII, each engaged in different activities that are of the utmost secrecy. Their friendship is strengthened by the hardship of war, until one act of betrayal tears them apart. Years later, on the eve of the royal wedding, a message is sent that brings the three of them together again, despite old wounds, and they must work together one last time to stop a traitor before it's too late.
Lily is a teenager living in San Francisco's Chinatown in 1953, certain there is something different about her but unable to give voice to what it is. Then a chance encounter leads her to Kath, a white classmate, and the two discover the underground lesbian community at the Telegraph Club. But being Chinese-American and queer in the 1950's is dangerous, and Lily will have to summon all her courage to live her truth.
Seol is an indentured servant in 1800 Joseon (Korea), working for the police bureau in the capital. When she's called to assist in the death of a noblewoman, she discovers that the mystery has some startling connections to her own hidden past, and her curiosity gets the better of her, planting her in danger as she attempts to solve the case.
Set in 1970's Mexico City, a time of political unrest, this book follows two very different people: Maite, a lovelorn secretary, and Elvis, hired muscle to a man with an agenda. Maite is waiting for her life to truly begin when her neighbor goes missing, and she begins to ask questions. Elvis is just biding his time until he can move on when he's order to find a missing woman, and their paths cross.
Daniel is visiting Madrid in 1957 for the first time, and he's excited to get to know his mother's home country a little better. He's an aspiring photographer and wants to use this trip to help build his portfolio. But Spain is still reeling from their own Civil War and the secrets that are too dangerous to voice aloud, and when he captures a snapshot that could pout him in danger, what he does next has a profound effect on his family and Ana, a maid at the hotel where he's staying.
Thomas Wazhashk is a night watchman at a jewel bearing plant that employees many people from the Turtle Mountain Reservation in rural North Dakota in 1953. Thomas is a tribal leader, and he's struggling to understand the consequences of a new bill introduced to Congress that could impact the tribe's resources, land, and benefits. Patrice is a recent high school graduate working at the plant, and worried about her sister, who's gone missing after moving to Minneapolis. Their lives intersect and connect as they both book out for the people they love.
Pheby Delores Brown was born into slavery, but she also is fortunate enough to be favored at the plantation she grows up on. She's promised freedom when she turns eighteen, but instead finds herself in Devil's Half Acre, a jail where the enslaved are tortured. The Jailer takes notice of Pheby, and she soon learns that if she's to survive, she must outwit him.
This sweeping family saga spans from 1910 to 1990 and follows the fate of one Korean family as they emigrate to Japan before World War II, struggle to survive the discrimination and oppression during the war, and then finally find success and happiness in the second half of the century…but at what cost?
Hamnet by Maggie O'Farrell
Agnes is an unconventional woman and rumored to be a healer and have a gift with animals. When she falls in love, she settles with her new young husband in Statford-upon-Avon, where he begins to gain recognition as a playwright. When their young son is taken by the Black Plague, Agnes and her husband must figure out a way to keep moving forward.
Set in Malibu in 1983, this novel follows four siblings, children of a famous rock star, who throw an annual summer pool party that everyone wants to be invited to. But this year, secrets and changes threaten the siblings and their relationship with each other, and by the time the sun rises the next day, their Malibu mansion will have gone up in flames.
In the wake of General Franco overthrowing the government in Spain, Roser and her lover's brother make their way across the mountains to France, where they hope to start again. The poet Pablo Neruda charters a boat to take from to Chile, and Roser and Victor must marry for convenience in order to escape, always hoping to return home. But life on a new continent proves challenging in unexpected ways and they must rely on each other, and perhaps reconsider their definition of home.
Elwood Curtis is a young Black teen who has a bright future ahead of him and admires the work of Martin Luther King Jr. When a moment of bad judgment lands him in Nickel Academy, a reform school for boys, he finds himself trapped in a place of terror. Elwood is optimistic about the future and justice, but his friend Turner isn't convinced. As the two struggle to survive, their differing viewpoints lead to a series of actions that echo down the decades.
Need more recommendations? Check out:
Want more of the best historical fiction novels? Sign up for TBR: Tailored Book Recommendations! TBR is a personalized book recommendation service that sends you books you'll love to read. Here's how it works: Simply fill out the reader survey and let us know what you want more of–such as fairy tales for adults–and what you're not keen on. Then, an expert Bibliologist will read your responses and recommend three books just for you. Receive your recommendation letter via email in about two weeks, or opt to receive your recommendations as brand new hardcovers in the mail in about three to four weeks. Learn more and sign up now!