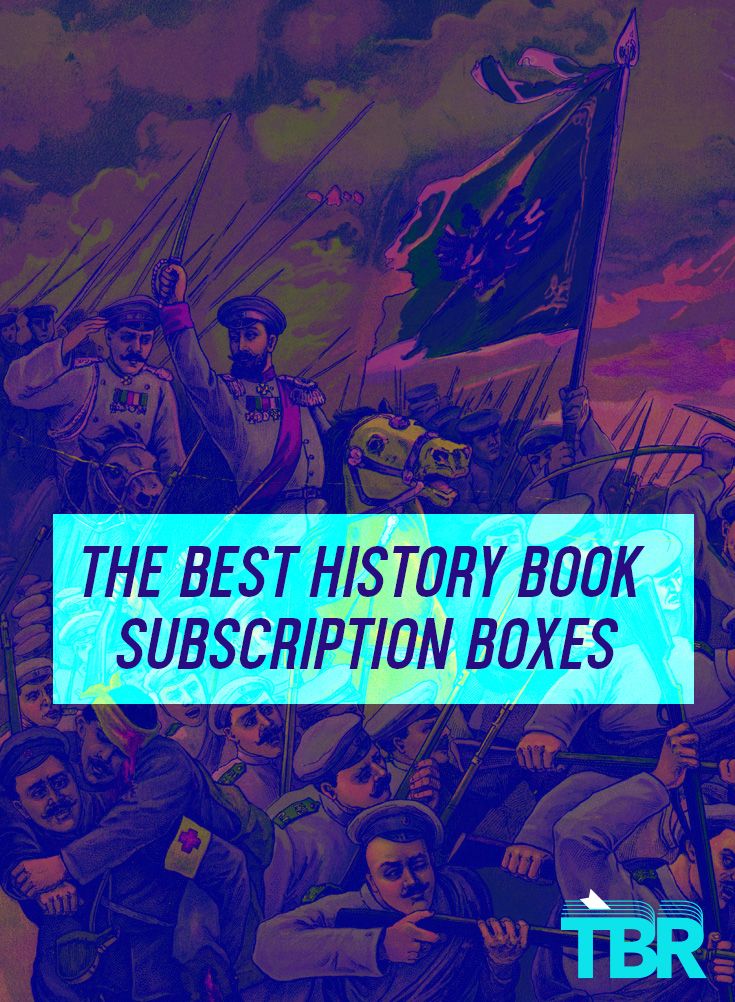 Book subscription services have exploded in popularity, and there are so many to choose from these days. Even though they vary in genre and theme, it can be difficult to find subscription services for particular genres and sub-genres. Lots of services offer YA or mystery or children's books, but very few offer exclusively historical fiction, history books, or nonfiction. However, never fear! We've rounded up a list of history book subscription boxes and services so that you can find the perfect box that will help you dive into the past with an amazing book. Here we go!
History Book Club – https://www.historybookclub.com
History Book Club is a flexible monthly service that lets you choose as many or as few books you want per month. At the start of each month, members can purchase credits for $17.50 each, and then redeem them for new hardcover history books. You can always skip a month or save your credits, but History Book Club has a wide yet carefully curated selection of historical books from different time periods all around the world. The nice thing about this box is that it includes fiction and nonfiction selections, so you have a lot of flexibility and options! Plus, if you buy two or more books each month, they ship for free! Some current books available now include The Season: A Social History of the Debutante by Kristen Richardson, The Great Pretender by Susan Cahalan, and Dreams of El Dorado by H.W. Brands.
UOpen History & Politics Box – https://www.uopen.com/subscription-box/history-and-politics-book-subscription-box
Do your tastes veer towards nonfiction and politics? The UOpen History & Politics box is for you, then! This is a monthly subscription box that offers readers a new history book or politics book, plus the occasional goodie. The monthly box begins at $23, but if you buy more than one month, you can save big time. It's a British-based box, which means overseas subscribers may have to pay more in shipping, but the wide selections of biographies and political books make it worthwhile. Past books have included The Trial of Adolf Hitler by David King and The Future of War: A History by Lawrence Freedman.
The Book Hook Up: Political Nonfiction – https://www.strandbooks.com/strand-subscriptions/
The Strand in New York City offers a Political Nonfiction subscription service as part of their array of popular Book Hookup subscriptions. Each month you'll receive a new, signed hardcover history or political nonfiction book, plus an assortment of goodies from The Strand and their partners. This is a great service if you want to build your collection of collectable books, and it starts at $50 per month–or if you want a really good deal, nab it for just $200 for the entire year. Past books have included One Person, No Vote: How Voter Suppression is Destroying Our Democracy by Carol Anderson and A Colony in a Nationby Chris Hayes.
Boxwalla – https://www.theboxwalla.com/shop/3232/book-box
Although Boxwalla isn't strictly a history book subscription box, they pride themselves on picking books from all over the world that feature contemporary and classic authors, and look at both the past and present with special attention to Nobel laureates. Each month has a theme of a different destination, making it a really good choice for the diversely minded, global reader. The monthly subscription starts at $29.95, and includes two books each month, making it a very affordable box for the value. Past books include Voices from Chernobyl by Svetlana Alexievich and The Dew Breaker by Edwidge Danticat.
TBR is one of the few personalized book recommendation services available. You start out by simply filling out the reader survey, which asks you what books, authors, and genres you love, all-time favorites and recent favorites, what you want more of, what you want to steer clear of, and what your dealbreakers are. Then, you'll be matched with an expert Bibliologist who will pick out three books based on your survey responses. You can choose to receive your recommendations two ways: recommendations-only, which comes as a recommendations letter via email, or as hardcover books, which are shipped to you from Print: A Bookstore in Portland, ME.
This is an awesome service if you want to get particular about your history book picks. For example, you can ask for nonfiction history books about a certain region, or historical fiction set during the Civil War, or history books that look at certain themes or topics. And since you will receive three recommendations each quarter, you can really mix it up! Plus, TBR allows you to offer feedback on your books and your Bibliologist, and you can always revise your requests from quarter to quarter. The recommendations-only level starts at $15 per quarter, and the hardcover level is $79 per quarter!
Want to learn more about how TBR works? Read on for more details. And if you want to explore more book subscription service options, check out our list of the best book subscription services for every type of book lover!