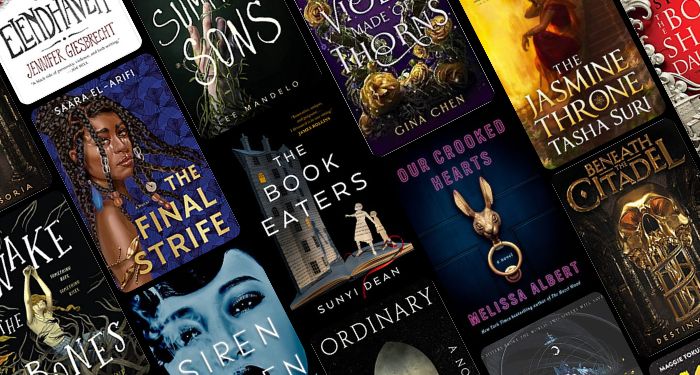 Dark fantasy is an emerging popular sub-genre that skates the line between fantasy and horror. If you like your fairies on the scary side, or your scares on the magical side, this sub-genre may be for you! Below are 25 of the best dark fantasy books for adults and teens, all of them out in the last few years.
If you prefer a school setting, check out the best dark academia books. Looking for something lighter? Try these funny fantasy books. Or maybe you'd like to find out what dark romance is.
Adult Dark Fantasy Books
Cassa leads a second-generation rebellion against the high council of Edda, who rule the city by ancient prophecy.
Devon and her family live on books instead of food, but the balance is upset when her son is born with a rare condition: a hunger for human minds.
The four realms each have a god, and the four gods each have an heir. The gods withdraw favor from the city of Dusk, at the center of the four realms, and their heirs band together to save the dying city.
Sylah, a girl whose revolutionary family was killed in front of her; Anoor, a disappointment to the ruler—her mother; and Hassa, who stays invisible to the upper classes. When the three of them join forces, they ignite the fire that could burn down the kingdom.
Princess Thanh returns home after years as a hostage in Ephteria, where she had her first romance. Still feeling the echoes of the magical fire that burned Ephteria's palace, she has to face Edris of Ephteria, her first love.
A second born daughter, Red is destined to be sacrificed to the wolf in the woods. The thing is, she's happy to go, because her powers are a threat to everyone she loves.
House of Hunger by Alexis Henderson (Releases September 27, 2022)
Slummaid Marion answers an ad and becomes a bloodmaid at the notorious House of Hunger, where she becomes a favorite of the Countess Lisavet, even as other maids begin to go missing.
In this retelling of "The Twelve Dancing Princesses," Annaleigh tries to find out what happened to her four dead sisters, before the remaining eight meet their dooms.
Malini was imprisoned by her dictator brother; Priya is a maidservant who cleans her room. When they learn secrets about each other, they come together to change the future of the empire.
In this retelling of "The Juniper Tree" from the author of The Wolf and the Woodsman, Marlinchen and her sisters are the last true witches in a tourist trap town, kept sequestered by their father. One night they sneak out, and everything changes when Marlinchen meets a ballet dancer.
In this gothic fantasy, a city is stalked by a thing without a name, a monster running strange errands for his frail master, bent on revenge against those who would harm the city.
Charlie's body heals itself, and Marlowe's glows with blue light. Two detectives escort them from London to Edinburgh, where other children with Talents are gathered, and where they will learn the true nature of their abilities.
In pre-Code Hollywood, it's dangerous for a Chinese American girl, but Lulu is determined to make it in the movies at any cost—even if it means becoming a monster.
When Andrew's closest friend Eddie dies of a suspected suicide, Andrew knows there's more to the story. As Andrew searches for the truth, he uncovers secrets, lies, and a phantom with bleeding wrists that's out for vengeance.
Csorwe's destiny is to be a sacrifice to a god, but on the day of her death a wizard offers her another choice and she leaves her destiny behind to be his sword-hand.
In this retelling of Poe's "The Fall of the House of Usher," Alex rushes to their friend Madelne's childhood home when they learn she is dying, but what they find there is a nightmare of wildlife and fungus and a household going mad.
Annie only goes to Crow Island to settle her father's estate and reconnect with Beatrice; she has no interest in the magic that's rumored to exist there. Then she witnesses a confrontation between Bea and the mysterious Emmeline.
Young Adult Dark Fantasy Books
Lin is the daughter of the emperor, a master of bone shard magic. When he refuses to recognize her as his heir, she sets off to learn bone shard magic herself.
Jax and Callyn can't remember a time when magic was allowed in Syhl Shallow; they only know of its dangers. When magic returns and a stranger offers them silver in exchange for help getting messages to anti-magic rebels, they agree—and find themselves in deeper than they could have imagined.
Soraya's touch kills, so she has been isolated her entire life. But when her brother marries, an army guard tells her of a demon in the dungeons who holds the key to removing her curse, and Soraya has to figure out who to trust.
In the '90s, Dana and her friends experimented with the supernatural. Now, Dana's daughter Ivy meets a mysterious stranger, and mother and daughter's paths intertwine.
Violet is the court prophet, spinning false prophesies at the king's whim. When he asks her to prophesize a love story for Prince Cyrus, who doesn't believe in her prophesies, things get messy.
It's been a generation since one of Aeon's twin goddesses betrayed her sister and the planet stopped turning, leaving half in perpetual darkness and the other in constant light. Now their daughters are called back to the place where the Breaking occurred.
Lou doesn't believe in magic, until she has to enter the Goblin Market to rescue her aunt Neela. There, she has three days to learn magic and find Neela.
Laurel just wants to live her life as a tobacco hand and taxidermist, but things are changing on the farm where she grew up, and a devil from her past has returned.
---
If you're looking for even more great dark fantasy book recommendations, try TBR: Tailored Book Recommendations! TBR is a personalized book recommendation service that sends you books you'll love to read. Here's how it works: Simply fill out the reader survey and let us know what you want more of and what you're not keen on. Then, an expert Bibliologist will read your responses and recommend three books just for you. There are two subscription options: receive your recommendation letter via email in about two weeks — perfect for library users! — or opt to receive your recommendations as brand new hardcovers in the mail in about three to four weeks. Learn more and sign up now!