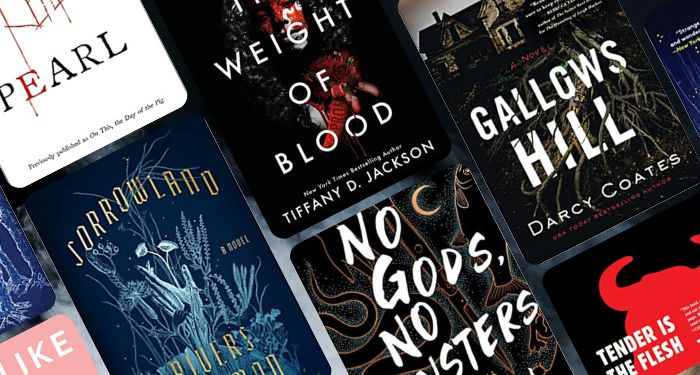 The last few years have been great for lovers of dark books! Across genres we've seen the two extremes: light, cozy fiction and the darkest of dark books. These are 20 of the best dark books, nearly all from 2019 to now! Whether you're just delving into dark fiction or have been a fan for years (Anne Rice club, represent!) there should be something here for you.
Now that humans can't eat animals, eating human flesh is legal. Marcos works at a meat processing plant and tries not to think about what he's doing, but one day he is given a "live specimen" — a woman who he realizes is just as human as he is.
The only thing food critic Dorothy loves as much as food is sex, but she can't find anyone who can keep up with her superior tastes, and so she turns to murder…and something more. This is a dark, brilliant satire.
Out by Natsuo Kirino
A young mother kills her deadbeat husband and enlists her coworkers on the night shift in covering up the crime. Exploring the crime underworld and the contrast between the police and the amateur criminals, this darkly funny book has been compared to Thelma and Louise.
This slightly older title, translated from Japanese by Stephen Snyder, is about a teacher whose students were responsible for an accident that killed her child. On her final day of teaching, she tells a story that upends her students' lives and gets her revenge.
Animal by Lisa Taddeo
In this exploration of female rage in a male-dominated society, Joan flees New York for Los Angeles after witnessing a shocking act of violence perpetrated by a man. With the help of her friend Alice, she revisits a different horrible event she witnessed as a child, confronting the horror.
Four Blackfeet men have been hunted since a fateful hunting trip they took as young men. Now one of them is dead and the other three are being stalked by someone…or something…bent on revenge.
In this retelling of Edgar Allan Poe's "The Fall of the House of Usher," former soldier Alex rushes to the countryside when they receive word that their childhood friend Madeline Usher is dying. On arrival, Alex finds that the estate is overrun with fungus and Madeline's brother Roderick is suffering a mysterious malady.
Crosshairs by Catherine Hernandez
In a near future dystopia where mass flooding has created mass homelessness, the cruel regime known as The Boots rounds up people of color, queer people, and other marginalized groups and puts the in work camps. Drag queen Kay, trans masc refugee Bahadur, and social worker Firudah join forces to lead the resistance.
When Laina's brother is killed by the Boston police, she never imagines that video will come out showing her brother transforming into something else. Monsters are real, and as more appear — and more people disappear — things become chaotic and no one thinks to ask why now.
Vern is fifteen years old and seven months pregnant when she runs from Cainland, the cult where she grew up. She escapes into the woods and gives birth to twins, who she names Howling and Feral. As she struggles to raise them in a better way than she's ever known, and carefully makes new friends, she also begins to change.
In Alma Katsu's latest, the author of The Hunger and Red Widow explores the horrors of World War II's American internment camps for Japanese Americans. In it, a mother and daughter try to navigate a mysterious disease outbreak and learn that there may be some actual monsters as well as the human ones.
Published in Japan in 2006 and translated ten years later, Mariko Koike's terrifying novel follows a young family that moves into an idyllic apartment next to a graveyard only to find, as the other tenants move out, that they are trapped with something in the basement.
Noir is named for the dark shadows that permeate the genre, both literal (in film) and metaphorical. This collection of new noir short stories from the Akashic Noir Series delves into South Central Los Angeles and features stories from Tananarive Due, Steph Cha, and other masters of dark fiction under the watchful eye of editor Gary Phillips.
Pearl by Josh Malerman
In the latest from Josh Malerman, author of Bird Box, Pearl is a mind-controlling pig whose intentions are not good. Pearl wants information, and has no qualms about using humans however he wants to get it.
Apollo's wife and child disappear in a shocking act of violence, and he has to travel on an odyssey through forgotten New York to find them.
Vera's mother has called her home after years of estrangement, to the house where she grew up with her serial killer father. The house where he buried the bodies. She's suspicious of the new tenant in the guest house, especially when notes start to appear around the property…notes that appear to be written by her father.
Biracial Maddie has been passing as white, but when her high school holds their first integrated prom, her secrets start to come out. This Carrie retelling from master of horror and suspense Tiffany D. Jackson promises to bring the thrills.
Margot hasn't been home in a decade, and she doesn't want to return now — but her parents died and she's inherited the family business, a winery built on a field where convicts were hanged, which grows amazing grapes and is said to be cursed.
On his way home to his wife and son, Jason is abducted. He wakes up in a hospital, and his life is entirely different. A different wife. No son. And instead of being a professor, he is a celebrated genius. But which life is his real life?
In this stunning exploration of modern motherhood, Rachel Yoder gives us a woman who has given up her art to raise her two-year-old, and it's nothing like she expected. As she grows sharper teeth, body hair, and canine appetites, she begins to call herself Nightbitch.
Still craving more dark books? You might enjoy dark romance, dark academia, or some dark YA. Or try TBR: Tailored Book Recommendations! TBR is a personalized book recommendation service that sends you books you'll love to read. Here's how it works: Simply fill out the reader survey and let us know what you want more of and what you're not keen on. Then, an expert Bibliologist will read your responses and recommend three books just for you. There are two subscription options: receive your recommendation letter via email in about two weeks — perfect for library users! — or opt to receive your recommendations as brand new hardcovers in the mail in about three to four weeks. Learn more and sign up now!