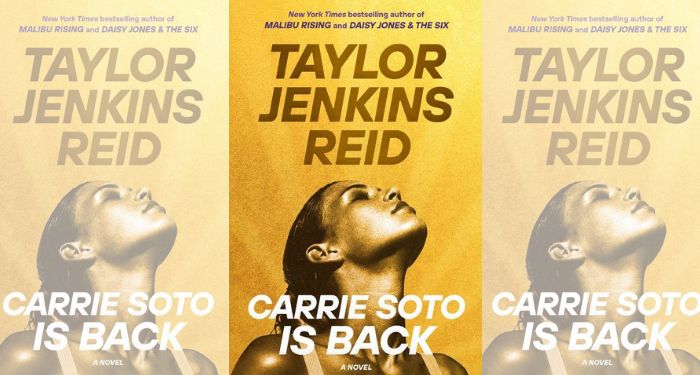 The newest offering from book club darling Taylor Jenkins Reid, Carrie Soto is Back, is a great choice for your book club's next read. You've likely already heard of this number one New York Times bestseller, but if you haven't, you're in for a treat — and a wild ride, as is to be expected from Jenkins Reid. Featuring a minor character from her previous novel, 2021's smash hit Malibu Rising, this novel combines an intimate portrait of a woman in the prime of her life but considered past her prime by the world, as well as a stunning father-daughter relationship and a look into the high stakes sports world of tennis. Read on for our Carrie Soto Is Back book club questions and ideas for your next meeting!
Carrie Soto is Back Summary
In 1989, Carrie Soto retired at the very top of women's tennis, holding the world record of 20 grand slam titles. In 1994, her record is broken by a new player, Nicki Chan, and she comes out of retirement at age 37 to try to take back the title. She asks her father, who has trained her since she was two years old, to coach her one more time. She is determined to win, even though it means training with another player he's coaching, Bowe Huntley — a man she has a past with. All three of them have something to prove to the world in their final season.
Carrie Soto is Back Themes
Ambition, aging, the cost of greatness, female accomplishment, double standards, comebacks, second chances
Carrie Soto is Back Book Club Ideas
Before you get into the specifics of the book, try an icebreaker question to get everyone talking! For this book, you might ask: Did you play a sport as a kid? If yes, which one, and what did you like about it? If no, what extracurricular or hobby did you participate in?
Carrie Soto is Back Book Club Questions
Carrie Soto was known in the press as "The Battle Axe." Do you think this nickname was fair? Would a male tennis player ever have been given such a nickname?
How did her treatment in the press affect Carrie's life and the way she presents herself to the world? Did the media tell her story accurately?
Carrie views tennis in terms of winners and losers, a sort of black and white worldview. Is there a downside to that line of thinking? Do you think sports are more nuanced than that, or agree with her that all that matters is whether you win?
Do you think Carrie's preoccupation with Nicki Chan is normal competitiveness or an obsession? Why do you think she decides to come out of retirement?
What about her other rivals? Who's your favorite of her competitors? Which players would you read a whole novel about?
How did Carrie and Bowe's past relationship influence and change their lives? How does their relationship now affect them both?
Javier has trained Carrie since she was a toddler, and they are very close. Do you think their bond is based on their shared love of tennis?
After Bowe beats Carrie in training, Javier gives him pointers and Bowe blows them off. Javier warns him that "good is the enemy of great." What does this quote mean to you, and do you think that's what Javier meant by it?
What lessons does Carrie learn throughout the book? Which do you think is the most important? Bonus follow-up question: does a character have to learn anything for a book to be worth reading?
Imagine the book is being adapted for film or television and your book club gets a say in the casting. Who are your dream actors to play Carrie, Javier, Bowe, Nicki, and the rest of the cast in an adaptation ?
Looking for more great book club content or recommendations? Check out our lists of the best feminist books and the the best fall 2022 reads (including Carrie Soto is Back)! And if you want another Taylor Jenkins Reid novel for your book club right now, check out our book club guide to Malibu Rising by Taylor Jenkins Reid, the book where we first meet Carrie!
If you're looking for even more great book club recommendations, try TBR: Tailored Book Recommendations! TBR is a personalized book recommendation service that sends you books you'll love to read. Here's how it works: Simply fill out the reader survey and let us know what you want more of and what you're not keen on. Then, an expert Bibliologist will read your responses and recommend three books just for you. There are two subscription options: receive your recommendation letter via email in about two weeks — perfect for library users! — or opt to receive your recommendations as brand new hardcovers in the mail in about three to four weeks. Learn more and sign up now!