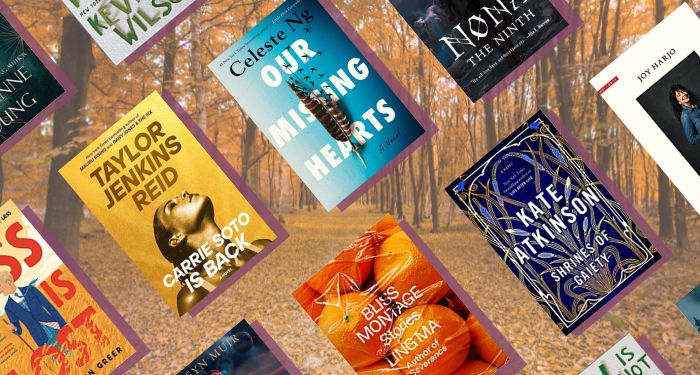 Fall is upon us, and not only does that mean cooler days, crunchy leaves, and pumpkin spice everything, but also NEW BOOKS! Fall is the biggest season for new book releases and fall 2022 is no exception to the rule. We've got everything from new books by favorite authors, not one but TWO new releases from a literary giant, and exciting debuts! Get ready to get lit(erary) and check out our list of twenty of the best fall books 2022 has to add to your TBR!
In her new novel, Taylor Jenkins Reid delves into the life of tennis legend Carrie Soto (who make a brief appearance in Malibu Rising) who is in retirement when a newcomer smashes her world record…and Carrie decides to get back in the game to reclaim her title.
Billie, Mary Alice, Helen, and Natalie are assassins for a shadowy organization called The Museum. Now that they're in their sixties, the Museum wants to put them out to pasture and sends them on an all-expenses paid cruise. But the tables are turned when the ladies realize that someone has sent an assassin after them.
Set in Florence in the 1550's, Maggie O'Farrell tells the story of Lucrezia, a girl happy to exist on the edge of court life who finds herself in the spotlight when her marriage is arranged to the enigmatic and powerful Alonso, Duke of Ferrara.
Charlie is a teen from an unhappy home who starts doing odd jobs for an elderly man who lives in an old house with his dog. When the man dies, Charlie is left the dog and a cassette tape with a shocking story: The backyard shed contains a portal to another world.
As the COVID pandemic settles on New York City, Lucy Barton heads to the house in Maine owned by her ex-husband and sometimes friend William, and they weather lockdown together, with just each other and their shared past.
Set in 1926, London's nightlife is thriving and at the center of it is Nellie Coker, who is an ambitious nightclub owner looking to advance her six children's places in society, even if it means dealing with the seedy underbelly of her world.
Twelve-year-old Bird lives in the near future America, where children can be forcibly removed from their parents if their parents are found to be dissidents or threaten "American values." He never knew his mother, a Chinese American poet who disappeared when he was young. But when he receives a mysterious letter, Bird is drawn on a quest to find her.
In this rumination on her creative process, Joy Harjo shares anecdotes and snippets of her life experiences to demonstrate why she writes, and how she believes in poetry as a way of bringing people together and fighting for justice.
Pulitzer Prize winner Jane Smiley takes readers to Gold Rush California, where a widow turned sex worker makes her living in a brothel and is mostly content with her life and her financial security…until girls start showing up dead right outside of town and she is inspired by the work of Edgar Allan Poe to start her own investigation.
For the first time in years, Cormac McCarthy has not one but two new releases! The Passengers follows a man investigating a puzzling plane crash, and Stella Maris tells the backstory of the man's mysterious sister.
When two bored teenage loners make some enigmatic signs and post them around town anonymously, they inadvertently set off a chain reaction of panic and outrage. Twenty years later, one of those teens is now famous, but when a reporter begins asking her questions about the signs, she could lose everything if the truth is uncovered.
From the author of Severance comes a new collection of bizarre short stories about ordinary people confronting outlandish and delusional moments that bend and distort their realities.
The third book in the Locked Tomb series stars Nona, who in many ways is a lot like other people…but she's harboring some really big secrets.
When an adult film star is cast in a holiday rom-com for a chaste TV network, she has to keep her other gig a secret while also contending with the fact that her co-star is none other than her childhood boy band crush!
In this dark gothic fantasy, Marion is raised in the slums and desperate for a chance to escape the city streets, so she agrees to become a blood maid to a notorious countess who resides at the House of Hunger, which contains many dark secrets.
Emery was a teenager when her best friend was found dead and her love, August, was accused of her death and banished. Now grown, she still lives in her hometown, tending to the quiet magic there and her family's tea shop. But things change when August returns suddenly, stirring up the past.
Mad Honey by Jodi Picoult and Jennifer Finney Boylan
Two prominent authors team up to tell the story of a family looking for a fresh start after a crime and scandal, and finding it in a small New Hampshire town, tending to beehives. But when a girl is murdered, painful truths must be confronted.
Paris has had a rough go lately, and his confidence has taken a major hit. So when his roommate enters him into the nation's most popular baking show, he's sure he'll be sent home first…but he's not. And instead, he meets Tariq, whom he likes a lot. But can Paris stand up to the pressure of being on TV week after week and deal with his own past?
Life is looking up for Arthur Less, who is enjoying personal happiness and professional success, until an unexpected death and financial crisis put him on the road yet again. This time, he's traveling across the U.S. in a series of literary events that will have him facing his past.
Barbara Kingsolver recasts David Copperfield by Charles Dickens as Demon Copperfield, a boy born to poverty in the Appalachian mountains who faces struggles and setbacks as he tries to find his place in the world.
Looking for more great book recommendations? Check out our 22 best book club books for 2022! And if you're in the mood for more great new book releases, sign up for TBR: Tailored Book Recommendations! TBR is a personalized book recommendation service that sends you books you'll love to read. Here's how it works: Simply fill out the reader survey and let us know what you want more of—such as new book releases—and what you're not keen on. Then, an expert Bibliologist will read your responses and recommend three books just for you. Receive your recommendation letter via email in about two weeks, or opt to receive your recommendations as brand new hardcovers in the mail in about three to four weeks. Learn more and sign up now!