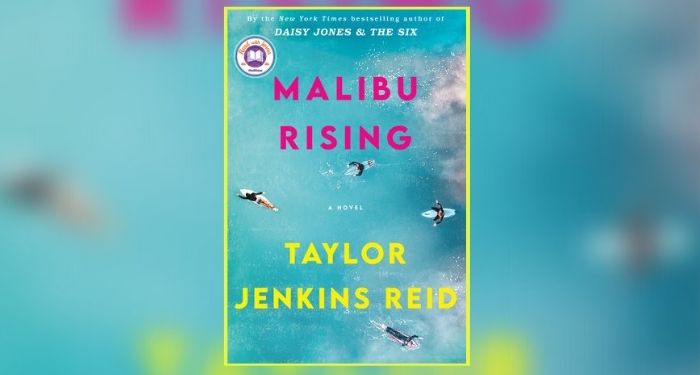 Taylor Jenkins Reid has taken the book world by storm with her readable, fascinating books about the lives and dramas of the fictional rich and famous—and they're never what you think. In her latest novel, Malibu Rising, she focuses on the four children of famous singer Mick Riva (whom readers may remember as a minor but no less important husband in The Seven Husbands of Evelyn Hugo). Fans of TJR's previous books will no doubt be eager to pick up this latest offering, and with so many characters and drama unfolding, there will be plenty to talk about! Check out our Malibu Rising book club questions and summary to get ready for your next meeting!
Malibu Rising Summary
It's summer in Malibu, CA and the four Riva siblings are getting ready for their annual party, hosted by oldest sibling Nina Riva. It's a tradition they've adhered to for several years, ever since Nina's modeling career took off and what started as a keg party in the back yard has now grown into a legendary bash at her seaside mansion that attracts locals and celebrities alike. The day of the party, Nina is dreading hosting. Her husband has just publicly left her, and she feels herself falling down the same path as her mother before her. Her younger brother Jay, professional surfer and rising star, has invited the girl he can't stop thinking about…but he's hiding a life-changing secret from his siblings. Meanwhile his brother and professional photographer Hudson is torn between true love and fear of betrayal as he contemplates confessing something huge to Jay. And youngest sister Kit has some secrets of her, the least of which is that her siblings wouldn't at all approve of who she's invited that night.
As the day progresses and the party starts, it quickly rages out of control. Famous celebrities arrive, more than a few uninvited guests show up with shocking revelations of their own. Meanwhile, the story of the Riva's past is spliced in between their present, and by dawn, Nina's Malibu mansion will be alit with flames. But who will start the fire—and why?
Malibu Rising Book Club Questions
What did you think of the four siblings? Who was your favorite, or the one you related to the most?
What did you think about the dual timeline narrative? How did reading about the Rivas' parents and their past help you understand who they are in the present timeline?
What were your first impressions of Mick and June's relationship? Did you you think it was possible for them to be happy, or was their marriage doomed from the start?
Discuss June's capacity for love and her determination to carry on. Do you think that you could have taken in Hudson the way she did?
Discuss the impact of having absent parents on the siblings. Mick was physically absent, and even though June was present in their lives, she was also emotionally absent as she succumbed to alcoholism and died. How did this affect all four kids? How did it affect Nina in particular?
How does Nina's responsibility to her siblings keep her from being happy?
Discuss Pacific Fish, later renamed Riva's Seafood. What does it symbolize for June, and for the Riva siblings? How does the name change signify a shift in the family's story? What did you think of the decision to sell the restaurant in the end?
Talk about Jay and Hud's relationship. Do you think Hud was wrong to fall for Jay's ex-girlfriend? Do you think Jay will ever be able to move past it?
Discuss the party scenes—did you enjoy reading about them? Do you think the siblings could have had the honest conversations they needed to have if not for the party?
Do you believe it is ever possible for Mick to have any kind of relationship with any of his kids?
Were you happy about Nina's decision at the end? Where do you envision all four siblings ending up?
Discuss the symbolism of the ending, and how the mansion burned to the ground. Were you surprised when you learned who started the fire?
Malibu Rising Book Club Meeting Ideas
When it comes to food, an obvious choice here is seafood—lobster rolls, shrimp, or whatever you can get fresh from your local market will be a great way to pay homage to Riva's Seafood and the four siblings. If you're feeling especially ambitious, try your hands at making your own version of the Riva siblings' famous Sandwich: On a roll, assemble a "mess of seafood" that include handful of fried clam strips, cold shrimp, cheese, and tartar sauce. Put out lemon wedges for serving. You can add French fries and salted slices of tomato on the side! Serve up with your favorite summer drink.
Looking for more book club inspiration? Check out our guide to running a book club, and a book club discussion guide for another TJR favorite, Daisy Jones and the Six!
And if you want more book club reads, then sign up for TBR: Tailored Book Recommendations! TBR is a personalized book recommendation service that sends you books you'll love to read. Here's how it works: Simply fill out the reader survey and let us know what you want more of–such as books for fans of Taylor Jenkins Reid–and what you're not keen on. Then, an expert Bibliologist will read your responses and recommend three books just for you. Receive your recommendation letter via email in about two weeks, or opt to receive your recommendations as brand new hardcovers in the mail in about three to four weeks. Learn more and sign up now!