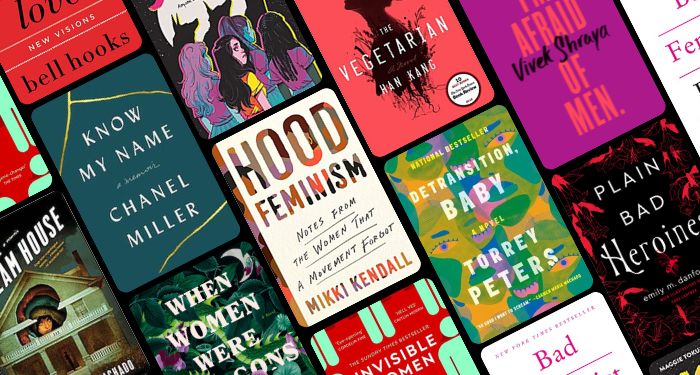 In the last one hundred or so years, women in the U.S. and all over the world have gained rights, asserted themselves in society, and been at the forefront of innovations and progress. But if recent events have shown us anything, it's that those rights are anything but guaranteed or secure. That's why feminism is essential, and why it's important that the feminism we practice be inclusive and intersectional so that we can fight for the rights of every person. Whether you're looking to brush up on your understanding of feminism or if you just want to incorporate more feminists texts in your educational and fun reading, we've rounded up a list of twenty of the best feminist books—fiction and nonfiction! Here we go!
Best Feminist Books: Fiction
Alex was a child when the mass dragoning of 1955 occurred, and hundreds of thousands of women spontaneously turned into dragons. She grew up in the shadow of silence following this event, but as she comes of age she discovers that some things can only go unspoken for so long.
In this speculative book, the power dynamics of the world shift drastically when one day teenage girls are bequeathed the power to inflict immense pain on others, and even kill them. The world will never be the same.
Three menopausal women discover that along with the physical changes of their bodies, they've received supernatural powers. They band together to understand who they're capable of, and along the way investigate the mystery of a teenage girl's murder that the police have written off.
When a woman decides one day that she'd like to become a vegetarian, she receives vehement backlash from her husband, sister, and sister's husband. Nonetheless, she remains committed to the choice, even as the consequences grow more and more drastic.
Jeannette is desperate for answers about her family history that her mother, Carmen, who immigrated to Florida from Cuba, refuses the answer. Things are complicated when Jeannette decides to take in a teen whose mother was arrested by ICE, and Carmen must contend with her own trauma and complicated relationship with her mother. This is an intergenerational story about mothers and daughters, secrets, and memory.
Reese thought that her life was pretty much perfectly on track, until her girlfriend de-transitions and becomes Ames. Now, she's caught in a spiral of destructive behavior and grief. Ames isn't happy either—he thought that detransitioning would make life easier, but instead he's just lost Reese. When Ames sleeps with his boss Katrina and it results in an unplanned pregnancy, the three of them might find an opportunity to form an unconventional family and raise the baby together.
This National Book Award finalist is a collection of short stories about Latina and Indigenous women who call the American West their home, and their struggles and triumphs as they navigate a world that is often unfair.
In this gothic queer page-turner, a girls' school in the early 20th century is shut down after a series of deaths cause panic, and it all seems to be inspired by one scandalous memoir. More than a hundred years later, a film crew is making a movie about the events and they're filming on the site of the actual school when strange things begin to happen, forcing everyone involved to question the narrative of what they've been told about this project.
Cantoras by Carolina de Robertis
Set over the course of 70's and 80's, this moving novel follows five young women from Uruguay who become friends because they have one very big thing in common: They all love other women. They escape the dictatorship in the city for freedom on the beach, where they decide to buy a beach shack. They share it over the years and it becomes one steady spot in their lives, which is full of tumult and excitement, heartbreak and joy.
Squad by Maggie Tokuda-Hall and Lisa Sterle
When Becca transfers to a new school, she's shocked to be taken in by the three most popular girls in school. But she soon finds that their bond goes deeper than friendship: They are werewolves and they need to satisfy their craving for blood once a month. Becca is soon transformed and they make a habit of only hunting the worst kind of boy—the ones that don't understand no means no—but it's not long before Becca wonders if they aren't taking this form of vigilante justice a step or two too far.
Best Feminist Books: Nonfiction
One of the most influential living feminist icons, Gloria Steinem tells her story of growing up on the road, and how her itinerant lifestyle continued into adulthood as she became a political activist and organizer. Travel has been one of the most important influences on her life's work as she opened herself up to learning and possibility wherever she went.
In this essay collection, academic and cultural critic Roxane Gay talks about a wide array of pop culture and political topics pertaining to feminism, making the point that you don't have to be a perfect feminist in order to still be a feminist.
In this small book, classicist Mary Beard explores the nature of misogyny from ancient times to today, and how women in power have been perceived throughout the ages.
We rely on data to inform our understanding of the world and make big decisions, but what happens when the data is skewed to favor a male perspective? This book takes a deep look at data biases and the danger of assuming one gender—usually male—as the default.
In this moving and experimental memoir, Machado shares stories of her upbringing and sexual coming of age alongside an account of the two years she spent in an abusive relationship with another woman. There are so few stories of domestic abuse between same-sex partners, particularly women, that this is an important and groundbreaking account.
In this memoir, activist and filmmaker Janet Mock shares her story of realizing that she was trans, growing up in a world that expected she be male, and her transition. She also talks about how she navigated coming out both publicly and privately, leading up to the moment she decided to share her story with the world.
Love is the foundation of everything, according to bell hooks, and here she writes an entreaty for society to reconsider how we define love and expand out understanding in order to heal divisions within our communities and address some of the most pressing social issues. Love, according to hooks, isn't about romance or sex, but about compassion for others.
As a child, Shraya was afraid of men because she wasn't able to be masculine enough to fit in as a boy, and as she grew older she wasn't feminine enough to avoid slander and attacks from transphobia and misogynists. Here, she explores the damage of transphobia and misogyny and makes a plea for society to accept those that don't fit neatly into prescribed and binary boxes.
Feminism has long had an intersectionality problem, and in this book Kendall argues that the foundation for fighting inequality is not by demanding increased privileges for a few people, but by working to meet the basic needs of those who are the most disenfranchised.
Sexual violence and the lack of accountability for men who perpetuate this violence is a huge problem in society, and this is illustrated no better than in Chanel Miller's moving account of her sexual assault and the emotional fallout, including a harrowing process of reporting her rapist and going to trial. Miller's rapist was found guilty, only for the judge to sentence him to an insulting six months in jail. Miller's victim impact statement went viral as millions protested the judge's sentencing and her local community worked to recall him. But this book isn't just about her assault—it's about Miller's life, her family, her creativity and her passions. It's about how she learned to heal, and how to took back the narrative so as not to be defined by her assault. It's a call for accountability, and for society to do better by assault survivors.
Looking to run a feminist book club? We've got a guide to help you get your book club up and running, plus individual book guides to jumpstart your conversations—check out our Malibu Rising book club guide and our Firekeeper's Daughter book club guide!
And if you want more recommendations, sign up for TBR: Tailored Book Recommendations! TBR is a personalized book recommendation service that sends you books you'll love to read. Here's how it works: Simply fill out the reader survey and let us know what you want more of—such as feminist books—and what you're not keen on. Then, an expert Bibliologist will read your responses and recommend three books just for you. Receive your recommendation letter via email in about two weeks, or opt to receive your recommendations as brand new hardcovers in the mail in about three to four weeks. Learn more and sign up now!