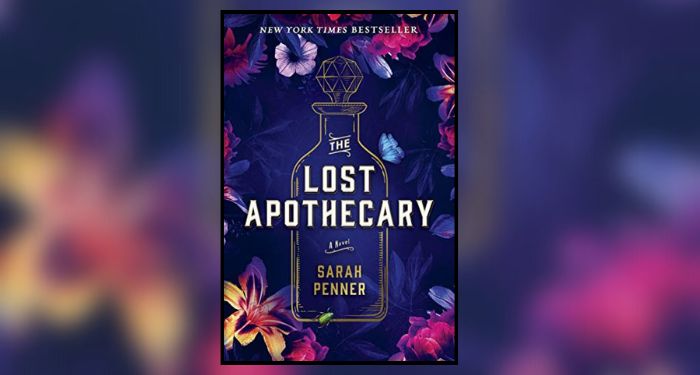 If your book club is looking for a historical mystery, then look no further than The Lost Apothecary by Sarah Penner — an instant bestseller on The New York Times, USA Today, IndieBound, and Publishers Weekly lists, and currently in development as a dramatic series at Fox! Penner's debut novel combines historical fiction, mystery, and drama to make for an exciting read, and the plot asks big questions that will keep your book club talking! To get ready for your next book club meeting, check out our guide for how to run a book club, and then look over some great The Lost Apothecary book club discussion questions we've prepared to help your discussion run smoothly!
The Lost Apothecary Summary
In 1791 London, Nella dispenses poisons to women who need to kill men who have wronged them. When 12-year-old Eliza arrives at the shop looking for Nella's help, their lives become intertwined — and their friendship threatens Nella's register, which contains the name of every customer…and their victims.
In present day London, Caroline is reeling after learning of her husband James's infidelity. She goes mudlarking on the banks of the Thames, where she finds an old poison vial. Her investigation into its origins leads her to the as-yet unsolved "apothecary murders" and to Nella and Eliza.
The Lost Apothecary Themes
Motherhood, trust and betrayal, female friendship, women's empowerment
The Lost Apothecary Book Club Ideas
Before you launch into your discussion, it might be helpful to come up with an icebreaker question to help get the conversation flowing. These can be silly or fun, and are not meant to be taken too seriously. For this discussion, you might ask your group, What's the most interesting place you've traveled to, and/or where would you like to travel?
Bonus: the book (and the author's website) contain recipes related to the book, including non-alcoholic cocktails and rosemary butter biscuit cookies. If you meet in person, consider making one — or more! — of these treats for your book club to enjoy!
The Lost Apothecary Discussion Questions
Do you think Nella is doing a good thing for the community by providing poisons to wronged women? Or do you think she is a villain and murderer?
Had you heard of mudlarking before you read The Lost Apothecary? Have you ever been mudlarking? If not, have you ever found something mysterious another way, maybe in your backyard or on a hike?
Did you enjoy the dual time periods and perspectives? What did you like or dislike about the way the story unfolded in two timelines?
Do you think women in 1791, before forensics could identify poisons, had it easier or harder than women now, who have the right to own property and file for divorce?
When James feels sick and Caroline tells him to use eucalyptus oil, but doesn't specify to use it topically, do you think she intends to poison him?
What would you do if your spouse betrayed you? Do you agree with the way Caroline handled her relationship with James after he cheated on her?
Nella and Eliza develop a mother/daughter–type relationship. Do you believe that "found" family can be as strong as blood relations?
Do you think The Lost Apothecary, with its themes of women getting revenge on men, is a feminist novel?
Would you read another book by Sarah Penner? If yes, why? If no, why not?
What similar titles would you recommend to those in this group who enjoyed The Lost Apothecary?
We recommend: The Once and Future Witches by Alix E. Harrow, When Women Were Dragons by Kelly Barnhill, Recipe for a Perfect Wife by Karma Brown, The Lions of Fifth Avenue by Fiona Davis, The Personal Librarian by Marie Benedict and Victoria Christopher Murray, A Beautiful Poison by Lydia Kang, Gold Diggers by Sanjena Sathian.
Looking for more great book club content or recommendations? Check out our lists of the best historical fiction and the best mysteries for your book club! And if you want another historical novel for your book club right now, check out our book club guide to Hamnet by Maggie O'Farrell!
If you're looking for even more great book club recommendations, try TBR: Tailored Book Recommendations! TBR is a personalized book recommendation service that sends you books you'll love to read. Here's how it works: Simply fill out the reader survey and let us know what you want more of and what you're not keen on. Then, an expert Bibliologist will read your responses and recommend three books just for you. There are two subscription options: receive your recommendation letter via email in about two weeks — perfect for library users! — or opt to receive your recommendations as brand new hardcovers in the mail in about three to four weeks. Learn more and sign up now!