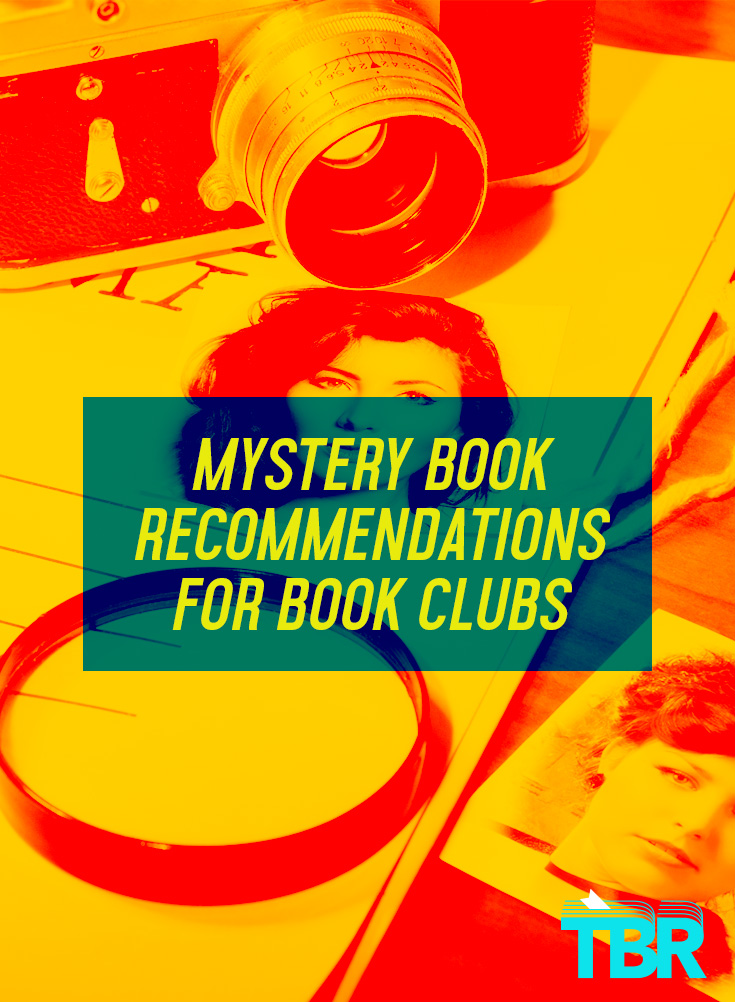 Are you in the market for some mystery book club suggestions? Mysteries and thrillers are fun picks for book clubs because they offer plenty of suspense and conversation around plot twists and turns, and it's fun to compare theories of who committed the crime! Whether you belong to a crime and thriller book club, or just need some mystery books for your next club meeting, we've got 14 thriller and mystery book club recommendations for you!
The best mystery book club recommendations
If a woman dies under suspicious circumstances, it's always the husband–right? When Marie Evans falls to her death on a hike, her husband Matt is questioned by the police. The death looks like an accident, but years ago Matt's first wife died violently, as well. As the detectives investigating try to determine if Matt is responsible for his wives' death, they uncover explosive secrets about both of his marriages.
When an experimental medical treatment device explodes, killing two people, everyone has questions about who is to blame. The owners of the device? A parent of a patient? The story is centered around a murder trial that exposes secrets and lies in a small community, where people have already made desperate sacrifices in order to survive.
Erin and Mark are a picture-perfect couple on the brink of marriage. When Mark's career falters and money grows tight right before their extravagant wedding, the couple cuts back a little bit, but isn't too concerned. But while honeymooning in Bora Bora, they fish a suitcase of money and diamonds out of the ocean and make the life-altering decision to keep it. Erin is certain this is the solution to all of their problems, but it turns out some very powerful people will do whatever it takes to recover the contents of that suitcase.
Marie is working for the FBI in New York in the late 1980's when she's approached by the CIA. Because she's Black and can speak French, they want her to get close to the president of Burkina Faso. Why begins as a simple, one-off mission turns into something much more complicated, with long-lasting consequences for Marie as she reckons with her role in United States meddling and international politics.
Brothers Nathan, Cameron, and Bub own and operate remote cattle stations in the Australian outback. Here, it's not uncommon for your closest neighbor to live three hours away, and no one goes anywhere without provisions and supplies, just in case. So when Cameron left for dead in the desert, Nathan and Bub know someone killed him. Discovering who and why forces Nathan to face the past he's been running from for years.
Millicent and her husband live a charmed life in the suburbs, with two children, fulfilling and successful careers, and a nice social life. But they're harboring a dark secret: they are serial killers, and they plan their murders together. At turns creepy, clever, and satirical, this is a dark book that will have you squinting at your neighbors.
Alice thought she had the perfect marriage, but when her husband Chris is found dead miles away from where he said he'd be, the newly single mother can't get shake the feeling that she didn't truly know him. She becomes absorbed in the mystery of her husband's death, tracing his last movements to an island near Nantucket. As she investigates, she must reckon with aspects of her husband she always brushed aside.
At the start of this family drama, Lucy and her husband have just learned that her mother-in-law Diana has been found dead. The death appears to be a suicide, but questions linger. Weaving in between the past and present, and Lucy and Diana's points of view, Hepworth exposes a family with secrets, resentments, and plenty of contention over a large fortune, culminating in one final question: Who killed Diana?
Chloe and Nicky are opposites. Chloe went away from home on a scholarship and got a plum publishing job. Nicky stayed in Cleveland, married Adam, and gave birth to a baby boy. Fifteen years later, the sisters are strangers, Chloe is married to Adam, and Adam has just been murdered. As Nicky returns to Chloe's life, the sisters will face long-simmering resentments and concealed truths when Nicky and Adam's son is accused of his murder.
When Dr. Emma Sweeney finds a victim of a hit-and-run in the parking lot of the lab where she works, her first phone call is to her boyfriend, Detective Sergeant Cormac Reilly. Cormac spearheads the investigation, which quickly turns into a murder inquiry, shielding his partner. But the victim had ties to Emma's lab, and the more Cormac digs, the more he doubts that Emma is simply a bystander in the wrong place at the wrong time.
Paula works as a ride share driver to bolster her income and pay for her husband's mounting medical bills. While working one night, she realizes that one of her passengers is a famous musician, and he's meeting a woman who is not his wife. Sensing an opportunity, she asks for money in exchange for silence. But when a woman is murdered days later, Paula's deal becomes much more complicated–and deadly.
Alicia is a painter, married to a fashion photographer. From the outside, their life seems glamorous and perfect, until the day that she goes home and shoots her husband five times, and refuses to speak a single word. Theo is a psychotherapist fascinated by Alicia and her case, and becomes determined to get her to speak–even at the cost of his own safety and sanity.
Miriam is surprised to receive an invitation to a private island off the coast of Mexico, and thrilled by the extravagance. But not long into her visit she discovers that she and the six others strangers on the trip have been invited for a very specific reason, and when strange accidents begin to befall the others, it's apparent that someone is harboring murderous intent.
When Ailsa inherits her mother's half of a house in the Scottish countryside, she is left with a dilemma: She can't sell it without the other owner's consent, but that would be her father, who disappeared years earlier. Instead, she temporarily moves in with her younger half-sister. But strange break-ins and odd accidents immediately unsettle Ailsa, leaving her to wonder if the house is haunted, or if her father didn't disappear after all…
Find your next mystery book club recommendations
Are you looking for more personalized mystery book club recommendations? Check out TBR: Tailored Book Recommendations. TBR is a personalized book subscription service that gives readers three personalized book recommendations per quarter!
Just fill out the reader survey, and you'll be assigned a Bibliologist, who will pick out three books just for you, based on your preferences and past reading. You'll have the option to receive recommendations-only via an emailed letter, or receive three new hardcover books in the mail, from our partner bookstore. Get started now!