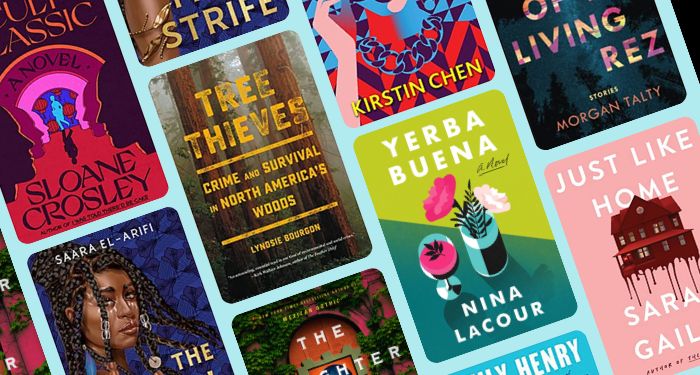 Hellooo, summer! It's time to hang up your hammock, head to the beach or hit the pool, and relax—and we all know that the best part of summer relaxation is losing yourself in an absorbing beach read. Whether your tastes bend to romance or thriller, literary fiction to fantasy, we've got some great recommendations of new, buzzy books to read this summer! Let's dive into the best summer reads 2022 has to offer—but don't forget to to hydrate and apply sunscreen before getting lost in these amazing stories!
Fiction
Two women, Sara and Emilie, must face their troubled pasts and their conflicted present in order to decide if it's worth taking a risk on love.
After her wedding was called off, a woman returns to her hometown in Maine to settle her great-aunt's estate and discovers a small mystery in the form of an old letter and a wooden duck in the bottom of a trunk.
Vincent has a lovely life in Paris, but is also smarting from a betrayal from her ex-husband: He published a novel that seemed to expose the darkest secrets of their marriage. But when she agrees to see him again at their son's wedding, she finds herself conflicted and faced with making a big choice about her future.
When a recently engaged woman enjoying a night out finds herself repeatedly running into all of her past boyfriends and lovers, she begins to question whether or not something strange is happening to her.
When a young woman struggling to pay the bills in Oakland and keep her family and neighbors safe takes a job out of desperation, she soon finds herself the key witness of a massive scandal involving the powerful police department.
Based on a true story, this novel tells the story of Dorothy Kirwan Thomas, a Black woman who was born into slavery, bought her own freedom, and built a financial empire.
In this collection of short stories, Talty explores th Penobscot community in Maine and reveals what it means to be Native in the twenty-first century and how to keep living after tragedy.
Mystery and Thriller
Ten years ago, Hannah's university friend April was murdered, but her killer was caught and imprisoned. She and their friends moved on, but when the convicted man dies in prison and a journalist surfaces with claims of evidence proving his innocence, Hannah's life is upended once more.
You can count on Sager to put out buzzy, absorbing thrillers that evoke nostalgia for your favorite tropes and pop culture and this book is no different! This novel is about an actress looking for privacy at her family's lake house, and how she becomes obsessed with observing the couple across the lake from her, who might not be as perfect as they seem.
Gailey is super skillful at genre-bending thrillers, and this book combines ghost stories and serial killers in a most intriguing way. When Vera's mother asks her to come home, she does so reluctantly—the childhood home she's returning to is the same place where her father, a convicted serial killer, buried his victims. And the past is not done with Vera yet.
When Ava, a Chinese-American lawyer whose perfect life is falling apart at the seams, reconnects with her college roommate Winnie, she soon finds herself enmeshed in Winnie's audacious counterfeit and smuggling ring.
In 1985, Lore Rivera marries a man in Mexico City despite having a husband and sons back home in Texas. Her double life comes to a terrible end when one husband murders the other. In 2017, Cassie is a struggling true crime reporter looking for a good story, and so she tracks down Lore and begins interviewing her, but it's not long before she suspects there is much more to this story.
When Paris Peralta is arrested for the murder of her famous husband, she knows the circumstances look damning…but that's the least of her worries. All of this press threatens to expose her secret past, which she's worked so hard to leave behind, but when a dangerous person from over twenty years ago comes knocking, Paris knows she'll have to face it.
We Lie Here by Rachel Howzell Hall
Yara returns to her hometown to celebrate her parents' anniversary, but she's surprised by an insistent stranger claiming to be her mother's ex best friend who claims that Yara needs to meet with her before it's too late…and then when she's found dead, she leaves Yara a strong of disturbing clues that point to a decades-old mystery somehow involving her family.
The second book in the Harlem Renaissance Mystery series finds our protagonist Louise with a new job, and things are looking up…until she reconnects with someone from her dark past, and that woman winds up dead and a woman is falsely accused of her murder.
Fantasy
Looking to lose yourself in a fantasy epic? Look no further than this new trilogy starter, which melds African and Arabian mythologies to tell the story of three women who spark a revolution.
If you're looking for a short but magical read, then pick up the next novella in Harrow's Fractured Fables series, about Zinnia Gray, who has made it her mission to rescue all sorts of Sleeping Beauties from various versions of their tale, only to fin herself helping the opposite of the damsel in distress: the Evil Queen.
Alex is a retired soldier who rushes to the aid of their childhood friend, Madeline, who is dying in her ancestral home. But when they arrive there, they find that something very strange and deadly has taken hold of the state, and it'll be up to Alex to unravel the secrets before it's too late for Madeline.
Set in 19th century Mexico, this reimagining of The Island of Doctor Moreau stars Carlota Moreau, who lives tucked away on her father's estate while he works. But the arrival of Eduardo Lizalde, son of her father's patron, sets in motion an unstoppable series of events that will bring truth to light.
Romance
Nora is a cutthroat literary agent who grudgingly agrees to a vacation in North Carolina with her little sister, where she keeps bumping into Charlie, an editor that she can't stand…only to find that maybe he's not as bad as she first thought.
Amy is a restaurant owner who is desperate for some exposure to save her business. Sophie is a chef with a reality TV show connection who just wants to cook and be left alone. When the two are thrown together, spark fly between them and tempers flare.
In this clever adult recasting of Beauty and the Beast, Izzy is an overworked and underpaid editor at a publishing house desperate for some acknowledgement and a promotion—so she seizes the chance to travel to the home of a notoriously grumpy and reclusive author to try and pry his long overdue manuscript from his grasp. But she doesn't expect this author to be hurt and lost on top of cranky, and soon they connect as she helps him tell his story.
Duchess is a rapper on the verge of achieving everything she ever dreamed of when a PR nightmare puts her on the defense. Prince Jameson is a member of the royal family but he prefers a quiet life to the stress of living in public. But when his mother puts him in charge of organizing a benefit concert, Jameson finds himself booking Duchess in a misunderstanding, bringing these two unlikely people together, and sparks fly.
Nonfiction
The writer of true crime and essays for The New Yorker now releases his first collection of The New Yorker stories highlighting criminals from all walks of life, from all over the world.
When we think about criminal enterprises, tree thieves don't immediately come to mind, but in this fascinating book Bourgon takes a deep dive into the crimes of those who steal lumber. These crimes directly impact Indigenous people, rural and working class people, and have a profound impact on ecological and conservation efforts, to the extent that would surprise many.
Looking for more book recommendations? Check out:
And if you're still hungry for more, then sign up for TBR: Tailored Book Recommendations! TBR is a personalized book recommendation service that sends you books you'll love to read. Here's how it works: Simply fill out the reader survey and let us know what you want more of—such as books to read this summer—and what you're not keen on. Then, an expert Bibliologist will read your responses and recommend three books just for you. Receive your recommendation letter via email in about two weeks, or opt to receive your recommendations as brand new hardcovers in the mail in about three to four weeks. Learn more and sign up now!