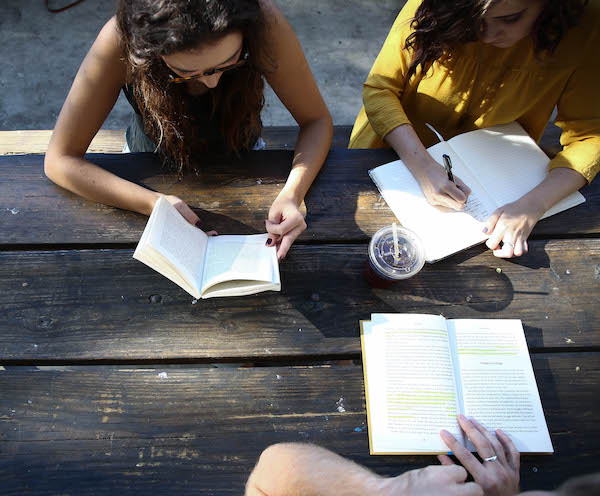 A new year is upon us, and there's no reason why 2022 can't be the best, most bookish year yet! If you're looking to scope out some of the best picks for your book club in 2022 (or maybe you want to start your own book club and are looking for books to excite and inspire), then look no further than these late 2021 and early 2022 releases that will surely be hits among your members!
Olga and Prieto are a brother and sister who seem to have it all…until the reappearance of their mother forces them to face the truth about their childhood and their family secrets.
Fiona and Jane have been best friends since childhood, but as they pass through their tumultuous teenage years and head into adulthood, they find themselves separated by distance and circumstance, and must face who they've become both with and without each other.
When KB's father dies and her mom is unable to properly care for her and her sister, the girls are sent to live with their grandparents for the summer, where KB uncovers secrets and must learn how to navigate through the world, alone for the first time.
It's the eve of Alice's fortieth birthday and she's mostly happy with her life, except for the fact that her father's health is failing. But when she wakes up the next day, she finds herself sixteen again. Now that she has a new perspective on what it means to be an adult, she goes about trying to understand her father now that he's younger and healthy.
Set in 1964, newly married Hollywood starlet Katie Barstow her husband David Hill, decide that they want to honeymoon in Tanzania, and they'll bring along their best friends and fellow Hollywood A-listers. They imagine vacationing in wild luxury, but when their group is kidnapped, their lives are changed forever.
For fans of Cloud Atlas, pick up this ambitious novel about three sets of characters across the centuries: One in Constantinople in 15th century, one in Idaho in present day, and one on a space ship in the not-so-distant future who are all under siege and united by a single story.
Kostas and Defne and Greek and Turkish teens who fall in love and meet in secret as their relationship ship deepens but unrest in their homelands grow. Decades later, Kostas returns to their meeting place, looking for his lost love…and across the continent, a young woman must begin reckoning with the secrets her family has kept.
In this new novel by the award-winning and celebrated author of the speculative and prescient, a man is exiled from his home and finds a violin performance seemingly in the wilderness, a writer on book tour travels earth, even though her home is on the moon, and detective seeks to understand the connection between the three of them.
Memphis by Tara M. Stringfellow
When Joan and her mother and brother flee their abusive father, they end up in Joan's mother's hometown of Memphis, a city full of history and secrets. As Joan grows up and comes of age in the city, she discovers its rich backstories and the role this place has played in her family's lives.
The Chao family has owned a restaurant, Fine Chao, for decades, where they serve Americanized Chinese food to their Wisconsin town. While no one normally bats an eye at the family, when the three sons of the Chao family patriarch reunite in their small town and their father dies under mysterious circumstances, the entire community soon can't look away as a search for the complicated truth begins.
Neurodivergent Molly Gray works as a hotel maid, and enjoys it—the rules and etiquette are clear, and she is content in her routine. But when she walks into a room and discovers a wealthy guest dead, her peculiar habits soon have her at the center of a police investigation, and she must use all her wits and rely on a few unexpected allies to clear her name.
Violeta by Isabel Allende
With ambitious scope and capacious heart, Isabel Allende tells the story of Violeta, who is born in South American in 1920, and goes on to live 100 years, witnessing some of the biggest changes in humanity over the course of her century of life, and recounting them all in the form of a letter to the person she loves the most.
Inspired by true events, this novel follows Civil Townsend, a newly minuted nurse who is eager to help the poor Black communities in Alabama, and is excited about her new role in the Montgomery Family Planning Clinic. But when she uncovers an unthinkable injustice at work, it will change the course of her career, and her life.
Sankofa by Chibundu Onuzo
Anna is a woman in her forties who feels discontent in her life, and unneeded by her loved ones. While sifting through her recently deceased mother's belongings, she finds a diary belonging to her father, a student radical. And then she learns that her father went on to become a president (and according to some, dictator) of a West African country. And…he's still alive.
L.A. Weather by María Amparo Escandón
This is the story of the Alvarado family: Oscar, the patriarch, who is obsessed with the weather and has a big secret. Keila, his wife, who is desperate for intimacy and decides the only choice she has is to leave her husband. And their three adult daughters: Claudia, Olivia, and Patricia, who are completely shocked by their parents' separation and must reconsider their lives and relationships as a result.
When Joy Delaney mysteriously disappears, her husband Stan doesn't seem worried but her four adult children are frantic. Amy, Logan, Troy, and Brooke are all harboring resentments and secrets from their childhood, which was spent on the tennis courts of their parents' business, and they worry that their father may know more than he's letting on. And then there's the matter of the mysterious stranger their mother took in months earlier, a young woman who wormed her way into their parents home before disappearing abruptly.
Paradise: One Town's Struggle to Survive an American Wildfire by Lizzie Johnson
Written by a journalist who was there when it happened and stayed for the aftermath, this is a riveting and horrifying account of the Pit fire that consumed Heaven, CA and left more than eighty people dead.
In this twisty mother/daughter story, an idealistic young law student lands a coveted internship with a group hoping to exonerate wrongfully convicted people on death row. But her biggest secret? She's not there to help anyone—she's there to ensure a murderer doesn't ever get out.
Meroe Island, a small island in the Pacific Ocean, has quite the storied history, and now it serves as the perfect adventure getaway for six twenty-something friends looking for a little excitement. But when one of them goes missing on the island, the rest of them are left to contend with horrible secrets and unspeakable danger.
Katy is looking forward to a long-awaited trip to the Amalfi coast with her mom, Carol, when the unthinkable happens: Carol dies. Devastated, Katy goes forward with the trip, having long wanted to see the magical place her mom spent a summer before meeting her dad. But once she arrives, she gets more than she bargains for when she discovers her mom…alive, thirty, and not altogether how Katy imagined her.
Farrah is one of the only Black girls in her affluent community, and the other one is her friend Cherish, who has white adoptive parents and is beyond spoiled. But when Farrah's own Black parents face foreclosure, Farrah finds herself manipulating her way into Cherish's life for her own advantage…until strange occurrences and inexplicable tensions prove that she's not the only one with an ulterior motive.
Greta James is a successful indie musician on the brink of launching her sophomore album when her mother dies and she falls apart very messily and publicly onstage. Her career seems ruined when the footage goes viral, and Greta is resentful for he fact that her dad sees this as a failure for not making a more practical career choice. So months later, she agrees to go with him on an Alaskan cruise her parents had booked to celebrate their anniversary, hoping to salvage their relationship…and they get a lot more than they bargained for.
Looking for more great book club inspiration? Check out our picks for the best book club books of 2021. And then, sign up for TBR: Tailored Book Recommendations! TBR is a personalized book recommendation service that sends you books you'll love to read. Here's how it works: Simply fill out the reader survey and let us know what you want more of–such as best books for your book club–and what you're not keen on. Then, an expert Bibliologist will read your responses and recommend three books just for you. Receive your recommendation letter via email in about two weeks, or opt to receive your recommendations as brand new hardcovers in the mail in about three to four weeks. Learn more and sign up now!