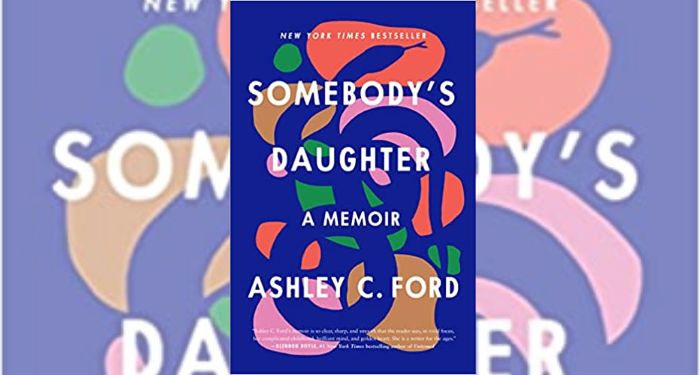 Does your book club love reading memoirs? Then we've got the perfect pick for you! Somebody's Daughter by Ashley C. Ford was an instant bestseller. It's the thought-provoking and hard-hitting story of Ford's childhood and young adult years. The book has made its rounds with book clubs big and small, and it's a great memoir to read with your book club if you like unflinching true stories about family and coming of age. We've got everything you need to have a successful discussion of the book, including Somebody's Daughter book club questions!
Somebody's Daughter Summary
Ashley Ford grew up in Indiana, the daughter of a single mom who struggled to make ends meet. She was raised by her mom and grandma, and she had close relationships with her younger brothers. She grows up knowing that her dad is in prison, but not why. Whenever she or her brother bring it up, the adults in their lives make it obvious that the reason isn't for them to know, that it's too painful to talk about. As Ford undergoes early puberty and finds her body changing and betraying her in confusing ways, she sees firsthand how boys and men view her, and her first real relationship turns sour and ends in an assault. It's not long after that that her beloved grandmother finally reveals the reason why Ford's dad was imprisoned when she was just a baby, and the truth changes everything.
Themes: family, secrets, forgiveness, agency, trauma, love
Somebody's Daughter Book Club Questions
Ford grew up with this cloud over her father's absence and the knowledge that she wasn't supposed to ask about it. How do you think this affected her development as a person?
Discuss Ford's realtionships with her mom and grandmother. In many ways, she is a lot closer to her grandmother than her mom. Why is that? Could you relate to Ford feeling closer to another family member than to her own mother?
Discuss Ford's relationship with her dad before she finds out the truth about his imprisonment. How does the relationship change after she learns about his crime? How does it change when she's in her twenties and he's eventually released?
Discuss how Ford's sense of self evolved after she transitioned from childhood to her teen years, and she experienced objectification from men. Did you find her experiences relatable in any way?
What role has education and the educational system played in Ford's life? How was it a lifeline for her? Can you relate to that experience or feeling?
Ford had some great connections with teachers, but they also changed when people began to sexualize her at a young age. In what ways is this damaging for society, and for girls like Ford?
For a lot of kids living in poverty, they often need just a glimpse of how life could be different to inspire them to pursue new opportunities, such as college. Discuss how Ford became determined to go to college. Do you think she would have made the same choices if she hadn't had the opportunity to see what college life was like while still in high school?
Why do you think Ford's mom was reluctant to let her go?
One of the reasons why Ford and her mom struggle to have a closer relationship is because her mom seldom let herself be seen as vulnerable in front of Ford. What role does vulnerability play in emotional intimacy?
Discuss the risks in placing all of your hopes and expectations for unconditional love on one single person. How does Ford navigate this with her relationship with Brett?
Ford finds the strength to forge a new kind of relationship with her father after his release. Could you be capable of that kind of forgiveness and generosity? What life experiences do you think led Ford to this decision?
---
Want more questions? Check out our list of great questions for nonfiction book clubs!
And if you are looking for more great book recommendations, check out our round up of the best memoirs of 2021! If you're looking for something more recent, sign up for TBR: Tailored Book Recommendations! TBR is a personalized book recommendation service that sends you books you'll love to read. Here's how it works: Simply fill out the reader survey and let us know what you want more of—such as new memoirs—and what you're not keen on. Then, an expert Bibliologist will read your responses and recommend three books just for you. Receive your recommendation letter via email in about two weeks, or opt to receive your recommendations as brand new hardcovers in the mail in about three to four weeks. Learn more and sign up now!