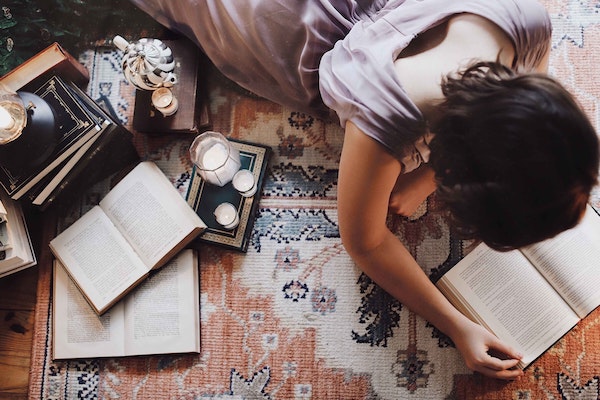 Do you love the idea of a book club, but find yourself reaching for nonfiction rather than fiction? Perhaps you like discussing books with others, but you want those discussions to be more than just a social event. Nonfiction book clubs are totally a thing, and while the core principle might be the same as book clubs that focus primarily on fiction and discussion, you can make a nonfiction book club into an organization dedicated to growth and action! Here are some ideas and nonfiction book club questions to get you started!
Getting Started
Check out our guide to how to run a book club for some nuts and bolts on how to get started, and stay organized. While the advice is geared towards a fiction book club, it can be adapted for a nonfiction one as well.
One of the most important things you might want to do is create a mission statement. What is the purpose of your book club? This will be a guiding principle for how you pick books, but also how you discuss them, and what action you might take in your meetings. Some things to consider might be who makes up your group (e.g. are you colleagues, or do you serve on a committee together?), what your group's goals might be, and the amount of time and resources you can devote to this book club. You might also want to decide how often you meet and how you choose the books you read, paying special attention to ensuring the you're reading widely and diversely, and learning new things.
Nonfiction Book Club Questions
Once you've set up your club, and you've picked your first book, here are some book club questions for personal development and deeper conversation!
What are the central themes in this book?
What did you learn from reading this book? Did the book confirm something you already knew?
What resources did the author consult? Is the author an authority on this subject? Do they have credibility in this field?
Is there a piece of advise or wisdom that you disagreed with? Why? What would you suggest as alternative?
If the book discusses strategies or solutions for a problem raised, how might you apply these strategies and solutions in your own life? Walk through various scenarios, and role play with other members if necessary.
Does this work make you rethink current policies or procedures that are currently in place in your organization or place of business? Do your policies and procedures need to be updated?
How does this book address conflict, or conflicting information or opinions?
What questions do you still have after reading this book? What other resources might you look into? Do any of your members recommend any news articles on the subject?
How familiar are you with this topic? Have you read anything else about the subject that you'd recommend to your group members?
What personal or group action can you take after reading this book?
Secondary Activities
Aside from discussing the book you've read, you can really take your club to the next level by brainstorming a way to pair your discussion with an activity that ties to the book in some way. For example, if you read a book about the opioid crisis, is there a documentary you can also watch that will complement your book? If you read a memoir about sustainability, is there a class you can take that will aid your members in their sustainability journey? Is your book politically minded? Consider attending a lecture or event that centers on an issue important to your club. Does the book talk about a need in communities that your group can fill? Look into volunteering opportunities, or discuss ways that your group can work collectively to make a positive impact.
By taking what you learn and discussing ways to put the concepts into action, you can grow as a group, and as individuals. Your book club will be more than just a social event, but a learning opportunity a nd force for positivity and change in your community!
Looking for some great nonfiction recommendations for your new nonfiction book club? We can help! Sign up for TBR: Tailored Book Recommendations! TBR is a personalized book recommendation service that sends you books you'll love to read. Here's how it works: Simply fill out the reader survey and let us know what you want more of–such as fairy tales for adults–and what you're not keen on. Then, an expert Bibliologist will read your responses and recommend three books just for you. Receive your recommendation letter via email in about two weeks, or opt to receive your recommendations as brand new hardcovers in the mail in about three to four weeks. Learn more and sign up now!