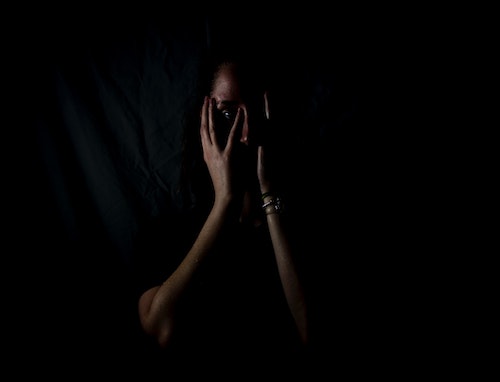 Do you like to be scared out of your wits when you read? While different readers might find different story elements scarier than others, we've compiled a list of some of the scariest books of all time, worthy of sticking in the freezer! From best selling horror novels to more subtly scary books such as true crime and speculative novels, hopefully you'll find something to keep you up at night!
In this ghost story, three friends are renovating a run-down house in a remote location in Iceland when they begin to feel a foreboding presence. Meanwhile, a doctor in a nearby town makes a startling connection with one of his patients to the house.
In this riveting true crime account, McNamara attempts to unveil the Golden State Killer, a serial rapist and killer who terrorized California communities for decades. This killer's close brushes with law enforcement and details about how he'd break into homes on reconnaissance missions will definitely have you double checking your locks.
Liv's dad disappeared two years earlier, not long after he claimed he was abducted by aliens. Liv doesn't believe that's true, but checking her dad's traps in the woods is tradition. However, just as she's decided to move on, Liv and her best friend discover an inhuman creature in one of the traps–and Liv has to face the possibility that her father was telling the truth all along.
Out by Natsuo Kirino
When a woman kills her husband in the Tokyo suburbs, she recruits her two coworkers to cover up the crime and stay one step ahead of the police. But what neither of them realize is that they've just put targets on their backs, and the murders won't stop any time soon. This is a tense thriller with some truly scary moments.
Even though this is a children's book, it's still pretty chilling! Ollie is still reeling from her mom's death, and she finds solace in reading a ghost story about a terrible bargain made with a "smiling man." But when Ollie goes on a school field trip to a nearby farm, she discovers that the smiling man is no ghost story–he's real, and he wants to make a bargain with her.
In 1982, four Buenos Aires taxi drivers were murdered in a week, creating fear and chaos. The killer was arrested, and he still resides in prison, despite serving out his sentence. In this book, Busqued goes and visits the man responsible, getting him to open un for the first time about his life and his killing spree.
Kindred by Octavia Butler
Dana is a twenty-something Black woman living in 1970's California with her new husband when she's yanked suddenly and violently into the past, in antebellum South. There she saves the life of a young white boy before being returned back to her own timeline. But the time traveling doesn't stop there–she is brought to the past every time this white boy's life is in trouble, and as he grows into a young man, she finds that her visits last longer and longer, meaning that she might be stuck in slavery in the past forever.
Four strangers come to Hill House in order to better understand what haunts its halls, but as their visit extends into days and sleepless nights, it soon becomes clear that one of them won't make it out alive. This horror classic is the basis of multiple adaptations, mostly recently one by Netflix.
In a city where blindness becomes an epidemic, those afflicted as sent to an empty mental hospital, where criminals control everything, and people are left trying to survive the best they can. Only one person bears witness to these acts, and they become a leader for a small group of people looking for escape.
Set in the 1990's, Patricia's suburban life is hectic and unfulfilling, and the only thing keeping her sane is her true crime book club. But when a newcomer to the neighborhood arrives at the same time that violent attacks occur, Patricia's suspicions are raised about who he really is and what he really wants.
One say, Iris and Daniel are playing in the snow when they make a snow girl–right on the grave of another little girl who died years earlier. Soon after, Iris begins to feel the ghostly presence of that girl, bent on revenge. As she researches the history of her community, she discovers a terrible legacy that must be righted–before anyone gets hurt.
The Road by Cormac McCarthy
This is a classic story of a father and son traveling through a ravaged America with nothing but the clothes on their backs and what little food they can scavenge. They head to the coast, hoping to escape the notice of the lawless criminals who roam the land, but they are uncertain of what they'll find once they reach their destination.
Israel Keyes was one of America's most-wanted killers, but not nearly as famous as Bundy, Dahmer, or Gacy. He lived in Alaska and left "kill kits" all over the country so that he could fly to a destination and carry out heinous crimes, often in broad daylight. This is an account of his crimes, how he went unnoticed for over a decade, and finally, his capture.
Beloved by Toni Morrison
This is a ghost story about Sethe, a woman born into slavery who escaped to Ohio, but not before leaving behind a beautiful home full of heinous memories, and the grave of her infant daughter, known simply as Beloved. This is a story of a woman haunted, full of suspense.
King is such a prolific author and this isn't his only scary read, but many readers have noted how this tome has sent chills down their spines. It's the story of a community suddenly cut off from the rest of the world when an invisible force field descends upon their town, and the people who must try and survive on the inside.
This is an unconventional book that details what happens when a family moves into a new house and makes a puzzling discovery: their new home is bigger on the inside than the outside. And when their two children wander off, they must face the nightmare that is this house.
In this rural horror novel, Jeremiah works at the Video Hut in the 1990's, a steady and predictable job that is upset one day when customers return VHS tapes and claim that there's something else on the tapes–something sinister.
Ring by Koji Suzuki
The inspiration behind the Ring film franchise, this is the chilling story of four teens who view a sinister videotape that asks them to commit a horrific act within a week–or they die. When all four die of heart failure, a journalist begins to look into this videotape.
In this classic true crime story, four members of the Clutter family are brutally murdered on their farm in 1959 Kansas. The killers are two men who are drifters, and Capote not only details their crime in Kansas, but their misdeeds across the United States.
This landmark novel is based on a true story of demonic possession, and is about Regan, an eleven-year-old living in Washington D.C. who must be rescued from a horrible fate.
Teo is obsessed with Clarice, a brilliant young woman who is everything that he's not. Clarice is working on a screenplay about three friends who go on a road trip across Brazil, looking for love. Inspired, Teo kidnaps Clarice and follows the route of her screenplay, each step of the way taking measures to ensure no one gets in the way of his ending.
Apollo's father disappeared years ago, so when he becomes a father himself, he sees this as an opportunity to give his new son more than be ever received. But then Apollo's wife begins acting strange, and when she commits a horrible act and disappears, Apollo must get to the bottom of what really is going on.
Set in Scotland in the early 1700's, a young man by the name of Robert is convinced by a shadowy figure to commit a series of murders that Robert is convinced are justified–but is this figure influencing him real, or just a figment of his imagination?
Want more of the scariest books of all time? Check out the best horror movies based on books, and our recommended list of horror book subscription services! And if you still want more scary books in your life, sign up for TBR: Tailored Book Recommendations! TBR is a personalized book recommendation service that send you books you'll love to read. Here's how it works: Simply fill out the reader survey and let us know what you want more of–such as scary books or new horror novels–and what you're not keen on. Then, an expert Biblioligist will read your responses and recommend three books just for you. Receive your recommendation letter via email in about two weeks, or opt to receive your recommendations as brand new hardcovers from our partner, Print: A Bookstore in Portland, ME in about three to four weeks. Learn more and sign up now!