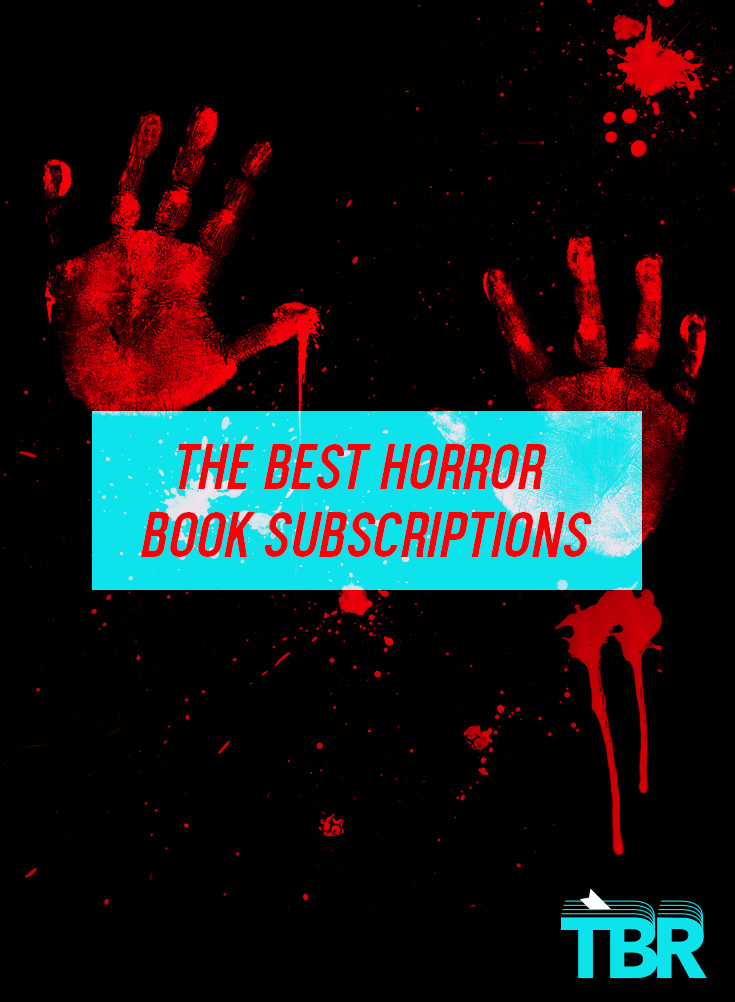 When you think of the perfect book box, do you imagine it dripping red onto the floor? The screams that might escape as you open it? If so, these creepy horror book subscriptions are for you.
9 Horror Book Subscriptions
For as low as $19.99 a month, you'll receive two new hardcover books and an ebook. You choose the genre: thriller, mystery, horror, or surprise me. Past horror picks include Silence of Ghosts by Jonathan Aycliffe, Slade House by David Mitchell, and Season to Taste by Natalie Young.
If you're wanting a box full of macabre collectibles along with your macabre books, this one may be the one you're looking for. Each monthly box includes at least 1 horror or true crime book. What makes the box special are the limited edition collectibles. Previous boxes have included a skull and crossbones flask, a creepy cooking apron that says "Tonight, I'm having an old friend for dinner," and books like I'll Be Gone In The Dark. It's $39.99 a month.
Horror writer Gary Hendrix teamed up with Valancourt Books for this limited, scream-filled book subscription. Starting in April, each month you'll receive a new, limited edition release of a previously unavailable 70s and 80s horror paperback. There are only 5 books, so you'll want to get on this right now if you want them. The ebooks are $6.99 each, or $29.99 for all five, and the paperbacks are $16.99 each, or $85 for all five. Pricing for the subscription service includes shipping for the US and UK.
The most personalized option, TBR pairs each reader with a bibliologist that reads in their genre. After taking a reading survey and even linking to your spooky Goodreads' account, the bibliologist will, depending on your plan, recommend three books or send a box of 3 hardcover books tailored to you a quarter. You can sign up for the recommendations-only plan (a recommendation letter emailed to you), or for the hardcover-level which ships three books delivered to you if you live in the U.S. Each quarter, you have the opportunity to update your reading preferences. This is perfect for the horror reader, who can be paired with a horror-reading bibliologist for the perfect recommendations. It costs $15 a quarter for the recommendations-only plan ($50 billed annually), and $79 + $4.79 shipping a quarter for the hardcover books ($300 annually).
Do you like coffee? Only coffee as black as a raven's wing and with a dash of powdered bone shavings? Well, okay then. My Coffee And Book Club doesn't come with any bone shavings that I know of, but you do get a hardcover book from a genre of your choice and 12 oz. of delicious gourmet coffee, whole bean or ground, to help you stay awake while you read, though who falls asleep while reading horror? We're an awake bunch. We know what's out there. They also email an ebook so we can bring our horror wherever we go, like the dentist office. Horror novels in previous boxes include Silence of Ghosts by Jonathan Aycliffe and The Penny Dreadfuls. Plans start at $31.99 a month.
Abominable Book Club
This abominable UK subscription includes an online forum to discuss their new horror picks. Each month, you'll receive a new horror or thriller novel, a used mystery book, an indie ebook or magazine, a delicious snack, and some hot drinks. Past books include Gallery of the Dead by Chris Carter with a used copy of The Survivor by James Herbert and The Lingering by SJI Holliday paired with Koko by Peter Straub. Subscription plans start at £19.75 a month.
Based in the UK, Heywood Hill bookstore customizes each subscription with a personal consultation from one of their expert booksellers who will select books based on your preferences. I challenge you to come up with the creepiest list of bookish needs they've ever had to fill. Each month (or bimonthly) your book will arrive beautifully wrapped, with a customized bookmark. They have a lot of subscription options, from 6 books a year at £175 to 40 books a year for £950, and everything in between. You can also choose paperback or hardback options.
Also located in the UK, you tell them your favorite genre and 5 favorite (or, rather, favourite) books, and they'll handpick books for you. In addition to the book, you'll receive hot chocolate, tea, a coaster, and a bookmark. They want you all settled in for your scary bookish date night, how kind. You can choose: 1-3 books a month; a book and a DVD plan; or you can go with the pampered subscription option where in addition to the above, you'll receive nail polish, a face mask, and moisturiser. Plans range from £11.95 to £29.50.
From Loot Crate comes their only horror themed subscription box. You'll receive 4+ gruesome items a month, sometimes including a book, sometimes not. Past boxes have include the graphic novel Clive Barker's Nightbreed, a Chucky throw blanket, and creepy cookie cutouts. Plans start at $22.99 a month.