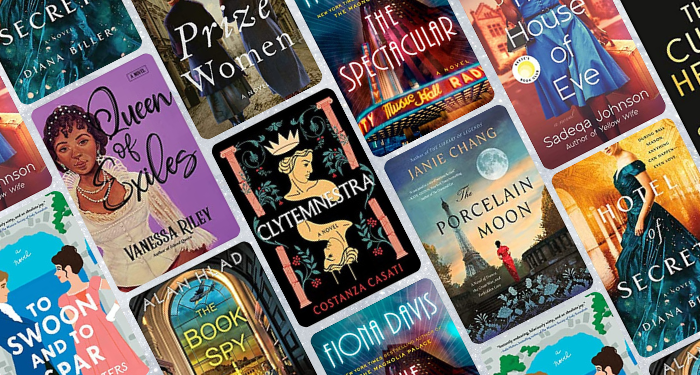 Historical fiction is popular across genres, from historical romance to historical mystery and crime, among many other sub-genres. So far 2023 is shaping up to be a stellar year for new historical fiction books, and we've got ten of the most highly anticipated titles for you! Ranging from World War spy stories to Regency romance, with heiresses, queens, and Rockettes as heroines, these ten new historical fiction books coming out in the first half of 2023 should hit the spot for your historical fiction cravings!
The Book Spy by Alan Hlad (January 24)
Setting: World War II. New York Public Library microfilm expert Maria is sent to Lisbon to work with bookstore owner Tiago. Then she is asked to work as a double agent and feed bad information to Nazi sympathizers, risking her relationship with Tiago, who is helping Jewish refugees. From the author of Churchill's Secret Messenger.
Setting: 1950s. Ruby's hopes of attending college and rising out of poverty are destroyed by a love affair. Eleanor falls in love with William, whose parents don't approve of her — but she thinks having a baby will change that. Eleanor and Ruby's lives intersect. From the author of The Yellow Wife.
Prize Women by Caroline Lea (February 14)
Setting: 1920s. A millionaire leaves his fortune to whatever woman manages to have the most children in the following ten years. Pregnant Lily runs away from her abusive husband and is taken in by Mae, a mother who is secretly struggling. When the depression hits, the contest threatens their friendship. From the author of The Glass Woman.
Setting: World War I. Pauline, desperate to get out of an arranged marriage back home in Shanghai, runs away from her brother in Paris and finds sanctuary in the home of Camille, who needs out of an abusive marriage. But Camille is keeping a secret from Pauline. From the author of The Library of Legends.
Clytemnestra by Costanza Casati (March 2)
Setting: Ancient Greece. In the vein of Circe and Ariadne, this retelling of Greek myth tells Clytemnestra's story from her point of view. The author's debut novel.
Setting: 1870s. Maria just wants to fix up her family's Hotel Wallner, not be distracted by an American who keeps saving her life. Eli is looking for the person selling American secrets, but he is drawn into Maria's Vienna world against his will. From the author of The Widow of Rose House.
Setting: 1930s. Catherine is a New York heiress who's actually no such thing — and someone wants her dead. Elena faked her own death and is out for revenge. They're both on board the Morro Castle and may need each other's help to survive the journey to Havana. From the author of Next Year in Havana.
Setting: Regency. If Viscount Penvale wants to buy his home back from his uncle, he'll have to marry Jane. They dislike each other but agree to a marriage of convenience. Then Jane and her housekeeper fake a haunting in an attempt to drive Penvale out of the house — but in the process, Jane and Penvale might start liking each other. From the author of To Have and To Hoax.
Setting: 1950s. Marion is excited to be a Rockette, but the job is harder than she imagined. Then there's an explosion near the theater, and to help the police catch the Big Apple Bomber, Marion has to take some risks. From the author of The Lions of Fifth Avenue.
Setting: 1820s. Louise marries Henry, the King of Haiti, but ten years later he is overthrown and dies by suicide. Louise and her daughters flee, finding a new life in Europe where they look for acceptance as Black royals. From the author of Island Queen.
Not enough? Try backlist! We've got some of the best historical romance novels and these historical books set in the 1950s.
Want more new historical fiction books? Try TBR: Tailored Book Recommendations! TBR is a personalized book recommendation service that sends you books you'll love to read.
Here's how it works: Simply fill out the reader survey and let us know what you want more of and what you're not keen on. Then, an expert Bibliologist will read your responses and recommend three books just for you. There are two subscription options: receive your recommendation letter via email in about two weeks — perfect for library users! — or opt to receive your recommendations as brand new hardcovers in the mail in about three to four weeks. Learn more and sign up now!