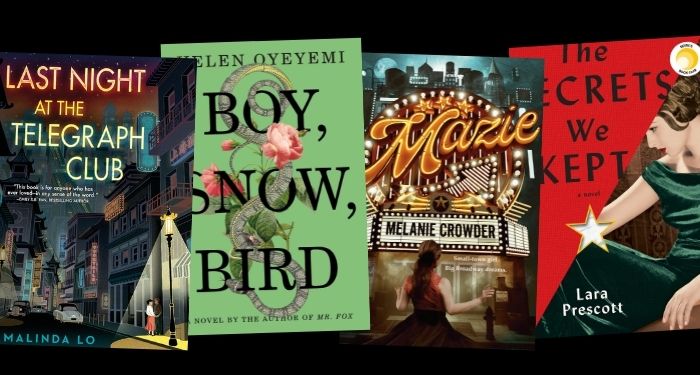 World War II fiction has dominated the market for a number of years now, and while we enjoy the many explorations of life during the tumultuous 1940's, readers of historical fiction shouldn't neglect reading books set in the 1950's! They were a time of recovery after WWII alongside political upheaval and growing tensions, but they were also a decade of excitement, innovation, and glamour as society reinvented itself after war. These 15 books set in the swinging 1950's depict many different perspectives around the world, and we promise they're just as intriguing as your favorite WWII novels!
American Daniel is excited to travel to Madrid and experience his mother's homeland for the first time. But Franco's Spain is nothing like he imagined, and in exploring Madrid and taking photographs, he ends up capturing something on film that could endanger a new friend, and will significantly impact all of their futures.
Ruth hasn't seen her twin sister Iris since they parted ways in Rome in 1940, and she was just as shocked as anyone else when Iris and her family disappeared from London in 1948, although she never addressed rumors that the family had defected to the USSR. Now, it's 1952 and an FBI agent has approached Ruth with a daring plan to extract Iris from Moscow—but he needs her help.
Eilis Lacey is an Irish woman who comes of age in the hard years following WWII, and when she gets the chance to immigrate to the U.S., she leaves behind her family and heads to Brooklyn. There, life is exciting and far different from home. As she falls in love with someone unexpected, news from home threatens her newfound happiness.
It's the early 1950's and Juliet is working at the BBC, happy to be a career woman. But then a chance encounter with a man she knew during the war brings back unpleasant memories, reminding her of a terrible choice she made years ago that now must be faced.
Lily is a Chinese-American young woman living a sheltered life in San Francisco's Chinatown, until a chance encounter with a classmate and an advertisement has her venturing outside of her comfort zone to the Telegraph Club, where she discovers a community of queer women who open her eyes to different ways of living, and her own desires.
In this award-winning novel, a butler who has served one of the finest households in England for over thirty years takes a road trip at the end of his career, reminiscing about his time at Darlington Hall and slowly reconsidering his perceptions of the man who has been his employer.
Grace Kelly is trying to avoid a British paparazzo when she ducks into a shop and is shielded from attention by Sophie Duvall. They strike up a friendship that will change both of their lives as Grace falls for the Prince of Monaco, bringing together Sophie and the British paparazzo that sent Grace Kelly across her path.
Mazie by Melanie Crowder
Mazie wants more than life in Nebraska can offer, so when she gets the opportunity to go to New York City for six weeks and audition for shows, she takes it—even if it means she's breaking her boyfriend's heart. NYC is just as glamorous as she imagined, but landing her dream roles are a lot harder than she anticipated, especially when she learns the dirty truth about show business.
Kit Corrigan grew up one of three triplets who performed for audiences, and now she's ready to strike out on her own in 1950's New York. But life is a lot harder on her own in the city, until she lands an unconventional job with some nice perks. But Kit is about to learn that when working with the mob, there are always strings attached.
Hal is a journalist in 1953 Rome, trying to outrun his past when he meets Stella and the two spend an unforgettable night together. The next morning, she vanishes. A year later, Hal is hired by an Italian contessa to board her yacht headed for Cannes Film Festival, and while the boat is full of celebrities and fascinating people, there's only one person aboard Hal cares about: Stella.
Irina is a Russian-American secretary recruited by the CIA for a single purpose: Travel to the USSR and smuggle out the manuscript of Boris Pasternak's Doctor Zhivago so that it can be published worldwide. Her mentor is veteran spy Sally Forrester, who has much to teach Irina about how to manipulate men. But that's not all that Irina learns from Sally as they undertake their daring and dangerous mission.
Flavia de Luce is a young girl living on a crumbling English estate called Buckshaw in the 1950's. She has a passion for poisons and chemistry, and enjoys outsmarting her older sisters. When a man is discovered dead on Buckshaw's grounds, Flavia immediately suspects murder, and sets out to prove it.
Roya is an idealistic young woman in 1953 Tehran who enjoys spending her time at a local stationery shop where the kindly proprietor introduces her to Bahman, and the two fall deeply in love. But on the eve of their wedding, they're separated when a coup d'etat sweeps the city and the country. It will be decades before they find their way back to each other.
Noemí is a socialite with academic aspirations who finds herself answering her beloved cousin's frantic summons to a countryside estate in Mexico, where she has recently taken ill. The estate is owned by her husband's family, all of whom are serious and a bit foreboding. Noemí isn't at the estate for long before she realizes something is very wrong…and if she's not careful, she might not ever leave.
In this retelling of Snow White, Boy Novak arrives in a small town in New England and finds herself marrying a successful widower with a beloved daughter. Life seems good, until Boy's own child is born, revealing that she is Black passing as white. The consequences of this split their family apart, and force Boy to confront her past.
Need more book recommendations? Check out the best historical romance books, and then take a look at some of the best online book subscriptions. If you're looking for more specific recommendations, sign up for TBR: Tailored Book Recommendations! TBR is a personalized book recommendation service that sends you books you'll love to read. Here's how it works: Simply fill out the reader survey and let us know what you want more of—such as books set in different decades—and what you're not keen on. Then, an expert Bibliologist will read your responses and recommend three books just for you. Receive your recommendation letter via email in about two weeks, or opt to receive your recommendations as brand new hardcovers in the mail in about three to four weeks. Learn more and sign up now!