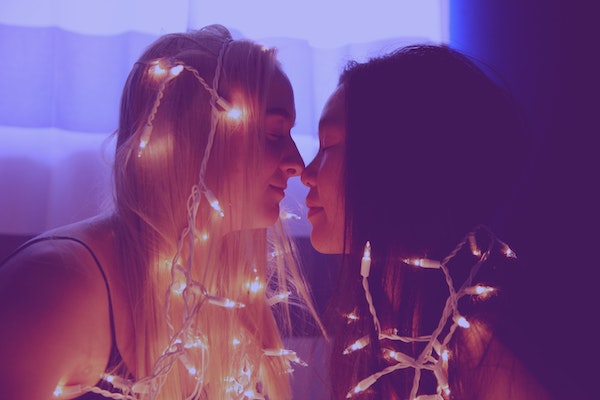 A new year means even more new books with LGBTQ+ characters in the starring role! Although publishing can always do better to publish and promote more books with queer characters, 2021 is already turning out to be a wonderful year for LGBTQ+ readers! From fantasy to YA to graphic novels, there are so many great queer books hitting shelves this year. Let's dive in!
Grace Porter takes a trip to Las Vegas to celebrate her newly minted Ph.D but then her night ends in a drunken marriage with a woman she's just met. When her life back home in Portland falls apart, she takes off to Brooklyn to get to know the wife she barely remembers, and discovers that things don't always go the way you plan.
Seventeen-year-old Lily lives in Chinatown in San Francisco in 1953, just blocks away from the Telegraph Club, where women gather to watch a male impersonator perform. When Lily learns of the club and sneaks out to visit with a classmate, she discovers a community and words for how she feels and who she is for the first time.
In this novel, Reese and Amy were a happy trans couple, until Amy detransitioned and became Ames, devastating Reese. Ames thought life would be better when he detransitioned and he misses Reese terribly, but can't figure out how to get her back. When his boss reveals that she's pregnant with Ames's baby, Ames wonders if there's a way the three of them can be together and raise the child.
Samuel and Isaiah live together on a plantation where they find refuge from their enslavement in each other and the space they carve out together. When another enslaved man tries to curry favor with the white men enslaving them, people begin turning on Samuel and Isaiah and their love, but they hold on tight to each other.
The day after Nora's ex Wes walks in on her and her new girlfriend, Iris, all three meat at the bank in order to deposit money for a fundraiser. Nora expects it to be an awkward five minute transaction, but when the bank is held up by two robbers, all of Nora's plans go out the window. What no one knows is that Nora is the daughter of a con artist, and she has more than a few tricks up her sleeve to get them all out alive.
Dean is a trans guy–he's sure of it, but just hasn't come out to anyone, including his girlfriend, who thinks he's a lesbian. When Dean is cast as Romeo on the school's non-traditional performance of Romeo and Juliet, Dean must find the confidence and the perfect moment to share his true self with the world.
Patrick is the beloved Gay Uncle (Guncle) to Maisie and Grant, whom he dotes upon. But when a family tragedy means that Patrick needs to take in his niece and nephew for the summer, the formerly famous sitcom star is overwhelmed as he tries to step up to the challenge.
Carey is a genderfluid teen who loves Broadway and dreams of being a diva like their hero, Mariah Carey. But bullying and issues at home have left them uncertain. When a new friendship encourages Carey to try out for Elphaba in the school production of Wicked, they couldn't be happier to get the role…even though it emboldens Carey's bullies, and they must find a way to stand up for themself.
August is a cynical twenty-something living in New York City, not prepared to believe in anything like love or fate. But then she meets Jane on the subway, and Jane goes from being her subway crush to her full-on crush. But there's just one problem–Jane is from the 1970's, stuck in time, hoping to get back home. And August is going to help her.
In Cat Sebastian's debut trade paperback, Kit Webb is a reformed highwayman living out a rather boring life in a coffeehouse. But then an aristocrat enters his life, wanting to hire him to steal a beloved family object, and Kit has a hard time saying no…or resisting falling for the man!
Malice by Heather Walter
In this retelling of Sleeping Beauty, an evil sorceress curses a long line of princesses to die. Aurora is the future queen of her kingdom, and she falls under that curse…but when she falls for the sorceress who cast it, no one is more surprised than the sorceress herself.
Noah writes the popular Meet Cute Diary, a blog that shares stories of trans happily ever afters. But when the blog is exposed as fiction, and not real like Noah has claimed, he has to salvage his reputation and the blog fast. Enter Drew, who agrees to fake date Noah…but then they both catch feelings!
Bron and Ray enjoy spending time with their six-year-old niece, and find joy in their routine playtime and visits. But when Ray and Bron's own relationship begins to suffer, it's through what they learned looking after their niece and by reaching out to estranged and complicated family members that they're able to move forward.
In this genre-bending novel, a young trans man is obsessed with an influencer also transitioning (and seeming to do it a lot better than him), and so he enlists his roommates to put a hex on the influencer. But then the hex goes awry and instead lands on another trans guy, our hero must set things right.
Brandon Taylor, author of Real Life, delivers another searing book in this collection of short stories about young creative people in the Midwest. The stories are interlinked, exploring the bounds of friendship, love, and family in fascinating and unique ways.If you want more great books with gay characters, be sure to check out our list of new gay romance books! We've also got you covered with fantasy books with LGBTQ+ characters, and YA books with LGBTQ+ characters!
If you want even more great LGBTQ+ books, be sure to sign up for TBR: Tailored Book Recommendations! TBR is a personalized book recommendation service that sends you books you'll love to read.
Here's how it works: Simply fill out the reader survey and let us know what you want more of–such as books with LGBT characters–and what you're not keen on. Then, an expert Biblioligist will read your responses and recommend three books just for you. Receive your recommendation letter via email in about two weeks, or opt to receive your recommendations as brand new hardcovers from our partner, Print: A Bookstore in Portland, ME in about three to four weeks. Learn more and sign up now!