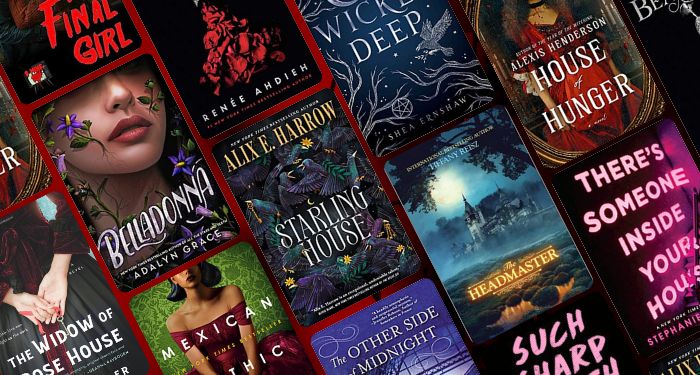 Is horror romance a genre? Sort of! Let's talk about what it means. Horror and romance are both genres that use tropes to build tension, leading up to a satisfying conclusion — albeit in (generally) different ways.
At their most basic, horror romance books tell stories that are a subset of romance as well as being a subset of horror. These books may fall under other sub-genres, including paranormal romance, gothic horror, and dark fantasy, which can make it harder to identify titles that would also fall under the horror romance umbrella. But the books do exist, and are thriving in indie romance circles especially.
Gothic romance has not, historically, followed the main rule of the modern romance novel, the happy ever after (HEA): often, a gothic romance book ends tragically. Of course, this is not always true! At the end of Jane Eyre, Jane marries Edward Rochester; the unnamed narrator of Rebecca remains married to Maxim De Winter. But in general, romance is not the central focus of a gothic novel — whether it be gothic romance, gothic horror, Southern gothic, or any other sub-genre of the gothic — and so it is not crucial that the romantic plot end happily. For example, Wuthering Heights is thought by many readers to be the ultimate romance, but Cathy is dead for most of the book; in a similar vein, I have not read Nancy Holder's novelization of the movie Crimson Peak, but I am fairly certain it ends poorly for the romance.
Way back in the 1990s, Harlequin had a horror romance series under the Silhouette Nocturne line (later renamed Harlequin Nocturne). Those books, beginning with The Last Cavalier by Heather Graham Pozzessere, were released over about three years and numbered 66 individual titles, but as I understand it were rather light on the horror elements, focusing primarily on romance.
But if you're here for horror romance, chances are you're looking for both the scares and that HEA. You aren't alone — over at Book Riot, Jessica Avery made the case for horror romance five years ago, and there have been book lists on several popular literary sites since, including Smart Bitches, Trashy Books and Electric Literature. There doesn't seem to be a true mainstream movement toward a robust horror romance genre, but there are more books now than there were in 2018, and that's not nothing. Let's look at a few of them.
These books range from horror and gothic novels with a romance subplot to historical and contemporary romance with ghosts and paranormal elements to dark, second world fantasy — and lots in between. While I have made an attempt to only include books that fall firmly into both categories, I haven't read all of these and cannot guarantee that they all contain both scares and an HEA.
YA Horror Romance
Adult Horror Romance
Looking for more great reads? Check out our picks for the best historical romance, and learn all about dark romance. And then, sign up for TBR: Tailored Book Recommendations! TBR is a personalized book recommendation service that sends you books you'll love to read. Here's how it works: Simply fill out the reader survey and let us know what you want more of—such as best horror romance books—and what you're not keen on. Then, an expert Bibliologist will read your responses and recommend three books just for you. Receive your recommendation letter via email in about two weeks, or opt to receive your recommendations as brand new hardcovers in the mail in about three to four weeks. Learn more and sign up now!