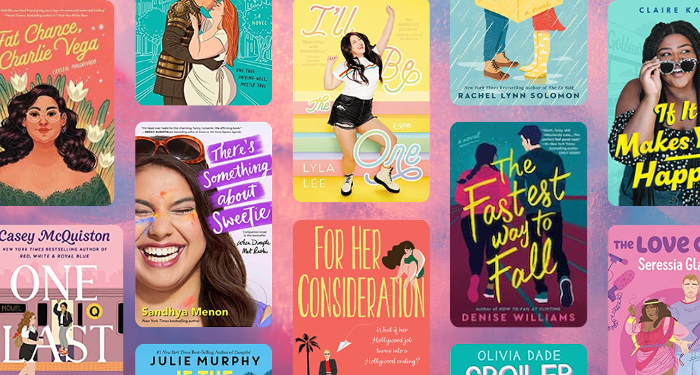 The romance genre has been flourishing for decades, if not centuries — while some trace the modern romance back to Jane Austen and Pride and Prejudice, others put the start date at the outset of Georgette Heyer's career in the 1920s, while still others only count the books that have been written since the mid-20th century, when Harlequin began publishing romance novels. No matter where you count from, the genre began as very white, very cis-hetero, mostly upper class, and always focused on conventionally attractive heroes and heroines; in other words, no people of color, no queer people, and definitely no fat people get to have a happy ever after!
Happily, this has changed in more recent years, with romance absolutely thriving — it is the most financially lucrative genre, with the most common figure cited at $144 billion per year in the United States alone — and diversifying in nearly every way. Between traditional publishing and self-publishing, it is possible now to find romance books by and about nearly everyone imaginable. Including plus-size romance novels.
Romance novels are aspirational: we look to the characters to find an idealized life, something we can hope for or dream of or, if we're lucky, relate to. If the characters are all thin, we are being told that we should only aspire to thinness. This message is already prevalent all over the real world. As Carole V. Bell says, "When writing about a stigmatized group, how much pain, trauma, and rejection must an author reproduce on the page—especially in this genre?" Indeed, romance should show us that there is room for being fat and falling in love.
Thanks to the work of authors like Jennifer Crusie, whose book Bet Me is considered one of the first with a fat heroine, as well as many indie authors — including Rebekah Weatherspoon, Courtney Milan, and Talia Hibbert — whose self-published books were so successful they were offered traditional publishing deals, we have fat heroines and fat heroes on the pages of our romance novels. While the representation is far from perfect, it exists and there are more wonderful books coming out every week to add to the canon of fat romance! Here are just a few plus-size romance novels from the last few years.
YA Plus-Size Romance Novels
Lydia and her sister Penny have gotten off track from their goals, so they decide to swear off dating during the summer before Lydia's senior year of high school. When Lydia meets Fran, she decides it isn't breaking their pact if she dates a girl…
Also read: The Summer of Jordi Perez
Former best friends are teamed up against their will in a wilderness survival course, and as they work together to try to claim the prize money, they also revisit their history and find that there were good times before they stopped speaking.
Willowdean's mama was a beauty queen, but Will, a.k.a. Dumplin', has no interest in the pageant scene — until she realizes she has something to prove, and enters in order to do so.
Also read: Puddin'
Skye is determined to become a K-pop star, and enters a TV competition to do just that — even though everyone keeps telling her fat girls shouldn't dance, or draw attention to themselves. And what's up with her fellow competitor, Henry?
Fat monster-fighter Gia is turned to stone when she stands up to Ennio, and awaked by accident hundreds of years later by Milo, an autistic poet who thinks she's amazing. But the world worships Ennio and she wants revenge.
Sweetie is a track star whose athletic skills don't protect her from being told she is too fat. Ashish has been challenged by his parents to date an Indian girl, under their strict rules. Maybe they can help each other.
Charlie feels like everyone hates her body except for her best friend, Amelia. When Brian asks Charlie out, she is thrilled until she learns that she was his second choice…after Amelia.
Also read: No Filter and Other Lies
Winnie works at her grandmother's diner, fending off dieting advice. She hopes to someday take over, but the diner is in trouble financially. Winnie's plan? Win a TV cooking competition.
Adult Plus-Size Romance Novels
August, who is new to New York City, meets Jane on the subway…where she's been stuck out of time since the 1970s. They fall in love, and August has to try to figure out how to get Jane off the Q train and into the current time.
When fanfic writer April posts a photo of her new cosplay, she is ridiculed for being fat…and then the star of her beloved TV series jumps into the fray and says he would date her. Oh, and he is secretly also a fanfic writer, and has to decide whether to tell her they know each other online.
Also read: All the Feels and Ship Wrecked (which features two fat leads!)
Chronically ill Chloe Brown has a near-death experience and makes a list of all the things she wants to do while she can. Except…she'll need help with some of them. Her building's maintenance guy, Red, is the perfect person for the job.
Also read: Hibbert's entire catalogue, but especially Take a Hint, Dani Brown and Act Your Age, Eve Brown
Martha is pretty happy with her life, until her cousin gets engaged to the man she has a crush on. Desperate to not be the only one without a date for the wedding, she asks her friend Max to help her out.
Jane Fairfield wants two things: to protect her sister, and to stay unmarried. Her large dowry and unfortunate habit of saying the wrong thing make both difficult. Oliver Marshall really doesn't want to fall in love with her…
D'Vaughn needs a way to come out to her mother, and $100,000 wouldn't hurt, either. Kris is an influencer who wants to fall in love. They are paired up on Instant I Do, and have to convince their families they're getting married.
Kenya gets a chance to prove that her love of all things geek could be a potential career, by competing on Cosplay or No Way…but it's a couples show, so she needs a fake boyfriend. Her best friend Cameron is more than happy to step up.
Andre and Janelle (who are both fat!) both want to adopt rescue dog Zeus, and due to a mix-up they're both approved. They agree to share custody, and soon Zeus isn't the only thing they're sharing.
Also read: Xeni, which features a fat male lead
Britta reluctantly agrees to test out a new fitness app for work and is paired up with trainer Wes, who happens to be the app's CEO. She isn't convinced the app is truly body-positive, but Wes doesn't expect her to lose weight.
From Scratch by Katrina Jackson
Mary, a failed academic who is new to the small southern town of Sea Port, opens a bakery and finds herself dating both the fire chief and a local police officer.
Cindy, an executive producer on the reality dating show Before Midnight, has to fill a last-minute spot on the competition. She's the only fat woman on the show, which launches her to the spotlight.
Nina ghostwrites celebrity's emails, and has to meet actress Ari Fox to discuss her work. But Ari seems more interested in getting to know Nina, and suddenly they have exceeded the boundaries of a working relationship…
Meteorologist Ari and sports reporter Russell work together to get their bosses, a divorced couple, to stop fighting at work and start dating each other again. This one is especially delightful because it's Russell who is fat!
Looking for more great romance novel representation? Check out our picks for the best historical romance and best steamy romance. And then, sign up for TBR: Tailored Book Recommendations! TBR is a personalized book recommendation service that sends you books you'll love to read. Here's how it works: Simply fill out the reader survey and let us know what you want more of—such as the best plus-size romance books—and what you're not keen on. Then, an expert Bibliologist will read your responses and recommend three books just for you. Receive your recommendation letter via email in about two weeks, or opt to receive your recommendations as brand new hardcovers in the mail in about three to four weeks. Learn more and sign up now!