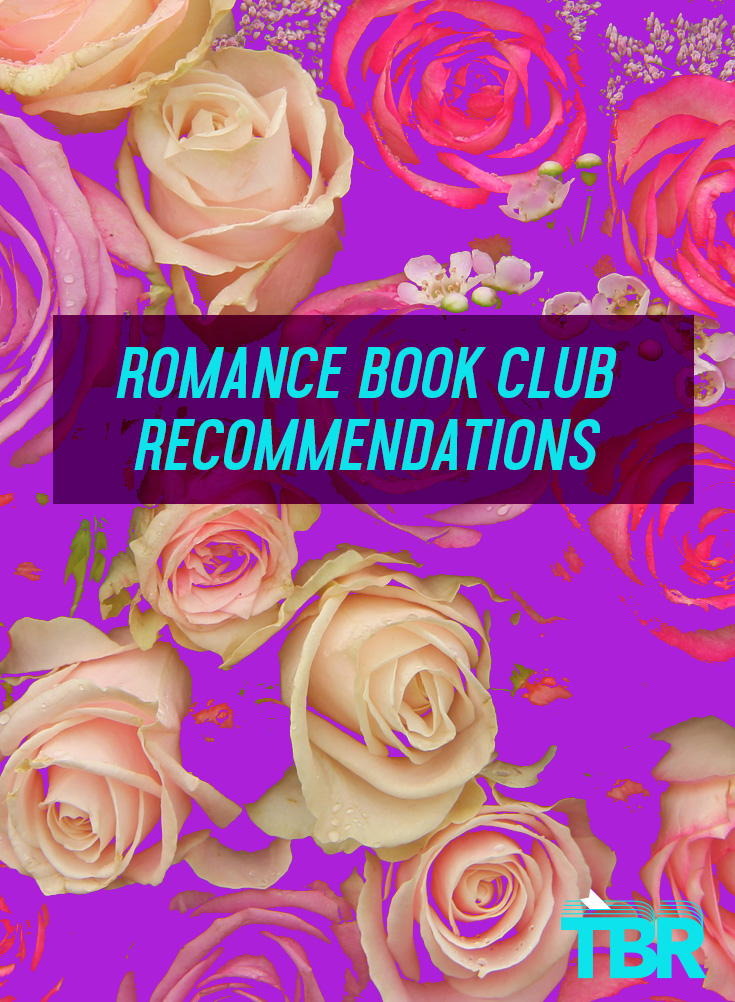 Is your book club ready to turn up the heat? Whether or not your club makes a habit out of reading romance novels, we all can use a little bit of happily ever after in our reading lives, and there are more great, diverse romance novels than ever out there! If you're looking to pick up a romance novel, here are fifteen of the best romance book club recommendations of the year for your next meeting!
In this fun take on digital dating, Rhiannon is the developer of a mega-popular dating app who she doesn't let her dating life interfere with her career. But when a former NFL player ghosts her only to pop back in her life months later, and in league with a major competitor, Rhiannon has to decide just how willing she is to bend her own rules!
Ava is flying back home to Boston after a funeral when a series of travel delays puts her return in peril, and a very handsome and very aggravating man named Caleb swipes her first class seat! Sparks fly between the two, and Ava is ready to right off their connection as a travel-induced blip, except Caleb keeps turning up back in Boston, forcing Ava to rethink her first impression of him and decide if she wants to take a chance on love.
When Esme Tran travels from Ho Chi Mihn City to the U.S. to meet a potential husband, she's eager for a new life and new opportunities. But it turns out she has her work cut out for her with Khai, her intended. Khai has autism, and so he believes that he can't really love someone. The more Esme tries to convince him otherwise, the more she falls for him–but will he realize that he feels the same way before it's too late?
Georgette is ready to be taken seriously–she doesn't want to just be seen as the woman who plans kids' parties for a living. While she gives herself a major overhaul, she approaches her crush Travis Ford, a professional house flipper and her older brother's best friend, and proposes that they pretend to date for a while. Travis agrees–but is unprepared when he begins falling for Georgette!
Guillory takes readers across the pond with this fun holiday romance about Vivian, who agrees to tag along to England with her daughter while her daughter styles a member of the royal family. There, Vivian meets Malcolm, a private secretary to the Queen. As their flirting and private tours turn into romance, will their connection last the holiday season to deepen into something more?
6. Well Met by Jen DeLuca
When Emily moves to Maryland to help her sister recover from an accident, the last thing she expected was to get roped into helping out at the local Renaissance Faire–or find herself attracted to its leader, Simon. It's not exactly love at first sight, but as they trade barbs and banter, they begin to fall for each other. But is it their true selves that are falling, or their Ren Faire characters?
Trisha Raje has worked hard to become a doctor, and yet she still falls short of her family's expectations. DJ Caine has worked hard to become a chef, and doesn't like being so dependent on the Rajes, but a job is a job. Trisha and DJ clash spectacularly, but when Trisha is the only one who can save DJ's sister, they find that there is more to each other than they first realized in this romance inspired by Pride & Prejudice.
Nina is content with her quiet life of books and trivia teams and cozy evenings with her cat. But when the father she never knew dies, and she is suddenly exposed to a large family of strangers, Nina's life is totally thrown off kilter. Add in a new suitor who is her trivia rival, and suddenly Nina has to figure out a way to come out of her shell, and fast!
Leila dreams of having a Bollywood-style romance, where she falls in love with someone before they marry. Her parents are a bit more traditional. They cut a deal with Leila: she has three months to fall in love, or they'll arrange a marriage for her. Now Leila is really feeling the pressure–and the looming possibility of not finding her true love in time.
When Eliza accidentally posts a picture of a diamond ring on her left hand to Instagram, she has no idea that her followers would be so excited–which is good for business, as her jewelry store is struggling. Rather than clear up the misunderstanding, she decides to continue to ruse by finding a fake fiancé–but when real love comes along, her life gets even more complicated!
When Raina finally gives in to her family's wishes and lets her grandmother play matchmaker, she has no intentions of just falling in line–she's got to maintain some control of the process, after all! It's her life! But with so many dates and so many eligible bachelors, Raina is finding it more and more difficult to be herself–and to not hurt her beloved grandmother's feelings in the process.
Annie is the ultimate Nora Ephron fangirl, and she can't wait to fall in love with a guy just like the Tom Hanks heroes she loves. But when a new movie is filming in her neighborhood and Annie meets the star, Drew, he's the exact opposite of Tom Hanks. And yet, she finds herself drawn to him in ways she couldn't anticipate–but that doesn't mean she's guaranteed her picture perfect movie ending!
13. Fumbled by Alexa Martin
When Poppy became a mom at sixteen, she moved across the country, worked hard, and built a life for herself and her kid that she's extremely proud of. T.K. has always loved football and is now living the dream–playing for an NFL team. When the two have a chance encounter, their pasts come rushing back and they're forced to reckon with their teenage actions and their lingering feelings for each other.
When Georgina's life hits rock bottom, she finds a second chance in a new job as a bartender at a pub that's doing pretty well. The only problem? The owner is Lucas McCarthy, the guy that Georgina fell in love with ages ago. What's even worse? he doesn't remember her at all. Talk about embarrassing. But working together in such close proximity brings a lot about Georgina's past back up again, including a secret she's been running from. Can she confront it–and get a second chance with Lucas?
Kristen has just received the news that she must have a surgery that will make it impossible for her to have kids, but she's keeping it a secret while helping plan her best friend's wedding. When she meets the best man, Josh, she's immediately attracted to him and the feeling seems mutual…but Josh definitely wants a big family. Kristen decides the best thing to do is put him in the friend zone, but it turns out nothing is quite that simple.
Need more romance book club recommendations? Check out our list of funny romance novels, and book club suggestions for 2019!
Want even more romances for book club? Check out TBR: Tailored Book Recommendations! It's a service that offers you personalized book recommendations, based on your reading tastes and what you've already read. Fill out the reader survey to get started, and then get your three personalized book recommendations by choosing from two subscription tiers: recommendations only, which you'll receive via an emailed letter, and hardcovers, which will get you three brand new hardcover books from our bookstore partner, Print: A Bookstore in Portland, ME! The service is quarterly, and truly adaptable to every budget, genre, and reading taste! Use TBR to get more book recommendations for book club, or for your own reading pleasure!