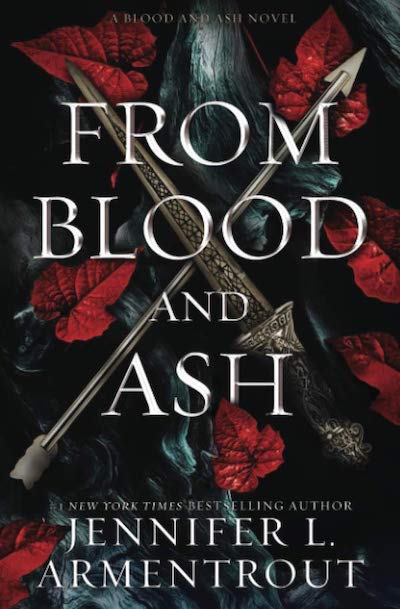 If you like your fantasy with a side of steamy romance (or vice versa!) then chances are you've read and loved Jennifer Armentrout's From Blood and Ash and its sequels. The books follow Poppy, a Maiden who has been chosen from birth to save her nation. As a Maiden, she's expected to deny herself and all her yearnings in order to prepare for her Ascension, so she can be found worthy of the gods. But when she begins to fall for one of her guards, she discovers there is much more to her destiny than she initially thought. This fantasy series is steamy, sexy, and full of breathtaking adventure that involves magic, the gods, and fantastical worlds. Read on for 10 recommendations of books like From Blood and Ash!
Bryce Quinlan is half-human, half-Fae and her world is rocked when a demon murders her best friends. She's drawn into the investigation when the authorities arrest the wrong person, and soon Bryce finds herself making a deal with Hunt, a fallen angel. As the two uncover a deep conspiracy, they also find that their mutual attraction may be their undoing.
Malini is a princess in exile who wants revenge on her brother. Priya is a secret priestess who is called to a power she doesn't fully understand, but wants to protect what she loves. When the two meet, they realize they they could work together to achieve their goals…and start to fall for each other along the way.
Cat is avoiding her destiny, working as a traveling soothsayer, until the day she meets warlord Griffin and he recognizes her for what she truly is: the prophesied Kingmaker. He kidnaps her, determined to use her power in order to finally gain control of his kingdom, but the longer they are together, Girffin realizes that Cat is impossible to control…and he might be falling for her.
Black Sun by Rebecca Roanhorse
For a fantasy world inspired by pre-Columbian American history, the city of Tova is preparing for an unusual solstice celebration that will be marked by a rare solar eclipse…and a ship headed for the city from a distant land carries two people who are destined to disrupt the fate of the land.
Hessa is a warrior priestess who refuses a command given to her by the goddess of war, and is banished from her home as a result. While enemies destroy all that she holds dear, Hessa undertakes a journey that she hopes will earn her some redemption, and along the way discovers the shocking truth about the limit of her goddess's powers.
When Jessamyn Teoh moves back to Malaysia to be with her parents, the last thing she expects is to start hearing a voice In her head. But it turns out that voice belongs to her deceased Ah Ma, a spirit medium who intends to use Jess in order to get revenge on someone who has offended the gods, whether Jess likes it or not. As she finds herself being pulled into the dark world of revenge and gods, she must fight for her own autonomy.
Csorwe has always known her fate is die as a sacrifice to the gods. She's nearly convinced herself that she's fine with it…until the day of her foretold death rolls around and she is given the chance to run way. She takes it, embracing a new fate, but the gods will always remember that she was promised to them first.
Persephone is the goddess of spring, but she sure doesn't feel like it when every plant she touches withers. She hopes that she can live an unassuming life as a mortal, until a night out on the town has her running into a mysterious man who has built a gambling empire…and just so happens to be Hades himself.
Persephone is ready to flee all she knows and start anew, away from the glamor and expectations of her home city. But when her mother brokers her engagement to Zeus, Persephone finds herself fleeing to the one place she knows she shouldn't go: the underworld, where she must make a deal with Hades.
Casiopea lives an unfulfilling life with her controlling family in rural 1920's Mexico, but when she opens a box tucked away in her grandfather's domain, she inadvertently releases the Mayan god of death. Forced to help him take back his power, she finds herself whisked away on a journey that will take her to Mexico City and the underworld.
Need more book recommendations? We've got you covered!
And if you need even more recommendations on a theme, sign up for TBR: Tailored Book Recommendations! TBR is a personalized book recommendation service that sends you books you'll love to read. Here's how it works: Simply fill out the reader survey and let us know what you want more of—such as romantic fantasy novels—and what you're not keen on. Then, an expert Bibliologist will read your responses and recommend three books just for you. Receive your recommendation letter via email in about two weeks, or opt to receive your recommendations as brand new hardcovers in the mail in about three to four weeks. Learn more and sign up now!