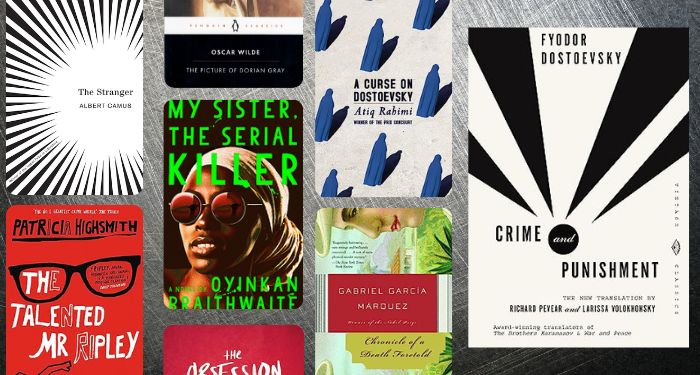 Crime and Punishment by Fyodor Dostoevsky is a classic novel about a young man, Raskolnikov, who plans and executes a murder in order to obtain money he feels his victim does not deserve, and about his subsequent psychological downward spiral when he is not caught. First published in 1866 as a serial story in The Russian Messenger, a literary periodical that was also publishing War and Peace around the same time — and would go on to also publish Dostoevsky's novels The Idiot, Demons, and The Brothers Karamazov — the installments were subsequently published as a novel.
Dostoevsky is considered one of the great writers of Russian literature, and reading Crime and Punishment makes it obvious why his work is still read going on 200 years after it was first published. In fact, Crime and Punishment does not appear to have ever been out of print, and has been translated into English at least 14 times, the first in 1885 and the most recent in 2022. Translations interpret works into our current usage of our own language, and the recurring interest in Crime and Punishment proves the worthiness of the text.
There are many reasons a reader might seek out books like Crime and Punishment. Lovers of the classic story might want more of the same or prefer something more modern, while detractors might be looking for similar themes that they find more relatable. Read-alikes promise readers a new experience that is reminiscent of the old — that is, that reminds them of reading the first book. I've compiled 15 books like Crime and Punishment by authors like Fyodor Dostoevsky. There are classic Russian books on this list, but most are books that bring in one element or another of the original, but offer something wholly different as well.
As an aside, I noticed that although there have been at least 25 film adaptations of Crime and Punishment, from all over the world, there do not appear to be any books that are retellings of Crime and Punishment (at least not in English). I am curious to see whether that will change!
Classic Books Like Crime and Punishment
While the plots have little in common on the surface, both follow the psychological downfall of a promising young man, and both are stunningly written, albeit in very different and distinct styles. Told in rich third person, Dorian sells his soul to remain young and beautiful, a portrait doing the aging for him while he sows hedonistic chaos.
This book, told in close third and written in Hemingway's signature simple speech, follows an unnamed Cuban old man as he drifts into the Gulf Stream, struggling against a large marlin he has caught on his fishing line.
In Highsmith's stunning crime novel, Tom Ripley is a small-time confidence man who takes on a job and subsequently a new identity, aided by murder he justifies to himself by hating his friends and their wealth.
Another stand-out classic of Russian literature, this story follows Ivan, a judge who falls and hurts his side, but thinks nothing of it until the injury persists and he is told it is fatal. Like Raskolnikov, Ivan's internal monologue makes up a large portion of the book.
Contemporary Books Like Crime and Punishment
Rassoul kills an old woman with an axe and, remembering reading Crime and Punishment in school, his behavior afterward is influenced by the classic. However, his attempts to behave better than Raskolnikov have questionable results.
Patrick Bateman is an investment banker and a serial killer, or at least so he claims. The masterful perspective shifts suggest that Bateman may be imagining his life of crime, but it's never certain.
Vicious by V.E. Schwab
In this dark take on superheroes, the villains have the floor. Victor and Eli were college students when they discovered that near-death experiences can imbue a person with powers, and they experimented until they both became superpowered. Now Victor is trying to stop Eli from using his powers.
Believed to be nonfiction, this is the story of the last Yakuza in Japan, as told to a doctor at the end of his life. Eiji was a gambler and a murderer in the first half of the 20th century.
This book follows Frederick, who has admired Miranda for years without ever attempting to befriend her, and decides to kidnap her in order to make her fall in love with him. His obsession, though quite different than that of Raskolnikov, may seem familiar to readers.
Logan is watching Delilah, convinced that they are meant to be together. When he happens to see her kill her stepfather, and has video to prove it, he decides to blackmail her into loving him. Unfortunately for Logan, she is done being manipulated by men.
A serial killer called The Nothing Man — because the cops have nothing on him — is the subject of a new true crime memoir by Eve, the one woman who survived as a child. The memoir is a book within a book, currently being read by Jim, a grocery store clerk who is about to realize that Eve is too close to finding him — so it's time for him to finish the job.
And if you don't want a whole book like Crime and Punishment, but would like a laugh, check out these one-star reviews of Crime and Punishment. Hoping for more historical fiction? Check out our list of books like Gentleman in Moscow, and our list of Cold War books!
If you're looking for even more great book recommendations, try TBR: Tailored Book Recommendations! TBR is a personalized book recommendation service that sends you books you'll love to read. Here's how it works: Simply fill out the reader survey and let us know what you want more of and what you're not keen on. Then, an expert Bibliologist will read your responses and recommend three books just for you. There are two subscription options: receive your recommendation letter via email in about two weeks — perfect for library users! — or opt to receive your recommendations as brand new hardcovers in the mail in about three to four weeks. Learn more and sign up now!