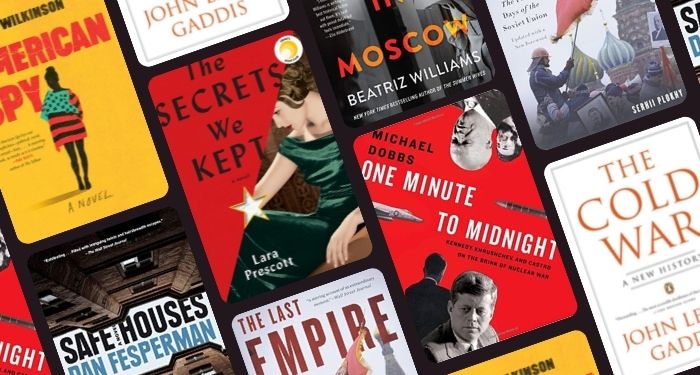 Although the Cold War took place from the years 1947-1991, the events and tensions around this time period are more relevant than ever, especially with Russia's attack on Ukraine. Understanding history allows us to put into context events today, but with so many nations and regions involved over such a long period of time, it can be difficult to understand the full scope of the Cold War. Hopefully, this list of fiction and nonfiction Cold War books will help!
Note: There is a lack of books about this time period by authors of color, and hopefully publishing can work to address this going forward.
Cold War Books: Fiction
Doctor Zhivago by Boris Pasternak was one of the most influential Russian novels during the Cold War era, and it was banned when it was first published. In this novel, a Russian-American secretary is recruited to help smuggle the manuscript out of the USSR in order to see it published worldwide.
When Iris Digby and her family vanished from London in 1848, her twin sister Ruth privately agreed with world speculation that they had defected to Russia. It isn't until four years later that she gets any contact from her estranged sister, and the FBI steps in, needing Ruth's help to extract her.
When Frank Weeks is exposed as a Communist spy within the CIA, he defects to the Moscow. Years later, he's written his memoirs and asks his younger brother Simon, an editor and publisher, to come visit and help him edit the memoirs. Simon agrees, missing his brother but also skeptical of his ulterior motives, which put him in the crosshairs of two major global powers.
Helen Abell is working for the CIA in West Berlin, overseeing CIA safe houses. When she witnesses something she shouldn't have one night, it will have long-reaching repercussions to the present, when a terrible double murder shatters the lives of a rural family in the U.S.
Set in Romania in 1989, this novel follows a young man whose dreams are thwarted when he's blackmailed to become an informant for the dictatorship he fears, and decides to risk everything in order to become a double agent and work with the resistance.
Beatriz Perez was a sugar heiress in Cuba whose life was dismantled by Castro's revolution. When she's recruited by the CIA to infiltrate Castro's inner circle in the 1960's, Beatriz must make an important choice about her future.
Set in 1980's New York City, Marie is an FBI agent who is struggling to find her footing in her career as a Black woman when she's recruited by the CIA for high-stakes mission that will take her to Burkina Faso and challenge all of her beliefs.
Cold War Books: Nonfiction
Potsdam by Michael Neiberg
The Cold War began in the days following the end of World War II, when the major Allied Powers struggled to negotiate peace in Europe. In Potsdam, Neiberg relays the events of the Potsdam Convention, where Harry Truman, Winston Churchill, and Joseph Stalin came together to discuss how Europe ought to be divided, and where Stalin somehow managed to get his hands on Eastern Europe and annex Poland.
Drawing upon newly opened archival documents, Gaddis tells the epic and comprehensive history of the Cold War, from the days immediately after WWII to the fall of the USSR, offering readers perspective on what happened and why.
In this firsthand nonfiction account of the ending of the Cold War, the former ambassador to the U.S.S.R. shares his experiences and perspectives on the waning days of the conflict and how Reagan pursued peace talks beyond the public eye.
The Cuban Missile Crisis was one of the defining moments of the Cold War, and in this thrilling account Dobbs offers a minute-minute account of the event and how major world leaders nearly brought the world to nuclear war.
The Moscow Rules by Antonio J. Mendez and Jonna Mendez
Antonio and Jonna Mendez met in Moscow in the late 1970's when they were both CIA operatives at the height of the Cold War. Their memoir tells of the tactics they had to use and the danger they faced fighting against the KGB, and how their Hollywood-esque spy games helped to give the U.S. an advantage.
This book tells the story of Oleg Gordievsky, a famous KGB agent who eventually became a double agent working for MI6, helping the U.K. in their fight against the USSR. But when the U.S. wanted to know where the U.K. was getting their information, they sent a CIA operative to discover Oleg Gordievsky's identity, resulting in his flight from Russia and rising tension in the Cold War.
In this authoritative account of the USSR's final days and the end of the Cold War, Plokhy details the major events and political maneuvers that were happening behind the scene as Gorbachev stepped down as president and the rest of the world responded.
Need more history book recommendations? Check out our recommended World War II reads, and the best nonfiction book subscription services. If you want more recommendations on specific topics, sign up for TBR: Tailored Book Recommendations! TBR is a personalized book recommendation service that sends you books you'll love to read. Here's how it works: Simply fill out the reader survey and let us know what you want more of—such as Cold War fiction or nonfiction—and what you're not keen on. Then, an expert Bibliologist will read your responses and recommend three books just for you. Receive your recommendation letter via email in about two weeks, or opt to receive your recommendations as brand new hardcovers in the mail in about three to four weeks. Learn more and sign up now!