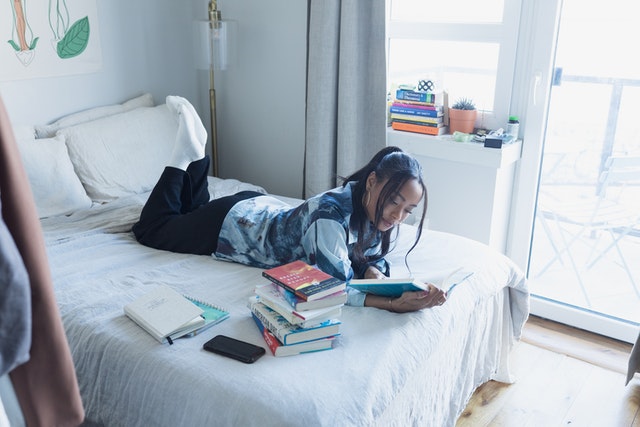 Let's be real: sometimes finding great books to read is a whole separate hobby from reading itself. If you would rather spend your precious free time getting lost in story rather than getting lost trying to find your next favorite read, then we've got some recommendations for how to find the best book recommendations and readalikes for books you already love. This is a mix of services, resources, and fun tips for discovery that you can try out right now, and so you can fill up the TBR quickly and spend more time getting lost in a good book!
Try TBR: Tailored Book Recommendations
If you want 100% personalized attention from a real-life book expert, then sign up for TBR: Tailored Book Recommendations! TBR is a personalized book recommendation service that recommends books based on what you want to read more of and your personal reading goals.
Here's how it works: simply fill out the reader survey and let us know what you want more of—such as readalikes to your favorite novels—and what you're not keen on. You can even link up your Goodreads or StoryGraph account, if you have one, and make requests for recommendations based on genres, vibes, or favorite reads. Then, a real power reader called a Bibliologist will read your responses and recommend three books just for you. You'll have the choice between receiving your recommendations via email in about two weeks, or opt to receive your recommendations as brand new hardcovers in the mail in about three to four weeks. You'll also be able to give feedback on your recommendations and change up your survey responses to stay aligned with your reading goals and desires, so you're always getting books you'll love to read. Learn more and sign up now!
Ask a Librarian or Bookseller
Librarians and booksellers are trained to offer you the best book recommendations, and they'll give you expert recommendations and know about all of the latest and greatest books, not to mention under-the-radar picks! Booksellers are around books day in and out, and they are especially attuned to new releases. Librarians go through formal readers advisory training to help match you up with your next read, and know how to recommend books in all sorts of genres and age categories. Both professions are great resources for asking for quality book recommendations, and they'll likely love to recommend you a book…or ten! And with COVID shifting so many things to a virtual space, it's possible you can even email or message your local library or bookstore for recommendations.
Check Out a Book Display
Oftentimes bookstores and libraries have great displays of books based on certain themes, so it's worth getting out of your house and checking one out in person. Displays tend to be seasonal (e.g. books for Halloween, summer beach reads) or they tend to be focused on what's popular at the moment, but they're a great way to check out curated picks on what's popular and new around a certain subject without having to talk to another person, in case that stresses you out! You also have the added bonus of picking up the book in question and reading the beginning to see if it grab you!
Try a Quiz
Feel like trying something kind of fun and random? Take this What Book Should I Read Next? quiz, which asks you which vibes, genres, time periods, and settings you like, and recommends a book for you. The beauty of this quiz is that you can take it multiple times depending on your mood and get new results and new recommendations each time! This is a great option if you're open to something that might be a stretch read or don't want something super specific, broadening your reading horizons!
Consult NoveList
NoveList is a cool service via EBSCO and available through most public libraries that allows you to find readalikes for most published books. Check out your public library website or ask a librarian if they provide free access to patrons, and then search your last favorite read. When you bring up the book's page, you'll see tons of reviews and characteristics about the book, and on the right side of the page you'll see a column of books that are readalikes. If you hover your cursor over the covers, a pop up will reveal why the books are considered readalikes based on a set of storytelling, character, and tone characteristics. If you don't have a particular book in mind for readalike recommendations, NoveList also allows you to search for books by character type, tone, and trope!
If you need more suggestions for book recommendations, then check out our round up of the best recommendation websites, which range from crowd-sorted recommendations to book subscription services! We also have a list of ten of the best bookish sites for finding excellent book recommendations!