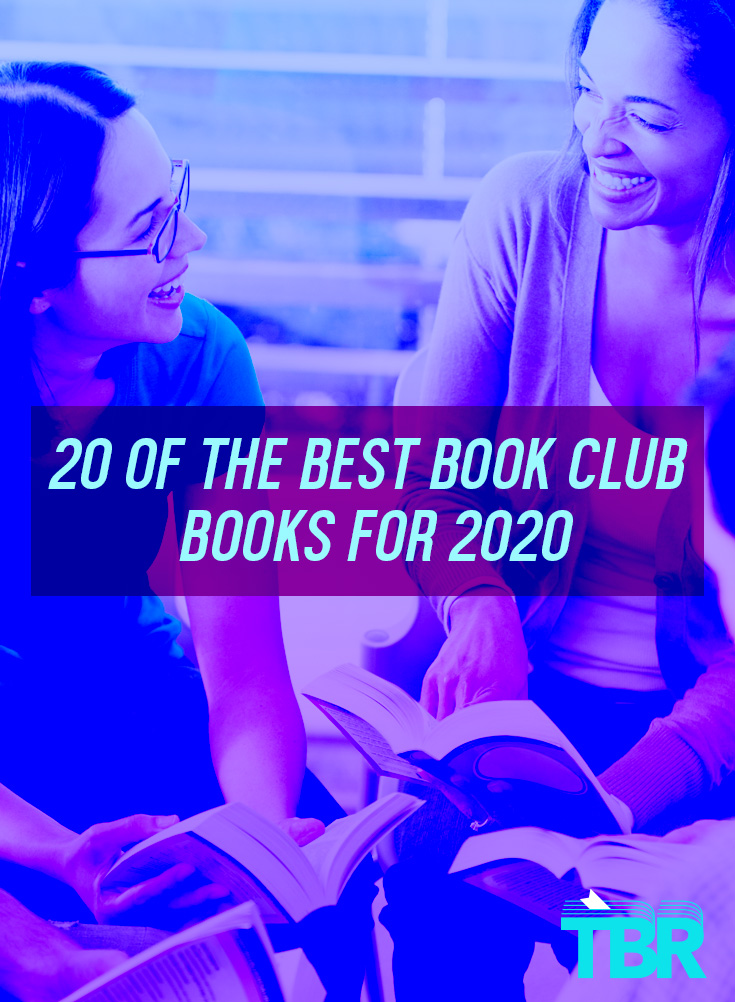 A new year means a fresh slate for new book club books! As your club begins picking books for another great reading year, make sure you consider these twenty picks–the best fiction and nonfiction book club books from the end of 2019 and what will certainly be the most talked about new releases of 2020. No matter your club's genre preferences, we've got some great book club ideas for everyone, from big-name authors to must-read debuts!
Such a Fun Age by Kiley Reid
In this novel, a well-meaning white mother, Alix, is shocked when her black babysitter, Emira, is confronted while out with Alix's toddler and accused of kidnapping her. When the contentious incident is filmed and goes viral, Alix resolves to make things right, but Emira is wary of her help, especially when the incident reveals a long-hidden secret from Alix's past.
All Adults Here by Emma Straub
Emma Straub's newest book is a family story that looks at three generations of a family trying their best. When grandmother Astrid is reminded of a mistake she made years ago as a young mother, it forces her to reconsider everything that she thought she knew about parenting, which has a profound effect on her three grown children, some of them parents themselves, and her granddaughter.
Dear Girls by Ali Wong
Comedian Ali Wong made a name for herself with her Netflix special about pregnancy, parenting, and being a modern mother and woman. She draws upon much of the same material in this memoir, which she addresses to her daughters, about being a comedian, parenting, connecting with her roots and growing up herself. This might be a great pick for any mother-daughter book clubs, or groups with lots of young moms.
Wow, No Thank You by Samantha Irby
Comedy writer and essayist Samantha Irby is back with a brand new collection of hilarious, honest essays. Irby's life has changed a bit since her last book–she's married, she moved away from Chicago, and she's also seen success with her books and as a TV writer on the Hulu show Shrill. But she's still an awkward Midwesterner at heart and unafraid to tell about it.
The Return by Rachel Harrison
When Julie goes missing, the only person who believes that she isn't dead is her best friend Elise–and she's right. Julie returns two years later and Elise is overjoyed. They go on a trip with two more college friends, Molly and Mae, to reconnect. But Elise is shocked to find that Julie is very different now, and as the weekend progresses, Elise, Mae, and Molly begin to question just who this new Julie really is.
Your House Will Pay by Steph Cha
This powerful crime novel is set in Los Angeles during the race riots. It follows two young adults from different families: Grace Park is a sheltered Korean-American who works in her family's pharmacy. Shawn Matthews is African-American and has already seen too much racial violence. In the aftermath of a single crime, the Park and Matthews families will be forced to face their own secrets and pasts.
Untamed by Glennon Doyle
Bestselling activist and motivational author Glennon Doyle's new memoir tells of the moment that she set eyes on another woman and knew, deeply instinctively, that she was the one. Actually coming to terms with this knowledge, and taking steps to live her true life, was a lot harder. In this book, Doyle talks about her experience coming out, but also about how women are often told to stifle themselves. Here, she offers inspiration to build your own unique life.
Black Sunday Tola Rotimi Abraham
Bibike and Ariyike are twins, close as can be, living in 1990's Lagos when their once-stable family life is threatened by political unrest, job loss, and their father's dangerous bet that leaves them without a home. They are sent to live with their traditional grandmother when their parents' marriage implodes, and in order to survive find themselves on two separate and very different paths.
The Night Watchman by Louise Erdrich
Set in 1953 and inspired by Erdrich's own grandfather, this is a rich novel about a community facing upheaval. Thomas is a night watchman at the jewel bearing plant near the Turtle Mountain Reservation, and he is wary of a new bill in Congress that could have a major impact on the Chippewa nation. Patrice is a young woman who dreams of finding the sister that disappeared when she moved to Minneapolis. Their stories entwine in this gripping new book.
The Witches Are Coming by Lindy West
Lindy West, the author of Shrill, returns with another collection of essays critiquing our culture and media, with a special emphasis on the #MeToo movement and American politics. West urges readers to re-examine the stories they've been told and what they believe to be true in order to honestly address our society's problems and address them, so we can move forward.
Glass Hotel by Emily St. John Mandel
The author of Station Eleven brings us a new story about a young woman named Vincent, first seen as a bartender on an island where she meets Alkaitis, the man who will become her husband. Later, Alkaitis is caught at the center of a Ponzi scheme, and Vincent walks away, only to reappear years later on a ship, and disappear once more. Knowing Mandel, it's sure to be a captivating story.
The Splendid and the Vile: A Saga of Churchill, Family, and Defiance During the Blitz by Erik Larson
This new nonfiction history by Larson examines Winston Churchill's role as prime minister in some of the darkest days in England. It talks about how he worked to rally the British people in the face of the Blitz, his behind-closed-doors political maneuvers, and how his work even affected his family and home life. It's a story of Churchill's devotion to his family, country, and to leadership during dark times.
My Dark Vanessa by Kate Elizabeth Russell
In 2000, fifteen-year-old Vanessa becomes entangled with her teacher, a man nearly three times her age. In 2017, that man is accused of sexual abuse by another woman, who reaches out to Vanessa, now an adult. Acknowledging what he did to her will force Vanessa to redefine her past and sense of self, but ignoring the truth could stifle her.
Real Life by Brandon Tyler
Wallace is an introverted young African America from Alabama who feels adrift at his Midwestern university. He holds himself at arms' length from his classmates and friends, until a series of confrontations breaks down is reserve, forcing Wallace to come to grips with the emotional toll of existing in a space where he does not feel welcome or at ease.
All This Could Be Yours by Jami Attenberg
Alex is a lawyer who is desperate to understand her father, a real estate mogul finally on his deathbed. He's always loomed large and mysterious in her life, but even now, as the family reconvenes in New Orleans, she's having difficulties getting anyone, from her mother Barbra to her uncle Gary and aunt Twyla, to be honest with her about who her father really is and what he has done.
Know My Name by Chanel Miller
Everyone knows the name Brock Turner, a man who was sentenced to only six months in jail for assaulting a woman, sparking outrage and protests across the country. Now know the name of the woman he assaulted: Chanel Miller. But in this powerful memoir, Chanel Miller also tells you who she is, and how she struggled to respond to what happened to her and the massive amount of attention Tuner's case received, and how she found the courage to speak up.
The House of Deep Water by Jeni McFarland
In River Bend, MI, three women who have made their escape from the small town return unexpectedly: Linda, her mother Paula, and Beth, one of the few black women from River Bend, with her own children. Their stories intertwine with Beth's father, and Beth must confront what she's been running from when a local scandal reminds her too much of her past.
The Book of Longings by Sue Monk Kidd
Kidd's newest novel imagines the life of a woman named Ana, a rebellious young woman living during Biblical times who embraces intellectual pursuits and falls for a young man named Jesus of Nazareth. They marry and make a home in Nazareth even as resistance to Roman rule makes everyday life dangerous, culminating in an act of rebellion that sends Ana on the run to Alexandria.Blue Flowers by Carola Saavedra
When Marcus, a recently divorced man, moves into a new apartment, he begins receiving letters from a mysterious woman who only identifies herself as A. A clearly believes that her former lover still lives at this address, and writes him long letters that allude to a relationship before a violent break. Marcus becomes obsessed with A, leading to his determination to unmask her identity.

Want more great book club recommendations? Catch up with 25 Great Book Club Recommendations for 2019, and the best-recommended books of 2019. And if you looking for more great book club picks, sign up for TBR: Tailored Book Recommendations! It's a quarterly book subscription service that offers you personalized book recommendations, picked out just for you by a real power reader! You can get started by filling out our survey, and then you'll be matched with a Bibliologist who will pick out three books just for you. Choose to receive your recommendations via emailed letter, or as three brand-new books shipped from our partner, Print: A Bookstore. You'll never be without great book club suggestions when it's your turn to pick the book if you sign up fro TBR! Learn more here.