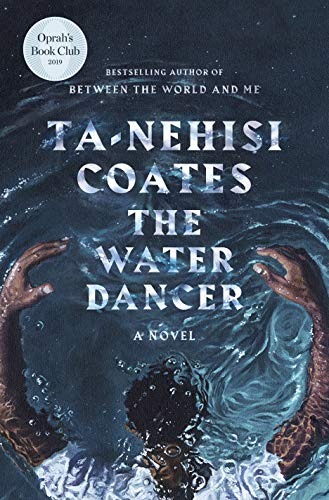 The Water Dancer by Ta-Nehisi Coates is a great pick for book club discussions–even Oprah picked it for her book club! Written by National Book Award winner Ta-Nehisi Coates (author of the nonfiction title Between the World and Me), this is a profound and moving book about the legacy of slavery in America, with themes of family, memory, trauma, morality, and more. If your book club has picked this book for their next meeting, here is a summary and some The Water Dancer book club questions to get your conversation started!
The Water Dancer Summary
Hiram Walker was born into slavery, and lost his mother at a young age. Not long after that, he discovers that he possesses a mysterious power. Later in life, living on a declining tobacco plantation, he falls into a river and nearly drowns, but he is saved by his secret power–and his new lease on life also inspires him to escape from everything he's ever known in pursuit of freedom. As Hiram moves north, he must traverse great danger and warring ideals, but he never wavers from his desire to rescue the family he left behind.
The Water Dancer Book Club Questions
What do you think of the narrator of this story? Why do you think Coates chose to tell the story from this perspective?
Hiram is unable to remember certain memories–how is this both a blessing and a curse? Do you think that Coates was trying to convey greater significance around the themes of memory with this narrative choice?
What did you think of the language that Coates uses in this book? Why do you think he chose to call the enslaved and the enslavers "Tasked" and "Quality"?
Did you recognize who Harriet was at first? When did you realize she was Harriet Tubman? How did you think Coates handled her inclusion as a character in his fictional story? Do you like it when significant historical figures are characters in fiction?
Discuss how various characters choose to fight back against injustice. Do you think they are justified when responding to oppression with violence? How does this fit in with Hiram's notion of what is right and moral? Discuss the various methods of resistance, and how society deems some forms of resistance more acceptable than others.
On the matter of morality–do any of the enslavers seem to espouse morality in their own lives? To what degree do you think they were aware of the immorality of slavery? How do you think they justified being moral and enforcing ownership over other people?
What do you think is the longterm effect of slavery on families? Discuss how Hiram's family is affected, and how Hiram comes to define family later in the novel.
The Water Dancer is classified as fabulism–what did you think of the magical elements? Did they work for you? Do you think the book could have worked without them?
Did you learn anything about slavery and the plight of enslaved people through reading this book? Discuss how the characters of the novel experience slavery in different ways–men and women, and characters who are "treated well" contrasted against those who aren't given the same considerations.
Although this book is set in the past, what do you think readers can take away from this book and apply to modern times and our continuing struggles with racism, power, and privilege?
Why do you think that Coates, who is famed for his nonfiction writing, chose to tell this story via fiction? When reading about especially difficult subjects, do you prefer to read nonfiction of fiction? What does fiction offer that nonfiction does not? And vice versa?
Have you read any slavery narratives, such as the ones by Harriet Jacobs or Frederick Douglas? How do you think this story compares to those narratives?
Have you read anything else by Ta-Nehisi Coates before? Would you read another novel by him? Are you interested in his nonfiction work?
What books would you recommend to anyone who liked The Water Dancer?
Looking for more great book club picks? Check out our list of the best book club books for 2020. And if you really want to zero in on books that will be a great fit for your book club, sign up for TBR: Tailored Book Recommendations! TBR is a personalized book recommendation service that send you books you'll love to read. Here's how it works: Simply fill out the reader survey and let us know what you want more of–such as great book club picks–and what you're not keen on. Then, an expert Biblioligist will read your responses and recommend three books just for you. Receive your recommendation letter via email in about two weeks, or opt to receive your recommendations as brand new hardcovers from our partner, Print: A Bookstore in Portland, ME in about three to four weeks. Learn more and sign up now!