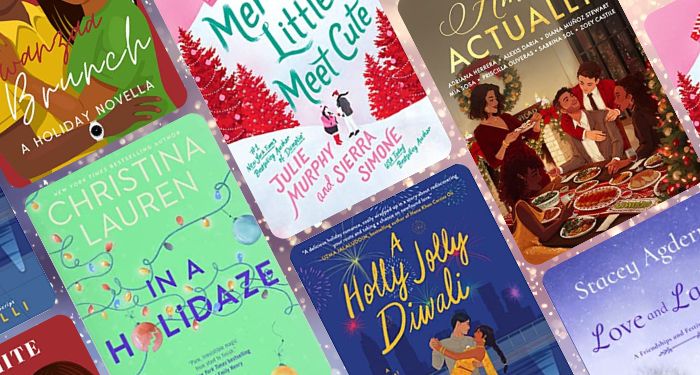 Late fall and early winter arguably have the most dense concentration of holidays, which of course is why we refer to this time of year as "the holidays." From Thanksgiving to Hanukkah to the Solstice, Christmas, Kwanzaa, and finally the New Year, there are many holidays to be celebrated! And of course, there are books that take place on all of them. I've assembled nine of the best winter holiday books from the last few years, and it should come as no surprise that many of them are romance! The holidays are, of course, also known as cuffing season.
Do you ever find yourself wishing you could have a holiday romance and a time loop? Well, guess what! This book delivers both. Mae's life isn't going the way she wanted, and after a disastrous holiday spent at family's cabin — the last time they'll ever be there — she makes a wish, crashes her car, and wakes up on the plane to Utah, at the beginning of her trip again.
Sierra and her goddaughter are starting over in Catalina Cove after a terrible divorce. Vaughn is there trying to clear his name after a wrongful conviction ended his life as he knew it. They come into each other's lives at Christmastime and have to choose to trust each other after they've both been so burned.
Amor Actually: A Holiday Anthology by Adriana Herrera, Alexis Daria, Diana Muñoz Stewart, Mia Sosa, Priscilla Oliveras, Sabrina Sol, and Zoey Castile
In nine stories from seven acclaimed Latine authors, romantic sparks fly! It's Christmas Eve in New York City and love is, actually, in the air.
Adult film star Bee is offered a role in a Christmas movie for a conservative TV channel, and agrees to keep her other career under wraps. Her costar Nolan is a former boy band star looking to rehabilitate his reputation as a bad boy. He recognizes Bee, who's had a crush on him for years, and they begin an off-camera romance that is threatened when a reporter who may have ruined Nolan's career comes to set…and shows interest in Bee.
When Niki, who has always made the cautious choices in life, is laid off, she impulsively flies around the world to her best friend's wedding in India. She arrives just in time for the festival of lights and meets Sameer, a musician from London. They grow closer when they join the group honeymoon in Goa, but when Niki receives a job offer she has to decide between practicality and love.
When Miriam inherits her great-aunt's Jewish-owned Christmas farm, she plans to sit shiva and then head home, but when she learns that the farm is in financial trouble, she's forced to stay in her hometown and work with farm manager Noelle to try to save the business. They have an instant attraction, complicated by Miriam not wanting to be there almost as much as Noelle doesn't want her there.
When Batya is hired to design a website for a latke fry-off, she is taken aback to realize it's in the hometown she fled. Contestant Abe dreams of quitting his job and opening a Jewish deli, and he hopes that competing — and winning — this contest will help him get there. Both of them are surprised to encounter their former crushes, and Abe is determined to keep Batya there this time.
Animator Ellie had a magical Christmas Eve meet-cute and an amazing night with a mystery woman a year ago. Now she's unemployed and alone, and seriously tempted by her landlord Andrew's proposal: a marriage of convenience so that he can collect his inheritance. He takes her to his family's cabin as his fiancée and introduces her to his sister, Jack — who is the woman Ellie spent last Christmas with. Now she has to choose between security and love.
Sienna is tired of everything in her life being the same, even the men she dates. Booker left behind a stressful life to start over, and he finds himself falling for Sienna — which was not in the plan.
Looking for more romantic reads? Check out the best cinnamon role heroes in romance novels and the best friends-to-lovers romance books.
Looking for even more great winter holiday books and reads? Check out TBR: Tailored Book Recommendations! TBR is a personalized book recommendation service that sends you books you'll love to read. Here's how it works: Simply fill out the reader survey and let us know what you want more of and what you're not keen on. Then, an expert Bibliologist will read your responses and recommend three books just for you. There are two subscription options: receive your recommendation letter via email in about two weeks — perfect for library users! — or opt to receive your recommendations as brand new hardcovers in the mail in about three to four weeks. Learn more and sign up now!